Tbilisi Sights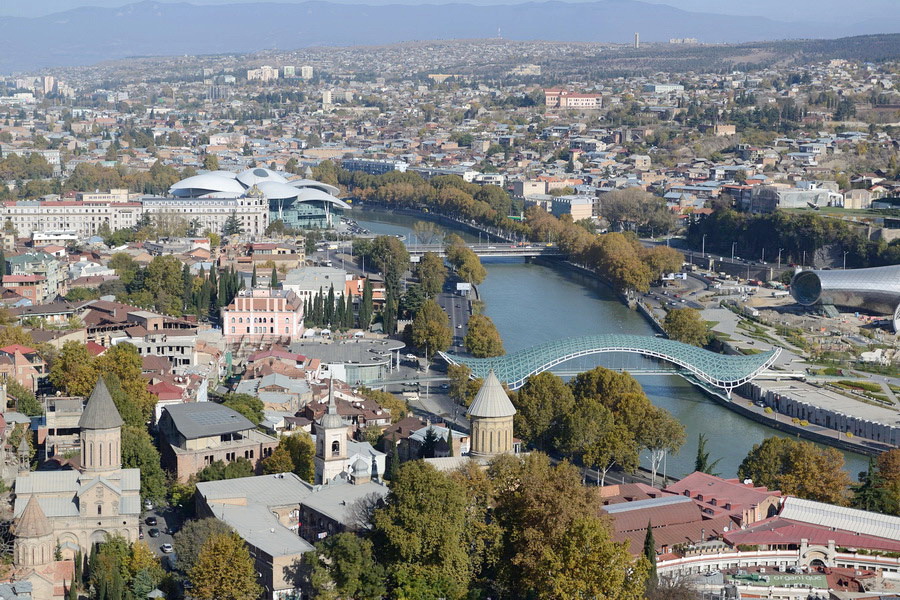 Tbilisi sights are associated with numerous churches, cultural objects, museums, fortresses, parks and alleys that are located in the historical part of the city. Part of the monuments is located in the surroundings of the capital. One day could be enough to see all popular attractions in the city center, but it would be rather difficult to enjoy them in a such rush.
The majority of historical sights are in the Old Town, on the cliffs of the Mtatsminda Mount and on the shores of the Kura River. There you will explore dozens of churches, Narikala fortress, Sulphur baths and old quarters. Another touristy spot of the city is the Rustaveli Avenue and its adjoining streets where museums, cinemas, galleries and alleys are lined up. These landmarks relate to the 19-20th centuries and some architectures are even of the of the 21th century.
Tbilisi sights is a chain of fascinating places revealing all verges of the Georgian culture and rich history of the city. These are unique medieval architecture, old residential quarters with narrow pebbled streets, picturesque embankment of the Kura River and unusual monuments to the prominent figures of the Georgian folklore. We have collected the list below on our experience for you to know what you should definitely see when planning a trip to Tbilisi.
Mtatsminda
This is not only an attraction of Tbilisi, but a historical epicenter of the city. There are several monuments located that appeared in the period of the capital formation. It is a small mountain where you get an excellent panoramic view of the city. Read more…
Narikala fortress
It is the most popular and the oldest landmark of Tbilisi. City dwellers call it "the soul and heart of the city". It dates back to the 4th century A.D., which means it has been there since the foundation of the city itself. There is St. Nicholas Church dating back to the 12th century on its territory. Read more …
Tbilisi Sulphur baths
The history of the Sulphur baths in Tbilisi is related to the formation of the city. The name of the city is translated as "warm" that reflects the main feature of the warm Sulphur springs. They were constructed in different periods between 17th and 19th centuries. The oldest one is the Irakli bath; its ownership was disputed between the members of the royal family and the Georgian princes in the 16th century. Read more …
Metekhi church
One of the most popular monuments in Tbilisi is the Metekhi church that stands on the steep bank of the Kura River. It was erected in the 12th century and was the residence of Georgian kings in the past. Under the arches of the Metekhi temple the first Georgian martyr, the Queen Shushanika Ranskiya, was buried. She was killed in the 5th century A.D. by her fire-worshipper husband. Read more …
Sioni Cathedral
Sioni Cathedral is the main religious landmark of not only Tbilisi but also the entire Georgia. Moreover, this is the oldest construction of the city dating back to the 5-6th centuries, and was completed in the first half of the 7th century. Today there is the residence of the Catholicos – Patriarch of All Georgia. Moreover, the greatest sanctuary of Georgia, crest of the Saint Nino, is kept in the cathedral. Read more …
Anchischati basilica
This is one of the oldest sights of Tbilisi built in the 6th century. The rectangular shaped basilica built under the influence of the ancient Palestinian architecture is located in the heart of the old part of the city. Read more…
Tbilisi Sameba Cathedral (Holy Trinity Cathedral of Tbilisi)
Monumental cathedral in the center of Tbilisi was opened rather recently, in 2004. Funds for its construction were collected from donations of Georgians, both ordinary workers and wealthy entrepreneurs. This is the grandest cathedral of Georgia. Its name is translated from Georgian as "Holy Trinity". Read more …
Cathedral of Saint George (Kashveti)
This is rather a young landmark of the Georgian capital. Kashveti church was built in 1910 but it is interesting that it is the exact copy of the Samtavisi church (11th century), the bright Georgian medieval architecture. There was St.George cathedral built by the Prince GiviAmilakhvari in 1753 on its place, before the present church appeared. Even before it, there was older church (6th century) with the same name. Read more…
Georgia National Museum
The museum has a 200-year history as it was founded on the base of the Caucasian museum that was opened in 1825. Conservative building designed according to old-Georgian architecture. The museum has a unique repository of Caucasian culture and history items. Read more …
Georgia Museum of Art
It is one of the best cultural attractions of Tbilisi. The museum displays exclusive collections of items, jewelry and paintings that vividly show the historical, religious and cultural legacy of Georgia. Some exhibits of the Art Museum are considered sanctuaries of the entire Georgian nation. Read more…
Turtle Lake
This is one of the rare natural sights of Tbilisi. The lake is located behind the mount Mtatsminda, and got its unusual name thanks to the turtles that used to live here. Today it is a favourite resort for residents and guests of the city. Read more …
The Open Air Museum of Ethnography (Georgian Museum of Folk Architecture)
The ethnographic museum of Georgian national architecture under open sky is one of the most frequently visited museums in Georgia that has the collection more than 100 exhibits. Though the uniqueness of this museum is that the entire museum is original Georgian village where each house and manor is the reflection of different epochs of Georgian history. Read more…