Georgian Wine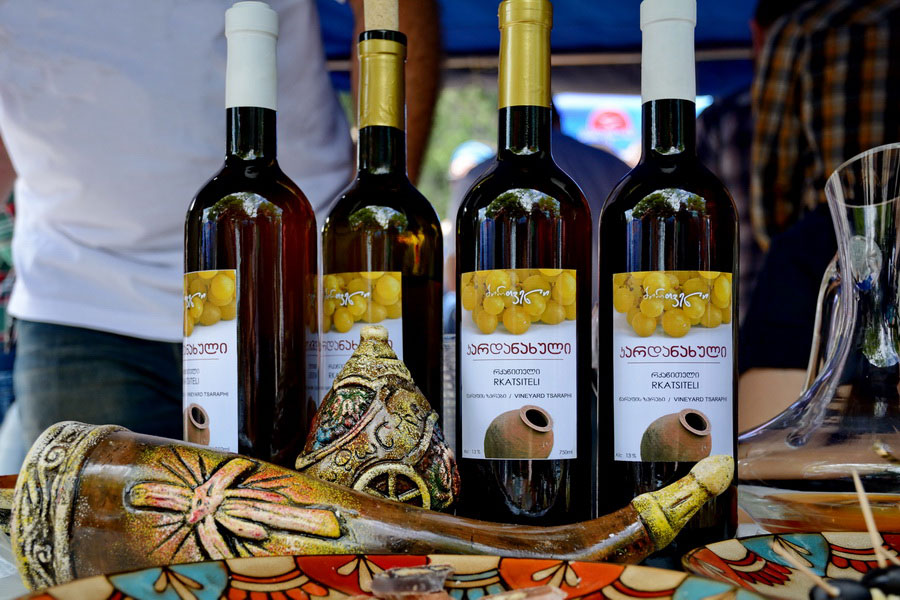 Georgian wine is the combination that sounds like a brand, actually it is. Besides, wine is a significant part of Georgian culture, as well as an entire course of Georgian economy. Georgia and wine are inseparable, and any guidebook will advise you to taste this beverage even if you are not its big fan. Wines are different: white and red, good and bad, sweet and sour, strong and not very, but the Georgian wine is free of any of those characteristics, because it is special.
What makes Georgian wine so special then? "Grapes!", you would say and will be right. Varieties of grapes have a great impact on the taste of the wine, and thus, for example, Argentina or French wines are so different for the same reason. Another example is grapes in Armenia which are very sweet, so wines there are sweet and strong; generally, these varieties of grapes are good for preparing an ideal cognac, but not wine. Interesting to note that even the same vine in different countries vary due to climate and the soil: Saperavi that has grown in Kakheti and Saperavi grown somewhere else are completely different varieties of grapes.
Varieties are divided into black and white according to the berry color. The most famous Georgian varieties of grapes are Saperavi, Mtsvane, Chinuri, Rkatsiteli, Aleksandrouli, Tsolikauri. But in general there are more than 500 varieties of them grown in Georgia. The uniqueness of Georgian grapes is that it had not been imported, but had grown here all the time. At first wild, and later cultivated by people. Grapes in Georgia grow on the plains, and at the foothills. 60% of the Georgian wine is grown in Kakheti.
Grapes make Georgian wine distinct, though it is not the only factor. There are not only own varieties of grapes in Georgia, but also special technologies are applied. There are three main technologies of wine production there: European, Kakheti and Imereti.
When grapes are piled in big wooden wash-tubs, cleaned from seeds and twigs, stomped, juice is collected and fermentation follows up, this is called European methodology. It was used in Ancient Greece and Rome, now it is applied in France and other countries that produce wine for the French market. In Georgia this technology was introduced by Aleksandr Tchavchavadze. Such wine has low astringency and a smooth taste.
When grapes are pressed together with seeds and branches, the outcome, a thick mass, is poured in special crocks called kvevri, and kvevris then are dug into the ground for 3-4 months. This is the Kakhetian technique. After the liquid had been fermented in kvevri, they decant the juice out of it. Taste of this wine is tart and full. Kakheti wines have higher compared to the European ones, percentage of antioxidant-polyphenols that are good for health.
Imeretian way of winemaking combines both, European and Kakhetian approaches. Grapes are not cleaned from skin and seeds, but twigs are removed. The liquid mass is not fermented too long as in Kakhetian technology, only 2-3 months. Such wines are of higher acidity, slightly tart and have a smooth taste.
Interesting facts on Georgian wine:
In Kakheti, as in Europe, they make certain wines from certain varieties of grapes, and in Western Georgia they actively mix few varieties of grapes: thus, well-known Georgian wine Tsinandali is made of the combination of Rtskateli and Mtsvane;
Rather often, they are using metallic vessels for fermentation instead of ceramic kvevris, due to their practical side; although, it makes wine taste different, than the kvevri;
It is thought that wine gets better over time, but this is delusion. Not all wines have this quality, only certain ones, for instance, made from the grape Karkhuna that grows in Imereti. By the way, red wine with the time gets better compared to the white one; it is due to more polyphenols in red wine content;
The more the tartness of Georgian wine, the more polyphenols it has, which means it is healthier (of course, in sensible quantities);
Another delusion is that the color of wine depends on the color of grapes, but this is not true. Any grape juice has no color. It is the skin that makes the color, the dying substances that it has got. It is possible to get white wine from the black grapes, but how? Remove the skin.
Because wine in Georgia has become the competent sight, there are now wine tours offered. The most popular destination for wine tours is, of course, Kakheti, where there are many wine factories producing different types of wine. Wine tours are usually divided into two types: visiting the wine factory or vinery in the village. Wine tour is an excellent opportunity to learn Georgian wine, taste its various types and enjoy the beauties and ancient architecture of Georgia. Your wine tour will be special if you go in September, when there is rtveli in Georgia, vintage time.
Find More About Georgian Wine:
Traditions of Georgian Winemaking
Winemaking Technology
Most Famous Wines of Georgia
Georgian Cuisine: Wine and Winemaking