Wineries & Tasting Rooms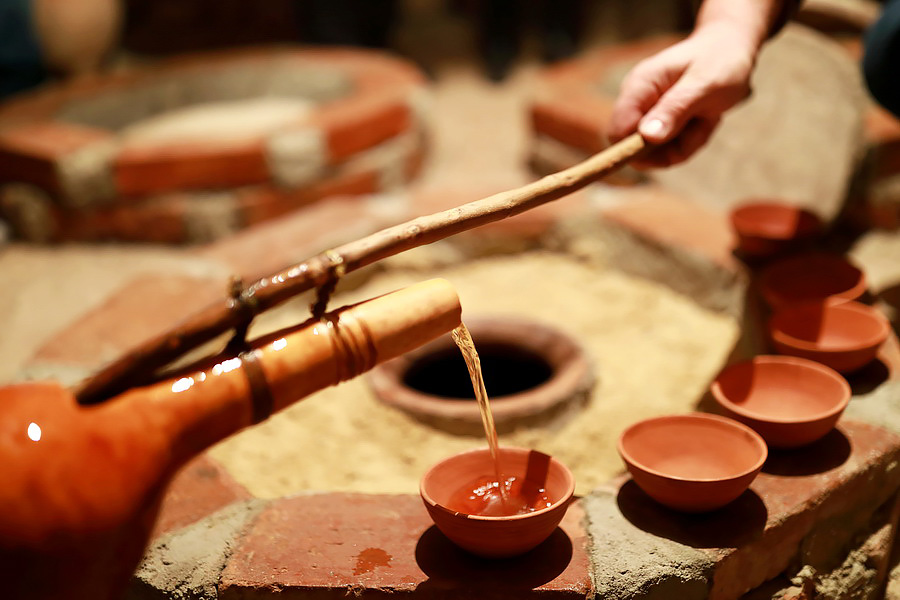 Georgia is considered by many to be the oldest wine-making region in the world. This has been backed up by scientists, who have discovered 8,000 years of winemaking technology in the country. Ancient clay jars, called qvevri (also spelled kvevri), which are still used to this day to make wine, have been found in archaeological sites, and are now included in the UNESCO World Intangible Cultural Heritage List.
The most famous regions for winemaking are Kakheti, Kartli, Imerei, Racha-Lechkhumi and Kvemo Svaneti. Georgian wine has long appreciated demand from around the region and internationally. Currently, Georgian wine is produced by thousands of small farmers who mainly use traditional techniques, and also by contemporary wineries.
Our tours include visits to the following handpicked locations, chosen so that you can try the widest variety of wines and drinks from the most places. Try Georgian wines, chacha (a strong drink made from grapes), and cognac from private homes, small farms, and vineyards.
Khareba Winery
The Khareba Winery is famous for its unique wine cellar in Kvareli (Kakheti Region), which is carved into the rock of the Caucasus Mountains. The Gvirabi tunnel is used to age wine, since the constant temperature of 12-14°C (53-57°F) and 70% humidity is perfect for aging wine in oak barrels and storing bottled wine for extended periods. The total length of the tunnel is more than 7 km (4.5 miles).
Pheasant's Tears Winery
This is a small private winery in Signaghi (Kakheti Region), which produces artisanal, natural wines according to Georgian traditions.
Chateau Mukhrani Winery
Chateau Mukhrani claims to be the first real Georgian royal chateau to unite four key elements: vineyards, winery, castle, and history. Mukhranian wine production was established by Ivane Mukhranbatoni, who was a famous representative of the royal family and a political figure in the 19th century.
Sarajishvili Cognac Factory
This is the oldest wine and brandy manufacturer, established in Tbilisi in 1884. Sarajishvili are pioneers of making brandy according to classic French cognac-making technology. A unique collection of spirits is stored in the Sarajishvili cellars, the oldest of which was distilled in 1983.
Bagrationi 1182 Winery
Bagrationi is one of the largest wineries in Tbilisi. In addition to producing sparkling wine, Bagrationi also makes traditional Georgian clothing and jewelry. Bagrationi 1882 is a wonderful winery to visit, especially for those who love sparkling wine and champagne.
Iago's Winery
This small and cozy family winery is located on the road to Gori. Iago, the owner, uses traditional kvevri jars to make wine and chacha, making this a must-try on your trip to Georgia.
Zigfrid Wine Cellar
This small family-run cellar in the heart of Mtskheta is a great place not only to try some perfect wine, but also to listen to some wonderful family stories and tales.
Ori Marani Winery
The philosophy behind Ori Marani is to combine both Georgian and French winemaking traditions. Indeed, all the wines are fermented in Qvevri and aged in old French oak barrels. Located in Igoeti, only 40 min away from Tbilisi, the focus is on traditional methods for making sparkling wines and also still wine cuvees crafted with an authentic approach.
All wines ferment with their indigenous yeasts, are unfined and unfiltered in order to keep them as pure as possible.
Production is small in order to craft unique wines from Chinuri, Tsitska, Aladasturi, Gorulli Mstvane, Rkatsiteli, and Saperavi.
Didgori Winemaking
Didgori Winemaking is a family winery in Georgia with over a century of experience. The establishment is run by Giorgi Kipiani, a 4th-generation vintner who continues his family business in Khvanchkara village of Georgia's Racha-Lechkhumi Region. Didgori Winemaking is the perfect place to sample rare and award-winning wines from local grape varieties and delicious, homecooked regional cuisine.
Shumi Winery
Shumi Winery is a large touristic complex in the village of Tsinandali, Georgia which has played an important role in local viticulture since 1997. The property itself is historic, for it used to belong to Georgian and Kakhetian kings and also served as the summer residence of the Russian Emperor Alexander III.
Giuaani Winery
Giuaani Winery is a family winery in Kakheti Region, Georgia where wines are produced using local grape varieties and a blend of methods old and new. Visitors can tour the facilities, indulge in wine tasting in a cozy Georgian restaurant and even participate in cooking classes.
Lekso's Marani
At the family-owned wineries in the valleys of Georgia's Kakheti Region, owners are known for putting their heart and soul into their work. Lekso Pitskhelauri, the congenial wine-loving owner of Lekso's Marani, is no exception, and the result is some of the finest wines that you will encounter.
Kakhetian House Vakirelebi
Kakhetian House Vakirelebi is a hidden gem of Georgia whose delicious homemade food and wine and sweet, kind-hearted hosts never fail to charm visitors. The winery is located just 10 kilometers from Sighnaghi in the small Kakhetian village of Vakiri, from which the establishment derived its name. The area is perfect for scenic photographs and the winery itself known for its welcoming owners and mouthwatering menu, of which the eggplant, spinach and cabbage rolls with walnuts are bound to be a highlight!
Merebashvili's Marani
Merebashvili's Marani is located at the entrance to the small town of Kaspi, Georgia, which along with the surrounding villages is regarded as a leading center of viticulture and winemaking in Shida Kartli Region. A family winery, it is famous for its delicious artisanal wines produced from organic grapes.
Gotsa Winery
Gotsa Winery is an organic family estate surrounded by a beautiful oak forest in Kiketi, Georgia, located a 40-minute drive from Tbilisi. The winery offers a brilliant array of natural Georgian wines, including red, white and organic amber varieties. The chief winemaker of the Gotsadze family, Beka Gotsadze, is committed to using traditional methods of farming and grape cultivation to ensure that Gotsa wines are as natural and chemical-free as possible.
Begaso Family Winery
All of the wines at Begaso Family Winery are organic, for the chief winemaker believes in letting the quality and character of the grapes speak for themselves. Sophisticated wine lovers will appreciate the incredible flavors which are both new to this world and older than history itself. Each distinct flavor is sure to impress connoisseurs while exciting the palettes of new wine lovers, inviting guests to share an exclusive vinicultural experience as they partake in wines whose origins go back more than 80 centuries.
Archil Guniava Wine Cellar
Archil Guniava Wine Cellar, located in western Georgia in the village of Kvaliti near Zestafoni, is as authentic as it gets. Prominent winemaker Archil Guniava comes from a family of winemakers who have been providing area villagers with fine wine for over a century, and he prides himself on producing exclusive natural wines.
Baia's Wine
Baia's Wine is a family estate located in the village of Obcha, a 40-minute drive from Kutaisi in Georgia's Imereti Region. The owner, Baia Abuladze, is a young female winemaker who made a name for herself as the first organic winemaker in Baghdati Municipality.