Kyrgyz Carpets - Shyrdak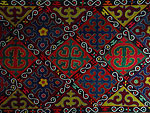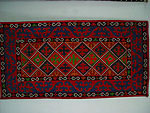 by Aijbek Aitbaev
The Kyrgyz began using the felt for weaving of carpets and other things as far back as the antiquity. The development and perfection of every kind of Kyrgyz carpet art were affected by different factors, such as: conditions of life, climate, natural environment and social factor.
The most popular kind of felt carpet in Kyrgyzstan up to now is a shyrdak. It is weaved by mosaic technique, which is the most complicated one, but at the same time features with one of the most important characteristics - durability. An average service life period of a shirdak is about 100 years or sometimes even longer
Fabrication process of a shirdak carpet is a labour-intensive one, that is why it takes a mistress from 2 to 6 months to weave one carpet subject that she will only be engaged with it, but normally the Kyrgyz women work in groups which mainly consists of the representatives from one family.
The shyrdak carpet is one of the most valuable things of the Kyrgyz domestic life that is why a special importance is given to a girl's dowry which has to comprise indispensably a shirdak carpet.
The weaving process of a shirdak carpet is as follows: the carpet is made of two kinds of felt, its upper layer is made from thin felt to which a colored drawing is applied to, and the lower one is made of thick felt of brown or black color. The pieces of the dyed felt are folded and sawn together. The ornament is applied with the help of a piece of chalk and cut with a fine knife. It is interesting that the background and the pattern are almost of the same area, which adds the carpet an inimitable style.
One of the elements of carpet technique is stitching - shyryk (which gave rise to word shyrdak) which enhances the carpet durability. The stitching follows the drawing design creating a pattern inside the felt carpet. The size of a shyrdak is about 1.5 to 3m, which is convenient for handling.
Among the traditional drawings of a shyrdak are animals, deer horns and inscriptions, which are a coded message to its owner. Nowadays the shyrdak carpets are made in the provinces of Naryn and Issyk–Kul. They are presented to girls as a dowry for their wedding-day.
Up to date shyrdak is one of the rarest kind of carpets weaving in Kirgizia. In order to preserve this tradition for centuries, the country's government nominated shirdak carpets to enter to the UNESCO social heritage list. The UNESCO is to consider the application in the year of 2013.