Kyrgyz carpets - Pile carpets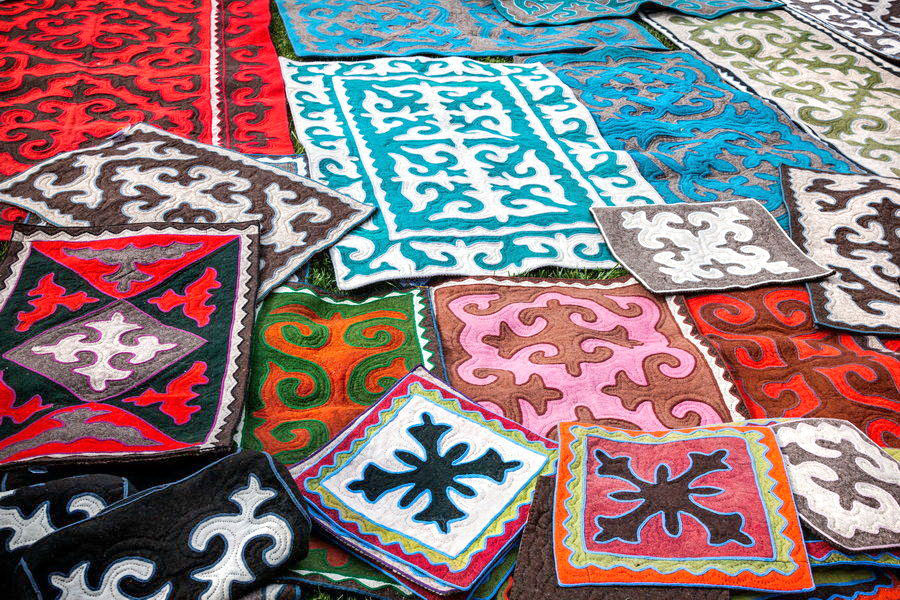 Piled carpets are mainly made in the South of Kyrgyzstan and are a special example of a weaving process. The Kyrgyz were weaving the carpets beginning from early Middle Ages, but in spite of this fact, only a small quantity of carpets were made at production level. The First Russian travelers appreciated Kirgiz piled carpets very much. However, it should be noted that the Kirgiz began developing their carpet weaving in industrial scale as late as in the XIX century. Heretofore the carpets were made mainly for domestic usage and in after years, they were sold in the markets and exported abroad.
Some carpets were used as bags, covers for saddles and otherwise. Large carpets at size of 150cm to 300cm called kils were normally decorated with a fringe twisted into threads. They were used to cover the cargo carried by camels that moved from jailoo to jailoo, or were placed over the felt carpets (ala-kyjiz and shyrdak) in the yurts. The majority of these carpets were made of wool, but sometimes cotton was used for this purpose. Normally the Kirgiz prefer to use camel pile because of its strength and durablilty. Weaving of the piled carpets is a team work which involves several women working together and who are normally representatives of one family.
The piled carpets add coziness and home-like atmosphere to Kirgiz houses and, in the summer time, to yurts. In summer pastures – jailoo the tourists and guests of the country may watch de visu magnificent Kirgiz yurts decorated with piled carpets.