The Сentral park of culture and recreation named after Gorky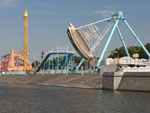 source: vltete.com
The Сentral park of culture and recreation named after Gorky is a favorite place of resting all Muscovites. The park was founded in 1928 and it looks like a single green array. Neskuchny Sad and slopes of the Vorobyev Hills are part of the park.
There is the Lunapark and Chudo-grad, the park amusements complex. It is possible to fly on the Magic Carpet, to go to Trip to Africa, to walk up to the Ninth Shaft of the Flying Machine, and to measure swords with Vikings, to play soccer and volleyball and to practice shooting with a crossbow.
At the Pioneer and Golytsinskoe ponds one can admire black and white swans and ride a catamaran. In addition, there are numerous cafes, bars and restaurants on the territory of the park.
On holidays dancing and concerts of pop stars are conducted here. Various competitions, lotteries, sports competitions, games and theatrical performances are conducted on the Music platform many and in the Children town. And in winter, when attractions are closed, the park hosts Moscow's largest ice rink in the open area.