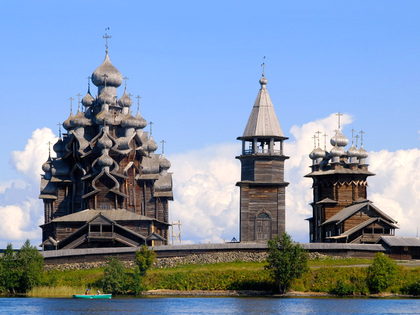 Tour itinerary:
08:15 / 11:15 the driver will meet you at the hotel and transfer to the water station.
08:40 / 11:40 the motor ship boarding.
09:00 / 12:00 departure and sail along the Onejskoe Lake to Kizhi Island (1h 30m).
10:30 / 13:30 arrival in Kizhi Island. Walk to the excursions department where an English speaking guide will be waiting for you (please provide him the company voucher). Start tour in Kizhi Island – an open-air museum. During the sightseeing, you will visit the world-famous wooden architecture museum of the Russian North. It includes a magnificent architectural ensemble of Preobrajenskaya Church, Pokrovskaya Church and the Bell tower. End of the guided sightseeing. Free time. After the sightseeing you will have time for lunch at a local café.
14:00 / 17:00 return to the pier.
14:10 / 17:10 the motor ship boarding.
14:30 / 17:30 departure and sail along the Onejskoe Lake to Petrozavodsk. (1h 30m).
16:00 / 19:00 arrival in Petrozavodsk. The driver will meet you and transfer to your hotel. End of the tour.

Price includes:
Round trip motor ship tickets;
Transfers hotel – water station – hotel;
Entrance tickets;
Private English speaking guide on Kizhi Island.
Price does not include:
Lunch;
Personal insurance.