Siab Bazaar, Samarkand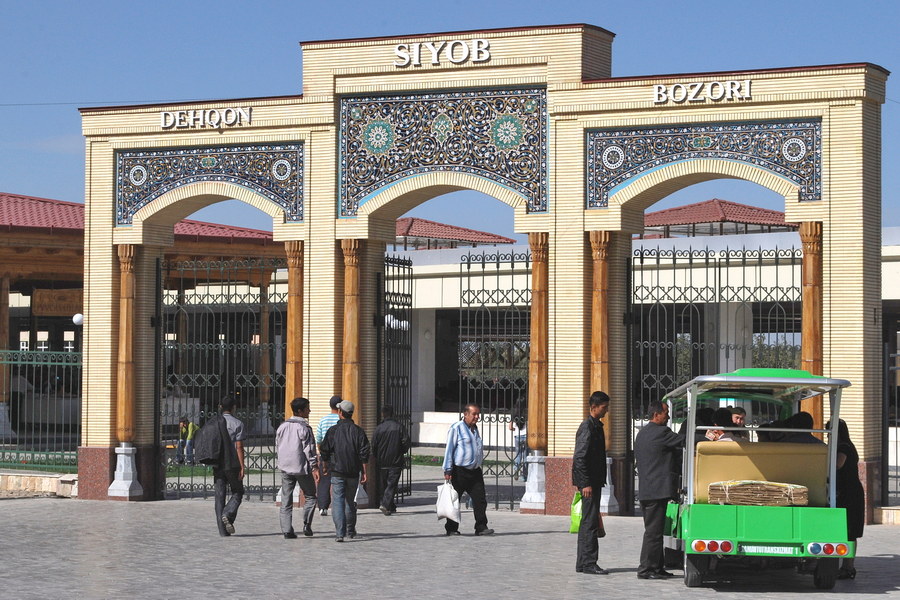 Visiting Samarkand and not paying a visit to Siab market means missing one of the most interesting adventures. The oriental market is a special place where you can feel a live atmosphere of the ancient city. Many years ago, bazaars served as the main strategic points on the Great Silk Road trade development. Siab Bazaar in Samarkand is one of the most interesting and ancient must see sights.
Peculiarities of the Siab Bazaar
Siab market is conveniently located, with the great mosque of Bibi-Khanim in only few minutes' walk away. There is another landmark not far from the bazaar – Hazrat Khizir Mosque. The area of the market impresses with its 5 ha of trade rows. The main entrance is done in the form of a lofty three-fold arch adorned with blue mosaic. Trading rows are under tents that protect the bazaar from a burning sun in summer and from wind and rain in winter.
When crossing the threshold of the arch, you will find yourself in a different, rather magic atmosphere with lots of bright colors around you, hubbub of voices of customers and merchants, and certainly abundance of fruits and vegetables. Siab Bazaar practically never sleeps. There buy and sell starts before the sunrise and ends late in the evening.
Siab Bazaar is a dekhkan (agricultural) market; there you will mainly find vegetables and fruits grown in Uzbekistan, as well as local hand-made products. Trading rows are conditionally divided according to types of goods. Local sellers say that Siab dried fruits, sweets and nuts are so tasty that make residents of the capital city travel there for their portion. It is also possible to meet huge number and kinds of spices at the bazaar, even the rare ones. Apart from the edible products, you can buy pieces from local artisans and masters.
Special attention should be given to a bread row, as Samarkand bread is a special sort of local flour product. You can see more than 17 kinds of bread at the Siab market.
What is an oriental market without tasting?! there, as in any other bazaar, kind-hearted vendors will not only allow you to taste the product before purchasing, but will also insist on it. Surely, the main subtlety of the oriental bazaar is a bargaining tradition. Each buyer has a duty to trade with the seller before a purchase. The point is not about reducing the price, rather a habit that Asian dwellers have formed from the childhood. The one who shows the talent will gain in the end.
Except fresh and various goods, Siab market in Samarkand has another feature – this is the place where you can find out the latest news and events happening in the city. Uzbek people are very sociable and people get involved in conversations even with strangers.
After visiting this bazaar, you will dive into the atmosphere of Samarkand festivity, mystery and will be able to understand the historical city on the Great Silk road. Along with ripen fruits and hot bread; you will take with yourself a piece of oriental atmosphere that will stay with you forever.