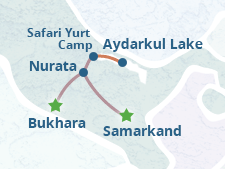 Aydarkul tour is an unusual trip to the huge lake in the middle of Kyzylkum desert. You will travel to the yurt camp located not far from the shores and can dive into the world of the nomad life. You will stay in the yurt surrounded by the endless desert, spend the evening by the fire under the starry sky and enjoy listening to the live folk music. In the morning, you will have a ride on camels that will make you feel a traveler on the Great Silk Road. Moreover, if weather allows you can swim in the Aydarkul Lake.
Apart from that, on the first day, on the way to the lake, you will have a stop in Nurata, the place that has preserved artifacts of the history. There is a wall painting of the primitive people not far from the city; you can also climb on the ruins of the fortress erected by the order of the Alexander the Great, then sit and enjoy the tranquil atmosphere with the view of the holy spring "Chashma".
Aydarkul tour is an excellent experience for those who want to learn more about the nomadic lifestyle and prefers seclusion far from the civilization.
In the morning drive to yurt camp located in Kyzylkum desert (270 km, 5 h.). On the way stop in
Nurata
town and visit a
local mosque
with holy spring water. Continue driving to yurt camp. Stop on Nurata pass to see petroglyphs. Arrive in Safari Yurt Camp, accommodation in yurt. Camel riding and free time. In the evening dinner near the camp fire with Kazakh akin singing folk songs. Overnight in the yurt.
Meals: dinner
In the morning visit desert
Aydarkul Lake
. Free time on the lake.
Extras to do in the area:
Option 1. Camel ride to Aydarkul Lake through the desert (8.5 km, 3 h.). Enjoy your time on the lake and have lunch.
Cost: $30 per person for a camel and cameleer service.
Option 2. Take a short camel ride to a nearby village Dungalak (1.5 km, 30 min). Participate in baking traditional bread "non". Take a short walk in the village to see life of locals and return to the camp.
Cost: $20 per person for a camel and cameleer service.
In the afternoon depart the yurt camp and drive to Samarkand (270 km, 5 h.)/Bukhara (250 km, 5 h.). Arrival in Samarkand/Bukhara, transfer to hotel/train station.
Meals: breakfast, lunch or picnic
All transfers: 1-3 travellers by sedan type car; 4-8 travellers by van type car;
Accommodation in the yurt camp;
Full board (dinner, breakfast, lunch/picnic).
Accommodation in Samarkand/Bukhara;
Travel insurance.
Accommodation: