Landmarks and Attractions of Georgia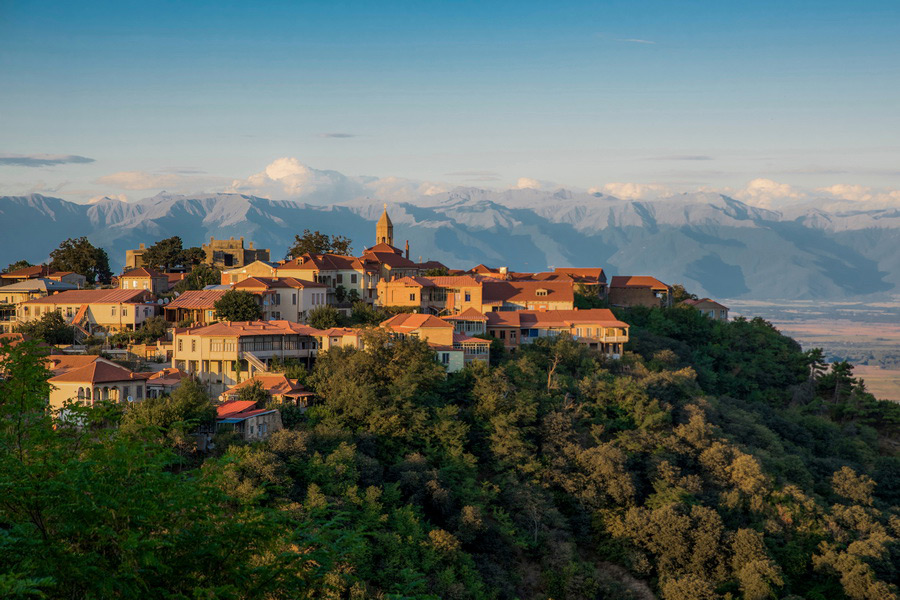 What is Georgia famous for? Landmarks and attractions of Georgia are not limited to museums and stately monuments of ancient kings. As you explore the rich Georgian culture, you'll continually discover true gems that directly reflect the unique talents of the proud Transcaucasian people. Music and dance, amazing local cuisine, and delicious wine are all vibrant elements of the country's colorful cultural tapestry. As you travel through different regions of Georgia, you'll never cease to be amazed by the diversity of ideas, shapes, colors, rhythms, scents, and flavors. Every corner of Georgia holds countless treasures just waiting to be uncovered!
City Architecture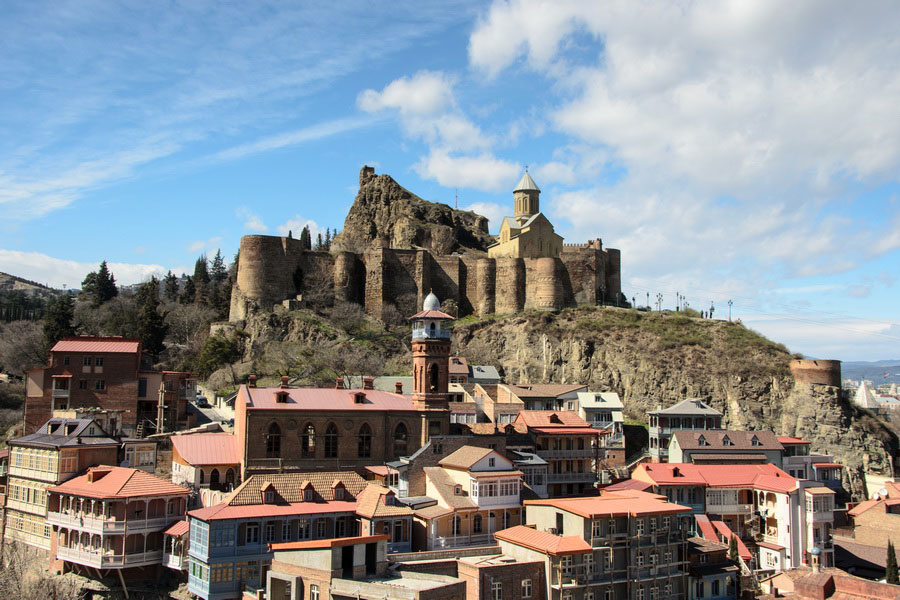 Visitors to Georgia will immediately notice the striking contrasts in the architecture of the country's cities, which offers unique visual experiences. Ancient buildings that are over a hundred years old stand alongside modern and futuristic masterpieces. Tbilisi, the Georgian capital, was one of the first places where bold construction experiments began. In 2010, the Bridge of Peace appeared near the old city center and Narikala Fortress, shining in the sun with hundreds of light-blue panels, becoming an iconic symbol of the city's modernity. That same year, Rike Park was created, featuring the Cultural Center, with an unusual form resembling massive curved tubes as the dominant feature. Georgian sights like these highlight the country's innovative spirit and passion for architecture.
All police buildings in Georgia boast a unique construction design, with walls made entirely of glass. The main idea behind the design is the principle of openness and transparency. That's why such a strong emphasis is placed on the use of impact-resistant glass in the wall designs.
Justice Houses in Georgia are designed with individual plans and a unique twist. For example, in the Kakhetian town of Kvareli, public service workers convene in a building shaped like a huge blossoming flower. The capital's branch even resembles a giant mushroom to many.
The coastal city of Batumi has also become a platform for constructing original modern buildings. The promenade is dotted with vibrant structures that have shaped the unique appearance of the resort town. Take, for instance, the Alphabet Tower or the famous Batumi skyscraper, which has a massive wheel built into its structure, consisting of gilded capsules. Thanks to these Georgian attractions, Batumi has gained its characteristic postcard-like appearance.
Innovative solutions are often employed in designing buildings throughout the country, and bold architectural projects are approved, shaping a refreshed, contemporary image of Georgian cities.
Nature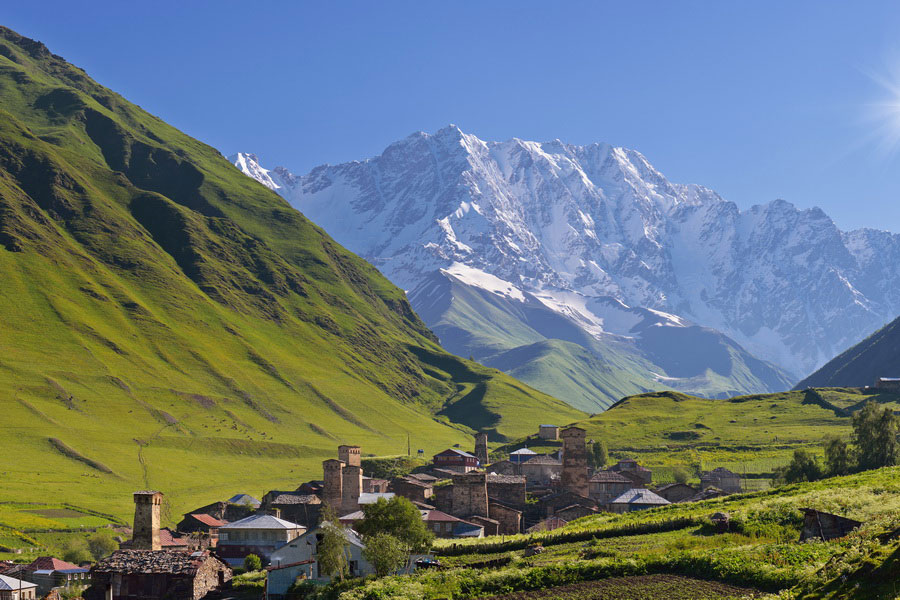 The enchanting landscapes of Georgian nature are a true feast for the eyes. The country's location between two mountain ranges (in the north and south) and its access to the Black Sea coast have shaped stunning landscapes and bestowed a mild, warm climate upon the nation. Mountains occupy two-thirds of Georgia's territory. High snow-capped peaks, gentle slopes, solitary summits, and entire mountain systems – this diverse terrain can be explored endlessly!
Head to Adjara to breathe in the fresh sea air and experience the delights of a subtropical climate. You'll be greeted by a riot of colors and an abundance of greenery. Adjara's nature will delight you with its turbulent rivers and waterfalls, and the region is also famous for its national parks.
Do you want to see a rocky semi-desert? Visit the Vashlovani Reserve, and you'll be met with fantastical Martian landscapes. You'll be amazed by the panoramas of sandstone mountain ranges and can marvel at the mud volcanoes.
You'll be charmed by the dense forests of the Borjomi Reserve and the towering mountains of Svaneti. A journey along the Georgian Military Highway will gift you a whirlwind of emotions as you take in the constantly changing, incredible panoramas. The Samgrelo region will reveal an unexpected side of Georgia, with its stunning canyons featuring crystal-clear turquoise waters and mesmerizing vertical cliffs.
It's entirely possible to visit the main natural attractions of Georgia by car in just 2-3 weeks. However, fully immersing yourself in the local beauty requires much more time. Regardless, once you've visited Georgia, you'll want to return to this picturesque country again and again.
Ancient Fortresses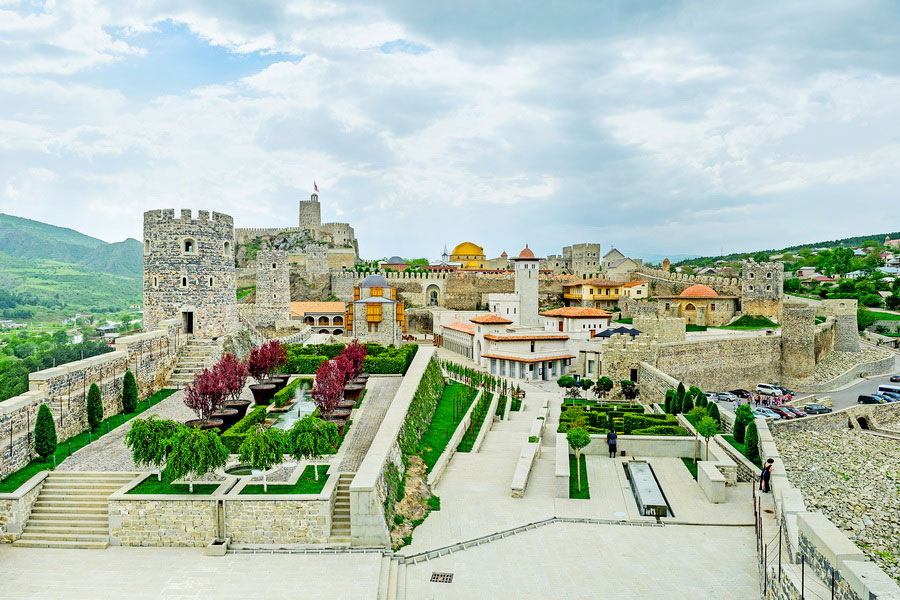 The landmarks and attractions of Georgia offer a glimpse into the country's rich history that has been partially preserved in its material form. Perhaps the most valuable objects of the country's historical heritage are its stunning medieval citadels, which can be found in every region of Georgia.
One of the most famous fortresses in Georgia is the Narikala Fortress, located atop a mountain ridge in the heart of Tbilisi. The fortress offers a stunning view of almost the entire city, and visitors can stroll around its grounds and capture some amazing photos. Another Georgian gem is the fortress in Sighnaghi, a town located in Kakheti. This fortress, one of the largest in Georgia, covers an area of about 40 hectares, and climbing one of its towers offers breathtaking views of the Alazani Valley. A visit to this fortress is a must when traveling through Kakheti, and it is a great way to experience Georgia sights and attractions.
Another famous Georgian fortress is Rabati, built in the city of Akhaltsikhe in the distant 13th century. This well-preserved structure was also recently restored, transforming the partially ruined citadel into a true work of art.
Cave Cities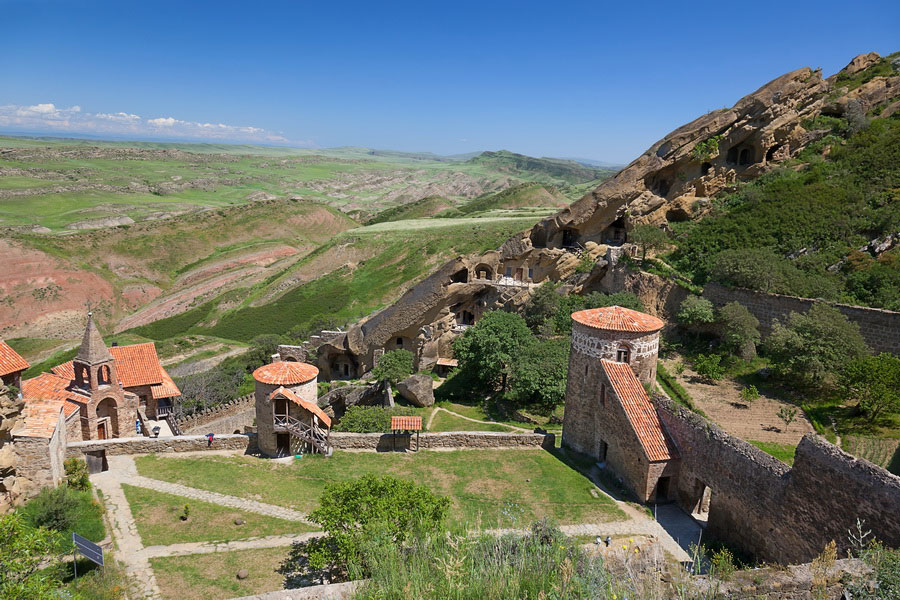 When it comes to exploring Georgian sights and attractions, one should not miss the opportunity to visit the ancient cave cities. These sites are just as impressive as the powerful medieval fortresses in the country. The Uplistsikhe cave complex, located closest to the capital, is one such attraction that is truly worth visiting. This cave city was one of the first to emerge in Georgian territory, and its construction dates back to the end of the second millennium BCE. The inhabitants of the cave city at that time were pagans who worshiped fire and the sun, and visitors can still see altars for ritual sacrifices in Uplistsikhe today. Don't miss out on exploring these unique Georgian sights and attractions that offer a glimpse into the country's rich history and culture.
Another famous cave complex is David Gareja, founded by one of the 13 Assyrian fathers who preached Christianity in the 6th century. Saint David settled on a mountain, carving a cave for himself in the sandstone. Later, his followers began creating cells for themselves nearby. Thus, a unique monastery complex, carved into the rock, was formed!
It's also worth paying attention to the ancient city of Vardzia, whose history dates back to the 12th and 13th centuries. The city is a system of interconnected rooms carved into a tufa mountain, spread across 13 levels. The complex includes about 600 rooms of various purposes: living areas, dining rooms, warehouses, cellars, libraries, workshops, and churches. It was a wealthy city that served as an important cultural center of medieval Georgia.
Temples And Monasteries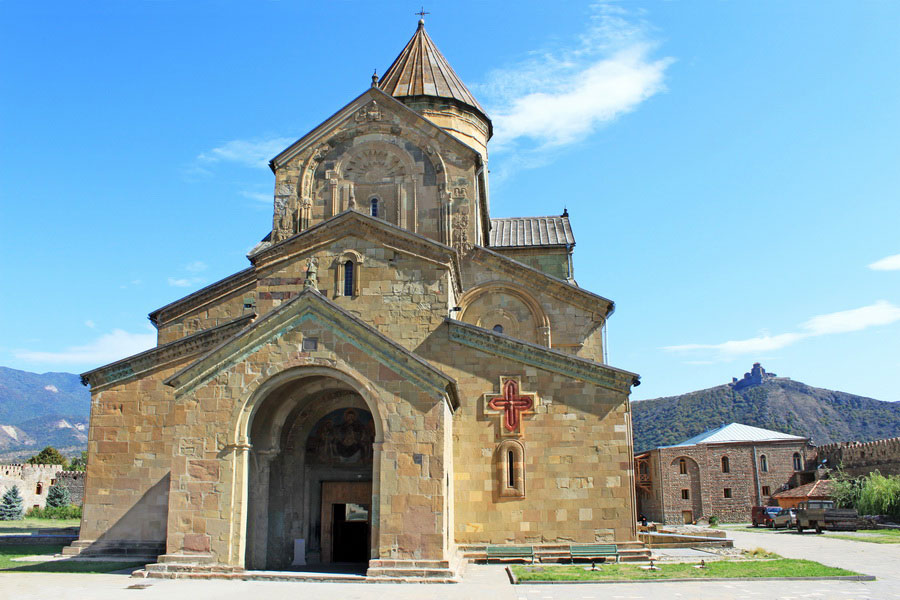 Temples and monasteries are undoubtedly significant attractions in Georgia. The history of temple construction in Georgia spans over 1,500 years! During this time, a vast number of churches have been built throughout the country. Over the centuries, their architectural style has not undergone significant changes, so Georgian temples generally resemble each other. The main distinction is their construction type. Mainly, basilicas and domed churches were built. A basilica has a gabled roof, and its interior space is divided into three parts by columns or walls. Domed churches, in perspective, have a cross-shaped layout and are equipped with a dome.
The most famous basilica in Georgia is the Bolnisi Sioni, the oldest temple, built in 493 CE. Despite its venerable age, the church is well preserved, and the first inscription in the Georgian language, written in the Asomtavruli alphabet, was found on its wall! This is definitely something worth seeing!
Georgian landmarks and attractions have a rich history and culture to offer to tourists. One of the must-see places is the Svetitskhoveli Cathedral located in the city of Mtskheta, which played a crucial role in Georgian history. Built by King Mirian, this Cathedral became the burial place for many Georgian kings and patriarchs. Its walls also house valuable relics such as the tunic of Jesus Christ, the remains of Saint Andrew the First-Called, and a part of the Lord's Cross, making it a significant destination for pilgrims.
Apart from the Svetitskhoveli Cathedral, Georgia has many other significant temples that are worth visiting. Some of these include Metekhi, Anchiskhati, Mamadaviti, and Sameba in Tbilisi, the Bagrati Cathedral in Kutaisi, and the Church of Saint George and the Bodbe Monastery in Sighnaghi. The list goes on and on, and it is worth taking the time to explore these sacred sites to experience the authentic spirit of ancient Georgian history.
Cuisine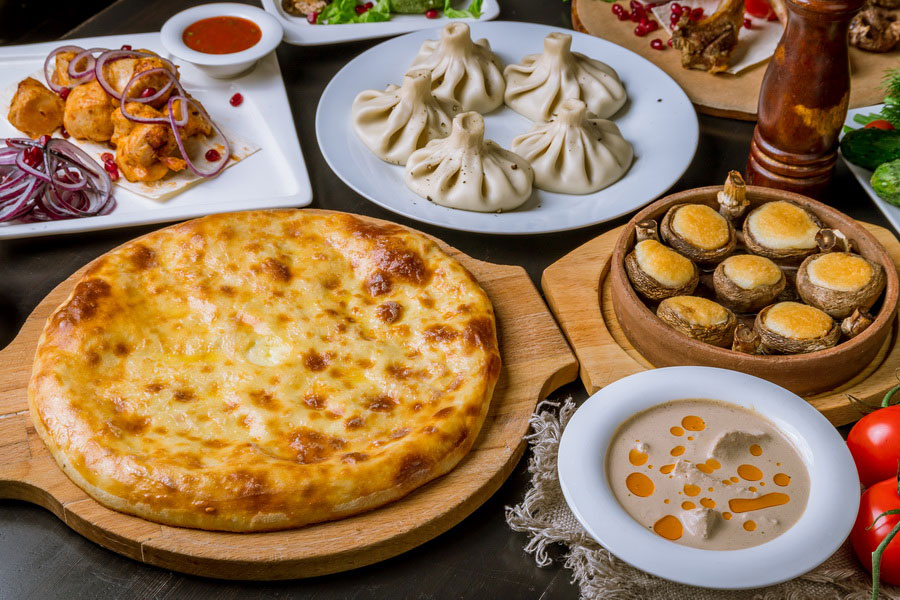 The Georgian cuisine is another bright attraction that is surrounded by legends. The tradition of hosting loud and lavish banquets is a living testimony to that. Georgians love to eat well and approach the preparation of dishes, whose recipes have been passed down to them from their ancestors, with knowledge. What isn't on the table at a friendly family celebration! Hinckali, khachapuri, satsivi, chikhirtma, dolma, phali, a huge variety of cheeses, fresh fruits, sweets... You want to try everything!
The dishes of Georgian cuisine are filling and very nutritious. And all thanks to fairly caloric ingredients: meat, flour, cheese, butter, beans.
In different regions of the country, you can find specific local delicacies. That's why, traveling through Georgia, you will regularly discover new flavors.
Wine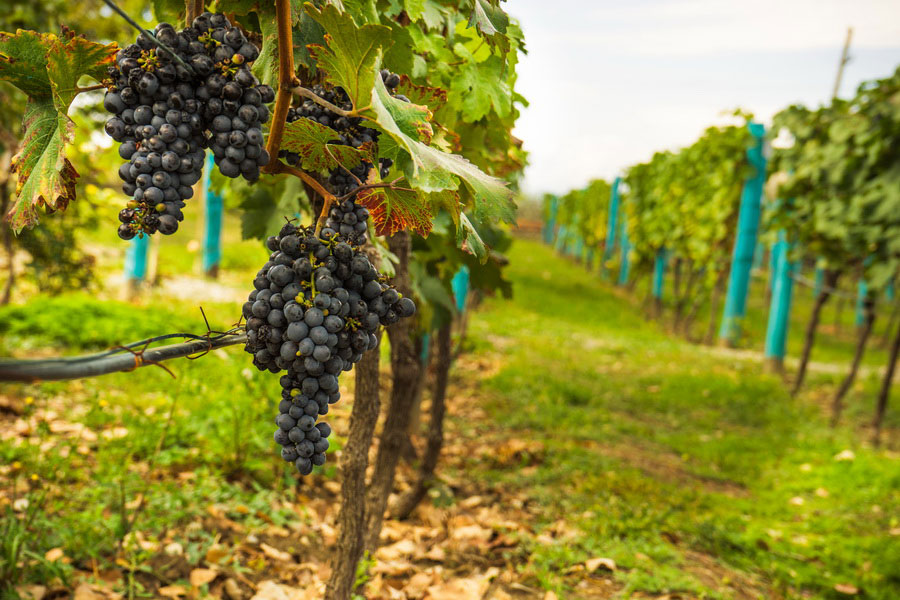 Georgian ancestors began growing grapes and making wine about 8,000 years ago, and these wine-making traditions continue to flourish in Georgia today. Wine is produced by both large factories that cater to the global market and small family wineries that adhere to traditional wine-making techniques. Connoisseurs and enthusiasts highly appreciate wine made in kvevri, clay amphorae used for the long-term aging of grape must. After the harvest, grape juice is placed in these vessels along with the skin and seeds, and left to steep for several months. The amphorae are buried in the ground, allowing the wine to "mature" for an extended period at low temperatures, developing characteristic tannic notes.
In addition to amber wines from kvevri, Georgia produces red, white, and rosé wines, which are also in high demand in the local market. The main grape varieties are Saperavi, Rkatsiteli, Tsolikauri, Kisi, Tsitska, Chinuri, Khikhvi, and Krakhuna. Wine is a staple at any Georgian feast, during which continuous toasts are made, and respect is paid to the hospitable hosts.
Music and Dances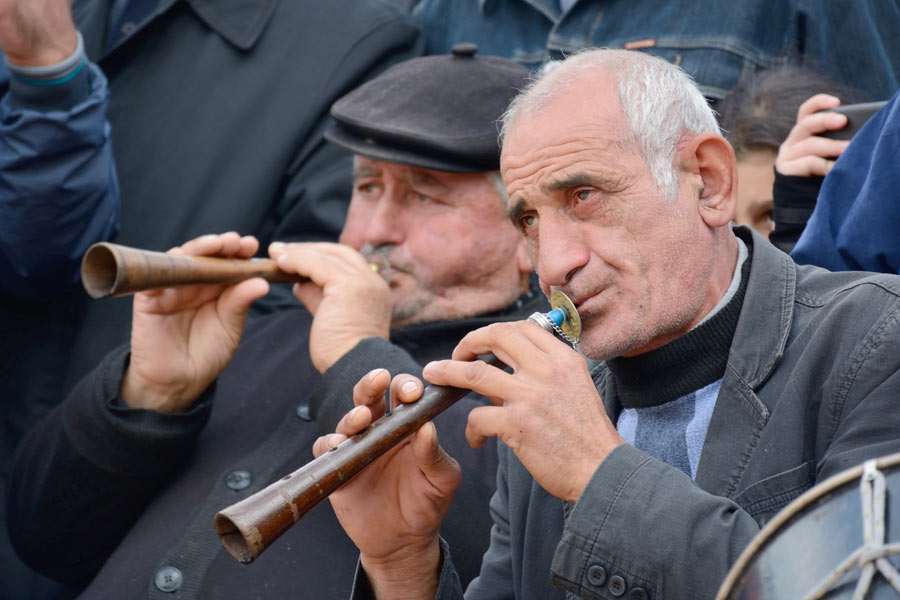 Georgian culture is vividly expressed through its national songs, music, and dances. Sometimes lyrical and sometimes dynamic, the motifs of traditional melodies touch the soul deeply. Rhythmic dances, full of energy and expression, always evoke the most vivid emotions in spectators.
Georgian polyphonic singing has become widely known, where the melody is built upon a mesmerizing harmony of multiple voices. Piercing shifts in tones and semitones blend together in a cohesive harmony.
Georgian dance also deserves special attention. Vivid costumes, polished movements, passion and fire - national dances are definitely the most valuable part of Georgian culture. Dances in Georgia are always dedicated to some event or phenomenon: weddings, hunting, harvest, defense of the homeland. Dances can be solo, couple or group. Be sure to attend a dance performance in Georgia and it will be one of the most memorable events of your trip!
We have described the main attractions of Georgia, but this is not a complete list. Each day you spend in this country will reveal more and more of its treasures!