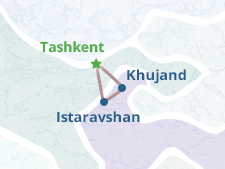 Rich two-day tour to Khudjand, one of the oldest cities of Central Asia will introduce you to unique culture and interesting history. In rather short time you visit the most amazing sights of Khujand. In addition, you will discover the neighborhood of Khujand, a small antiquated town of Istaravshan, beautiful with its medieval fortresses and mosques.
Early morning you will be driven to Uzbekistan-Tajikistan border Oybek (100 km, 1 h. 30 min.). After completing customs and passport control on both sides, Tajik local guide and driver will meet you on the Tajik side and take to Khujand (70 km, 1 h.).
In Khujand you will explore the Sughd Historical Museum, Timur-Malik Fortress, Mosque and Madrasah of Shaikh Muslihiddin, Payshanba Bazaar. You will try delicious Tajik cuisine at the local restaurant. After you will have some free time at your disposal. Overnight at the hotel.
In the morning you will be taken to Istaravshan (80 km, 1,5-2 hours). You will visit Hazrat Shah architectural complex, which consists of Hazrat Shah Mausoleum, the grave of brother of Kusam ibn Abbas, Khudayar Valami Mausoleum, and Namazgah Mosque dating back to the 19th century. Continue to Mug Teppe, an ancient city believed to be founded by King Cyrus. After sightseeing tour you will be back to Khudjand, where you will have lunch. Late afternoon you will head back to Tashkent. After passing the same border Oybek, the driver will meet you on Uzbekistan side and transfer to your place in Tashkent.
All transfers:
Uzbekistan part - 1-3 pax by sedan type car; 4-8 pax by van type car; 9-14 pax by 20 seat bus;
Tajikistan part - 1-2 pax by sedan type car; 3-7 pax by van type car; 8-13 pax by 20 seat bus;
Accommodation based on double/twin room sharing, breakfasts included;
Sightseeing tour in Khujand and Istaravshan with local guide;
Entrance fees to sights as per itinerary;
Visa support letter for Tajikistan tourist visa;
Full board.
Tour leader to accompany travellers for the whole period of the tour;
Consular fees for Tajikistan tourist visa;
Travel insurance.
Accommodation: