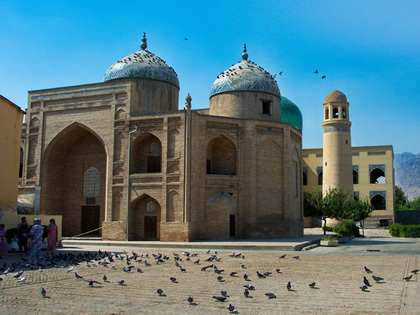 One of the most ancient cities in Central Asia with its fascinating history, Khujand is more than 2500 years old. It has seen troops of Alexander the Great who is believed to marry Roxana, a daughter of local ruler. Alexander captured the city, fortified and renamed it to Alexandria Eschate as a symbol of north boundary of his state. The city was defeated by Arabs and converted to Islam in VII century. In the beginning of XIII century after two years of desperate fights Khujand was demolished by Genghis Khan Army. Middle Ages are characterized by the burst of science, culture and economy which was explained by strategic location of the city in the centre of the Great Silk Road. One day tour to Khujand gives you an opportunity to visit the second biggest city in Tajikistan, to get to know its history and to meet hospitable Tajik people.
Tour itinerary:
Day 1: Tashkent – Khujand – Tashkent
Early morning transfer to Uzbekistan-Tajikistan border Oybek (100 km, 1 h. 30 min.). Customs and passport control on both sides, cross the border, meet Tajik local guide and driver and drive to Khujand (70 km, 1 h.).
Sightseeing in Khujand: Republican Historical-Ethnographic Museum, Timur-Malik Fortress, Archeological Museum, Mosque and Madrasah of Shaikh Muslihiddin, Payshanba Bazaar. Lunch at local restaurant.
Late in the afternoon return to the border point Oybek, customs and passport control, continue to Uzbekistan. Return drive to Tashkent. Arrive in Tashkent, transfer to the hotel/private residence.
Price includes:
All transfers:
Uzbekistan part all transfers - 1-3 pax by sedan type car; 4-8 pax by van type car; 9-14 pax by 20 seat bus;
Tajikistan part all transfers - 1-2 pax by sedan type car; 3-7 pax by van type car; 8-13 pax by 20 seat bus;
Sightseeing tour in Khujand with local guide;
Entrance fees to sights as per itinerary;
Visa support letter for Tajikistan tourist visa;
Lunch in Khujand.
Price does not include:
Accommodation;
Tour leader to accompany travellers for the whole period of the tour;
Consular fees for Tajikistan tourist visa;
Travel insurance.