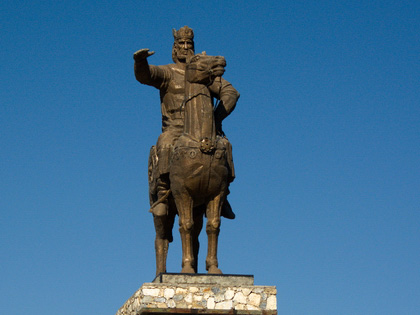 Penjikent, Tajikistan, is a small city with an ancient history. When Penjikent started flourishing in the 5th century, it was home to a large number of merchants and businessmen. In the 9th century, the city became to Rudaki, the first great modern Persian poet. His refinement and unique character defined poetry for centuries after him, even though most of his works have been lost to time. Take a day trip from Samarkand to see his mausoleum, and the modern-day bustling city in the morning, and in the afternoon, head out to the ruins of ancient Penjikent. The ruins are all that is left of the older upper city after Arab conquerors moved the population to a new town.
Tour itinerary:
Samarkand – Penjikent – Samarkand
Early morning transfer to Uzbekistan-Tajikistan border Jartepa (50 km, 1 h). Customs and passport control on both sides, cross the border, meet Tajik local guide and driver and drive to Penjikent (30 km, 40 min).
Sightseeing in Penjikent: Rudaki Museum, local Bazaar and mosque. Lunch at local restaurant. After lunch drive to the ruins of ancient Penjikent located within 5 minutes drive from modern Penjikent. Penjikent was a major Sogdian city dating back to the 5th century and was destroyed by Arab conquerors in the 8th century.
Late in the afternoon return to the Jartepa border crossing, customs and passport control, continue to Uzbekistan. Meet your driver and transfer to Samarkand. Arrive in Samarkand, transfer to the hotel/private residence.
Price includes:
All transfers: Uzbekistan part all transfers - 1-3 pax by sedan type car; 4-8 pax by van type car; 9-14 pax by 20-seat bus; Tajikistan part all transfers - 1-2 pax by sedan type car; 3-7 pax by van type car; 8-13 pax by 20-seat bus;
Sightseeing tour in Penjikent with local guide;
Entrance fees to sights as per itinerary;
Lunch in Penjikent.
Price does not include:
Accommodation;
Tour leader to accompany travellers for the whole period of the tour;
Consular fees for Tajikistan tourist visa;
Visa support letter for Tajikistan tourist visa;
Tips are not included, but would be appreciated;
Travel insurance.