Georgia - Key Country Facts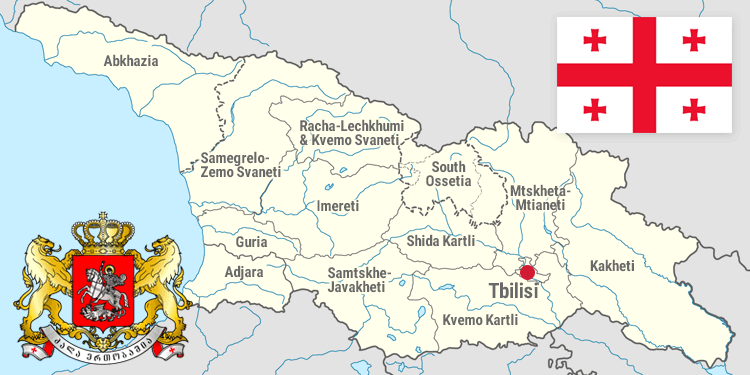 Formal name: Georgia (Saaqartvelo in Georgian)
Location: Georgia is located in what is traditionally known as Eurasia. It borders the Black Sea to the west, Turkey to the west and south, Armenia to the south, Azerbaijan to the East and Russia to the north. An ongoing debate exists as to whether the location of Georgia should be considered Eastern Europe (proper) or Western Asia as its geographic locale and cultural distinctions can be somewhat ambiguous. This, in turn, makes for an extraordinary array of holiday possibilities and adventures showcasing myriad cultural features of both continents. Geologically speaking, Georgia sits on the tectonic rift of the Eurasian and Arabian plates. This vector places Georgia in a prime location between the Lesser Caucasus Mountains to the south, Greater Caucasus Mountains to the north and Black Sea coast to the west.
Capital: Tbilisi (located in its titular region) Read more...
Area:
Total: 69.7 thousand sq. km
Coastline: approximately 300 km
Land Boundaries: 1,814 km
Turkey 273 km, Russia 894 km, Armenia 219 km, Azerbaijan 428 km Read more...
Population: Approximately 4 million
Tbilisi: 1.8 million
Batumi: 153,000
Kutaisi: 147,000
Rustavi: 125,000
Gori: 48,000
Zugdidi: 43,000
Poti: 41,000 Read more...
Language: The national language of Georgia is Georgian (Qartulad). The Georgian language belongs to the unique Kartvelian (or South Caucasian) language family. Modern South Caucasian languages spoken in Georgia include Georgian, Megrelian, Svan, and Laz. The majority of Georgians speak Georgian as a first language. The Megrelian language is widely spoken in the western region of Samegrelo and Svani is spoken in the northwestern region of Svaneti. Most Laz speakers reside in adjacent Turkey but some are found in the southern regions of Adjara and Samtskhe-Dzhavakhetia.
Northwestern Caucasian languages are spoken along the northern border with Russia (Abkhaz, Abaza) and Northeastern Caucasian languages are spoken in the eastern border areas with Dagestan, Chechnya and Russia (Chechen, Aghul, et al).
As a former republic of the now defunct USSR, Georgia's lingua franca was Russian until declaring independence in the early 1990s. While the majority of ethnic Georgians are fluent in Russian, English is quickly becoming the second language of choice. Most Georgians of the modern generation speak at least elementary English and many are fluent in the urban areas. English is well integrated with the Georgian tourism infrastructure.
Georgia's proximity to Azerbaijan and Armenia is linguistically apparent. Roughly 7% of the population speaks Armenian and 6% speak Azeri. Other minority languages include the aforementioned, Hebrew and even a few unidentified language isolates.
As culture and linguistics are directly related, cultural and anthropological tourism in Georgia is thriving. Languages belonging to at least ten different language families are currently spoken in Georgia. Read more...
Religion:
Orthodox Christianity (80%)
Georgian and Azeri Muslim (10%)
Armenian Orthodox (3%)
Roman Catholic, Protestant Denominations and Other (altogether less than 7%)
The dominant religion of Georgia is Georgian Orthodox Christianity. It shares most features with other sects of, and in communion with, eastern orthodox Christianity. The Georgian Orthodox Church is governed by its sovereign patriarch Elia II. Strong theocratic ties exist between the Georgian Church and the government culminating in a unique cultural atmosphere attracting tourists year round. Most national holidays are of religious significance and origin. The exquisite architecture of Georgian churches draws tourists from all over the world as religious tourism is a major attraction in Georgia. Mtskheta, just outside Tbilisi, is a popular pilgrimage site for Georgians and tourists. Read more...
Political System: Democratic Republic. The head of state is the President.
Legislature: Parliament led by the Prime Minister.
Political Division: 11 administrative areas - Kakhetia; Shida Kartli; Kvemo Kartli; Mtskheta-Mtianeti; Samtskhe-Dzhavakheti; Imeretia; Racha-Lechkhumi and Kvemo Svaneti; Samegrelo-Zemo Svaneti; Guria; Tbilisi Central area which consists of ten districts; Autonomous Republic of Adjara (semi-autonomous region)
National currency: Georgian Lari (GEL) - 1 lari = 100 tetri. Banknotes in circulation include denominations of 1,2,5,10,20,50,100 and 200 lari. Coins in circulation include 1,2,5,10,20,50 tetri as well as 1 and 2 lari denominations. Read more...
National Symbolism: Georgian Flag, Georgian Coat of Arms, Golden Lion (okros lomi)
Georgian Flag: The Georgian flag is adorned with five red crosses on a white palette. One red cross divides the palette into four sections wherein four smaller red crosses are placed.
This design is said to have originated in the medieval period and was revived as the national flag of Georgia in 2004. Read more...
Georgian Emblem: The national Georgian Emblem is a coat of arms featuring a square red background upon which the patron saint of Georgia, St. George, sits atop a horse brandishing a cross dogged spear while slaying a dragon. This gules square is sometimes flanked by two golden lions and capped with the supposed "lost" golden crown of St. George.
Another emblem, preceding this one, is the coat of arms of the Bagrationi dynasty. It features more traditionally religious symbolism in a format similar to the aforementioned. Read more...
Golden Lion – Okros Lomi (in Georgian / Qartulad): This diminutive golden lion figurine was discovered among the excavated remains of Georgia's Bronze Age Trialeti culture. Only a few centimeters in height and length, it is now on display in the Georgian National Museum. It features exquisite marquetry implying influence of Sumerian culture.
Communication: Calls to Georgia
Major Cities:
Tbilisi
Kutaisi
Rustavi
Batumi
Chiatura
Gori
Poti
Zugdidi
Akhalkalaki the center of Samtskhe-Dzhavakhetia Region
Mtskheta the center of Mtskheta-Mtianeti Region
Telavi the center of Kakheti Region