State Universal Shop, Moscow
GUM - the largest trade complexes of Moscow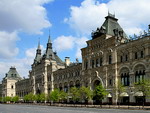 GUM (State Universal Shop) is one of the largest trade complexes of Moscow which is located in the very centre of the city, on the Red Square. It is a monument of the architecture of federal importance. The Upper Trade Rows, predecessors of today's trade complex were built here according to the decree of Tsar Alexandre I in the beginning of 19th century. In 1893, on funds of the Guild of Moscow merchants, there was founded a building which in 1953, after the reconstruction, obtained the name of the State Universal Shop.
Today's GUM is a shop of more than 200 boutiques and salons, where many brands of clothes, shoes, perfume, jewelry, linen, child goods, home goods are presented. Every day they are visited by more than thirty thousand of clients.
In addition, GUM is a cultural centre where art expedition, fashion defiles and bright presentations are regularly carried out.