GUM, Moscow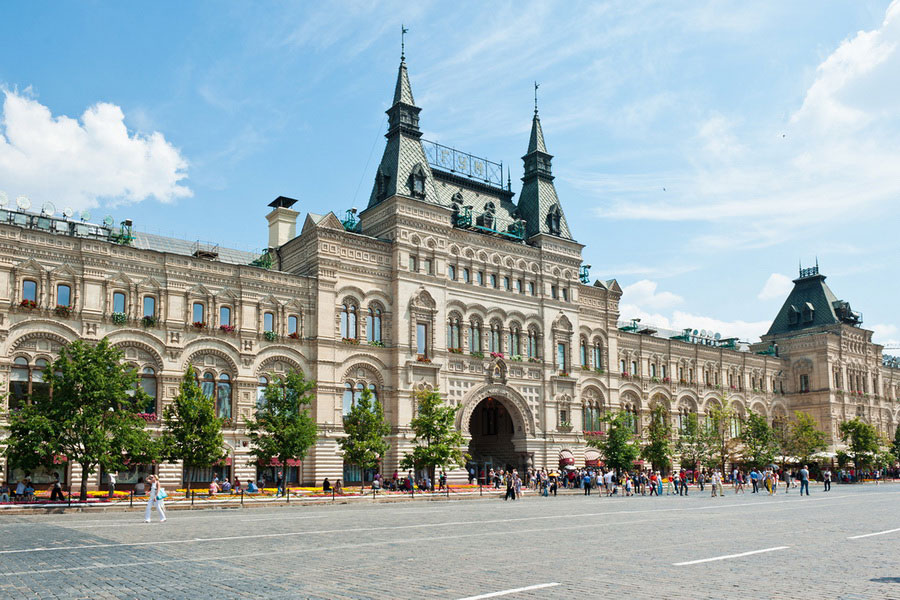 GUM in Moscow, located in the heart of the city center, stands as witness to three different eras of Russian history, from the tsardom and the USSR to present-day Russia. GUM is an abbreviation for Gosudarstvenny Universalny Magazin (State Department Store). The shopping center was formerly known as the Upper Trade Rows but was renamed by decree of Lenin in 1921. GUM in Moscow is one of the largest shopping centers in all of Europe and Russia.
Moscow has long been Russia's center for trade and finance. In times past, merchants from all across the nation would congregate in the capital to trade a wide range of goods in a frenzied yet calibrated fashion. The 1812 Fire of Moscow, believed to have been deliberately set by the Muscovites during the war with Napoleon, destroyed most of Moscow, including its shopping malls. The Upper Trade Rows, the forerunners of GUM Department Store which were located next to the Kremlin, were hastily erected by decree of Alexander I shortly after the fire.
The proud merchant class of Russia was ambitious, striving to keep pace with progress and open to the new innovations of capitalism. Eastern bazaars inspired Russians and Europeans to build covered shopping streets, which developed into department stores in the second half of the 19th century. The Moscow Department Store was built in this manner at the expense of the Merchants' Guild of Moscow and opened in early December 1893 on the site of the former Upper Trade Rows.
Alexander Pomerantsev was the architect of GUM, and Vladimir Shukhov the engineer. At the time of construction, this commercial building was the largest in all of Europe and was the pride of Russian salesmen and merchants, offering the finest shopping in Moscow. GUM itself harmoniously blended with the Russian architecture near the Kremlin on Red Square, Moscow's symbol of innovation and of a revitalized capital in burgeoning Russia.
GUM has been rebuilt and restored numerous times since its original construction. In 1921, in the heat of the period of New Economic Policy (NEP), sales rapidly increased at GUM, which became a proud symbol of its time. However, from 1930 to 1953 GUM was not used for its intended purpose, and instead the Moscow department store was occupied by various ministries, government departments and printing houses. It was only in 1953, during the Khrushchev Thaw, that GUM was restored to its historical purpose and its doors again opened to customers.
Today at GUM Moscow, brands from around the world are displayed in storefronts, and a wide array of high-end clothing, shoes, perfumes, jewelry, underwear, children's goods and home supplies can be purchased here. It is a full-fledged shopping district that includes not only glamorous salons and shops, but also cafes, restaurants, bank branches and cinemas which attract more than 30 thousand visitors each day. In addition, GUM is a cultural center where art exhibitions, fashion shows and dynamic expositions are regularly held.
It should be noted that a short walk from GUM is TSUM, Moscow's main Soviet-era department store that is often confused by visitors with GUM. Both shopping malls, while having developed through a unique history, are considered iconic landmarks in Moscow.