Top 10 Landmarks and Attractions in Khiva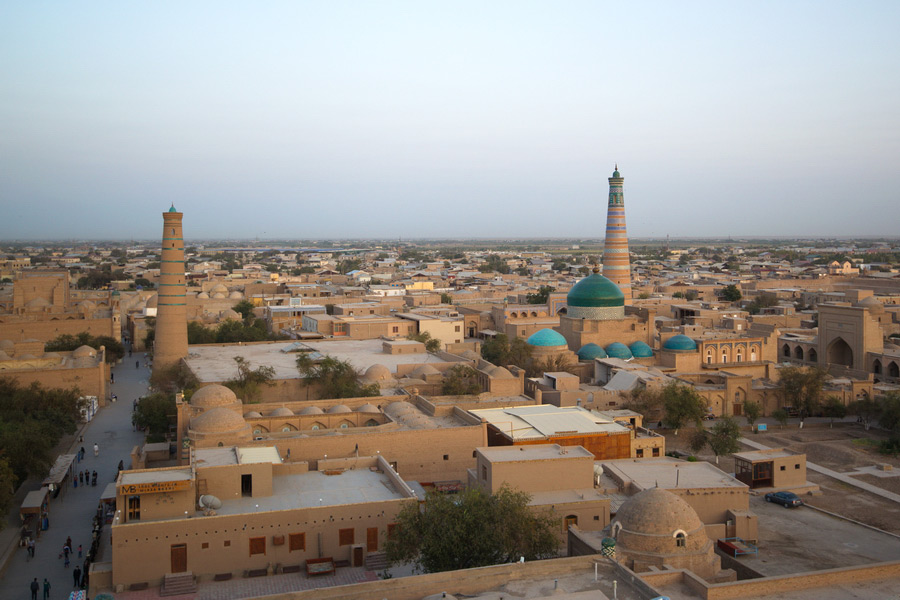 The city of Khiva is Uzbekistan's desert gem, a dream destination for anyone with an adventurous spirit and a love for historical architecture. Nearly all of its noteworthy sites are conveniently located within the walled Itchan Kala (Inner City), a large historic quarter which became Uzbekistan's first UNESCO site in the early 1990s. Step through one of the four fortified gates of Itchan Kala and you will find yourself transported to a mysterious world of grandiose palaces, gorgeous madrasahs and towering turrets which speak of a once-formidable empire. Amazingly, this historic quarter is still home to several hundred families who help to keep the spirit of Old Khiva alive.
You have already traveled great lengths to reach this legendary city, so while here be sure to visit the Top 10 Landmarks and Attractions in Khiva:
1. Kalta Minor Minaret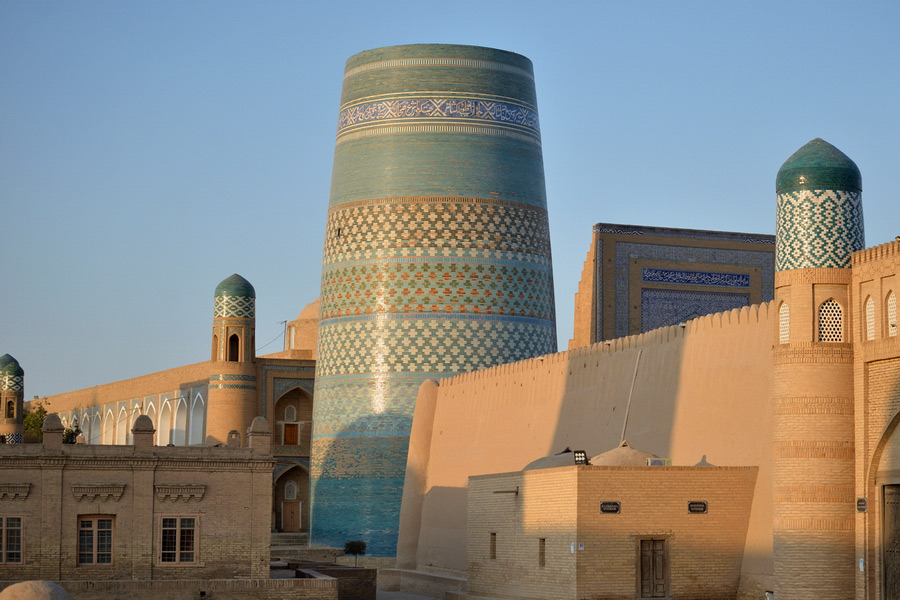 An exquisitely gorgeous landmark, Kalta Minor captures the eye with its massive presence and patterned azure tiles. This unmistakable symbol of Khiva owns a history as colorful as its exterior: Built in the 19th century, Kalta Minor (whose name translates as Short Tower) was intended to rise 70 meters in height, yet the untimely death of the ruling khan put a permanent halt on construction, leaving the rotund, 26-meter-high remnant that we see today. While it may have failed to earn the title of tallest turret in the region, Kalta Minor sets the record as the only minaret in Central Asia that is completely overlaid in tiles. Although visitors are not permitted inside, it is worth a tour of Itchan Kala just to see this photogenic centerpiece up close.
2. Muhammad Amin-khan Madrasah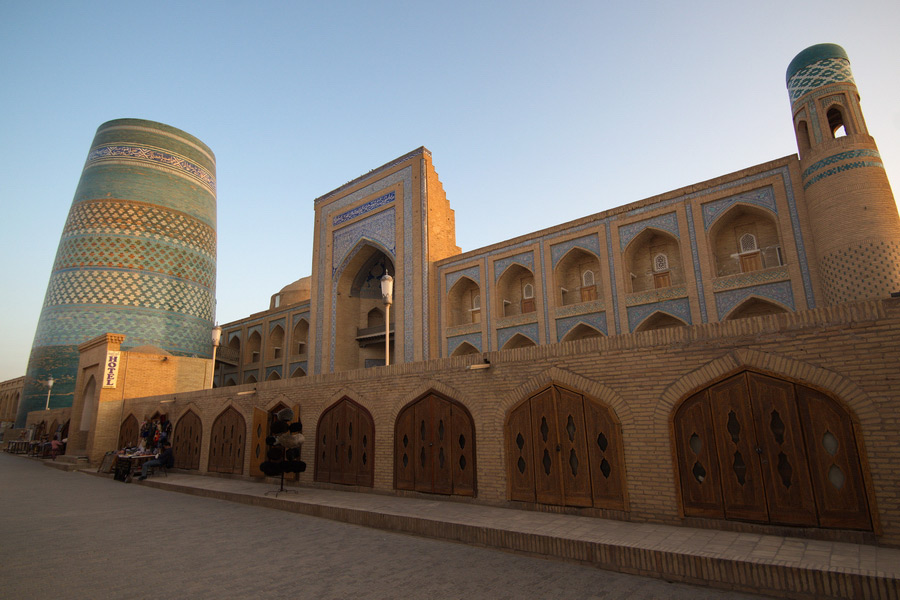 Just to the right of Kalta Minor Minaret is a monument which did achieve its full ambitions of greatness – Muhammad Amin-khan Madrasah, the largest historic religious school in all of Central Asia. Also constructed in the mid-19th century, Muhammad Amin-khan was once one of the most acclaimed institutions in the region, with 125 rooms able to accommodate up to 260 eager students. When it comes to awe-inspiring Timurid architecture, Muhammad Amin-khan does not hold back. With intricately carved woodwork, glazed tiles, five domes and 2nd-floor balconies considered cutting-edge for its day, the madrasah is a site to behold. Although the former school is now a hotel, a walk about its premises still imparts a definitive air of former grandeur.
3. Islam Khodja Minaret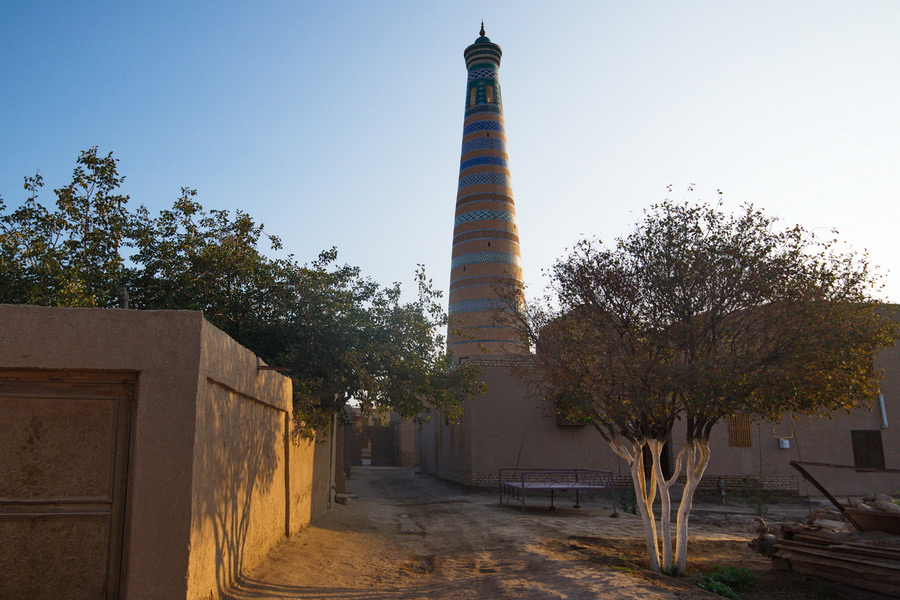 Rising to record-breaking heights as the tallest minaret in all Uzbekistan, Islam Khodja Minaret is a postcard-worthy city symbol of Khiva's Itchan Kala. The tower itself is nearly 57 meters tall, while the lookout platform is located at a height of 45 feet, allowing for amazing views of the city. Although built in the early 1900s, the structure of Islam Khodja Minaret is nearly identical to local architecture of the early Middle Ages, and as such it effortlessly complements Khiva's historic atmosphere. Its banded mosaic tiles, delicate shape and accompanying mosque will deepen your appreciation for Khiva's rich architectural heritage, while a dizzying climb up its winding staircase to the lookout platform is sure to add a flair of adventure to your city tour.
4. Juma Mosque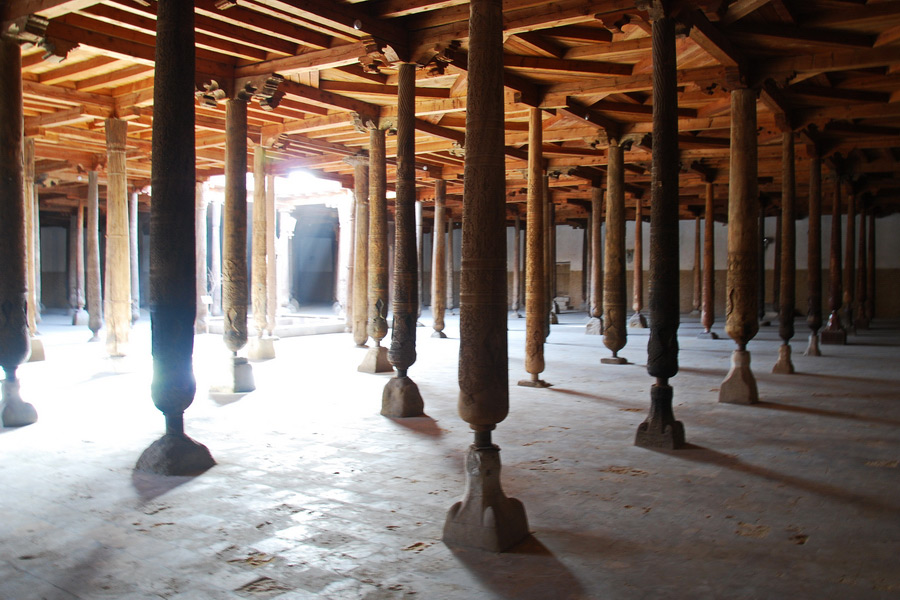 Khiva's most famous mosque surprises with its highly unusual layout and architecture. Constructed in the early Middle Ages but rebuilt in the late 18th century, the modest, one-room mosque has openings on all 4 sides and is supported by over 200 wooden pillars which fill the prayer hall. The intricately carved rafters are from different time periods, with a handful even dating to the 10th-11th centuries when the mosque was originally built. Visitors are regularly impressed with the craftmanship on display at Juma Mosque and the quiet solemnity which pervades the site. Dim and entirely unadorned save the playful shafts of light streaming in, it is the very simplicity of the site which sets it apart as one of the most serene and unique places in all of Khiva.
5. The Walls of Itchan Kala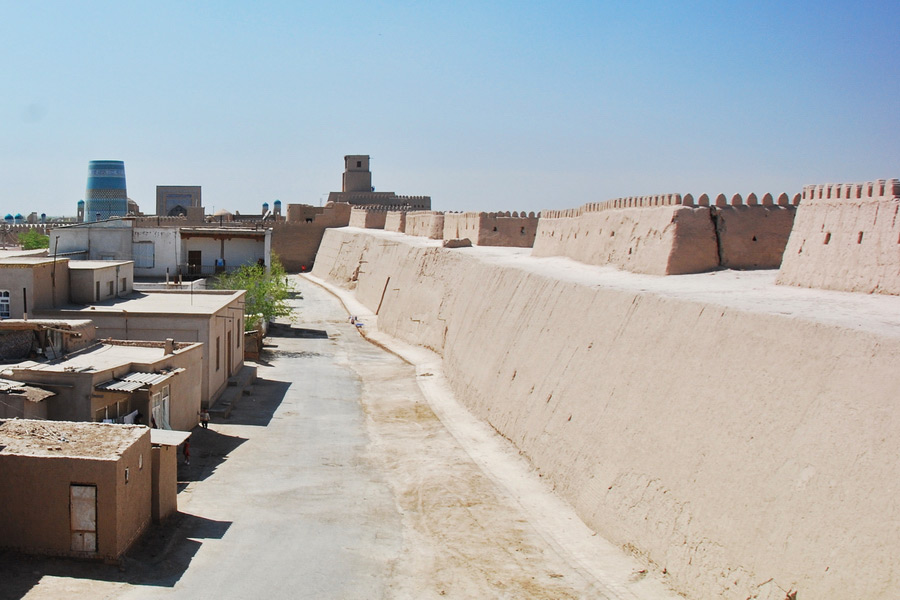 No visit to ancient Khiva would be complete without climbing its legendary walls, which stretch for more than 2 kilometers to encircle the Old City. Complete with towers, ramparts and four fortified gates, this impressive clay brick structure averages 5-6 meters in thickness and reaches 10 meters in height. The 17th-18th century wall which once kept invaders at bay now serves as an unmistakable divider between historic and modern Khiva. Although the wall is not scalable along most sections, head to the North Gate for the most accessible point. Once on top, you will be able to walk a fair distance in both directions and survey the land like the sentries of old. For a truly memorable start to your day, wake up early to watch the sun rise from atop the walls and to admire one of the dreamiest places in the world in its full splendor.
6. Tash-Hauli Palace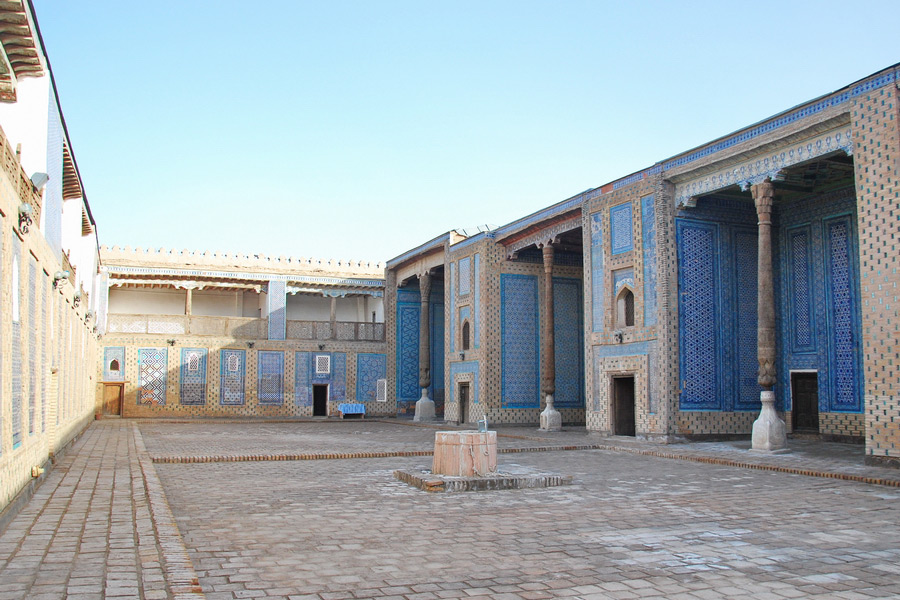 Complete with a secret corridor, a harem, a large yurt and a maze of passageways, Tash-Hauli Palace (Stone Courtyard Palace) is as exotic as they come. This royal residence, built in the 1830s as the living quarters for Khiva ruler Allah Kuli Khan, was the site of more than one historical meeting between European envoys and feared local rulers. Its architecture reflects that of the average Khorezmian home of that time, although on a much grander scale. Now considered the gem of 19th-century Khiva architecture, it amazes with colorful murals, fine latticework, chiseled pillars and stunning courtyards plastered with tiles in every shade of blue. Take time to wander each of the three sections of Tash-Hauli Palace, where Khiva's intriguing past is sure to become nearly palpable to the imaginative traveler.
7. Mahmud Pahlavan Mausoleum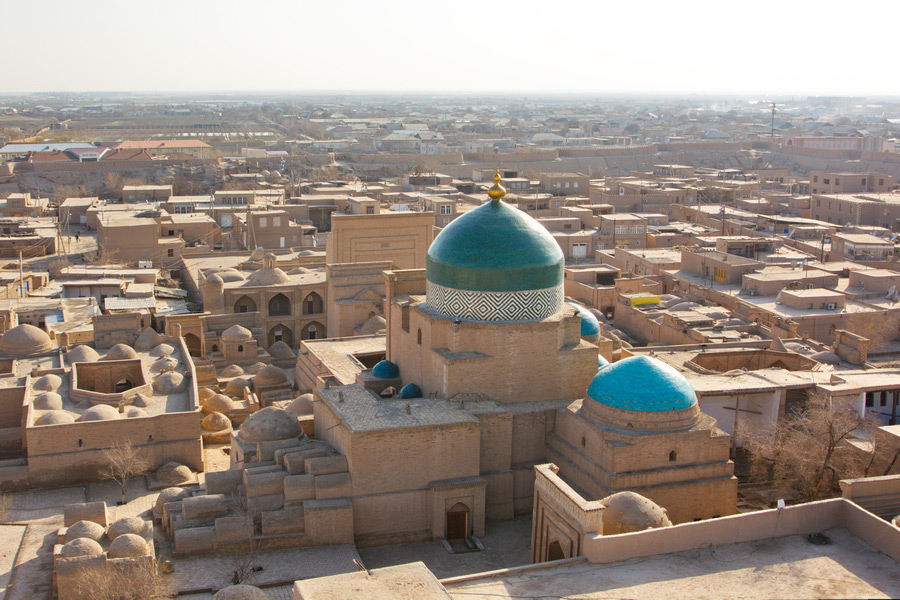 In 13th-14th century Khiva lived a man of vast and extraordinary talents. Mahmud Pahlavan was a poet and scholar who was best known for his amazing strength and heart of compassion toward the oppressed, including the many slaves who were imprisoned in Khiva in his time. What began as a simple memorial built after the hero's death was expanded in the early 18th century to include a small mosque, madrasah and burial grounds for several local rulers, all of which can still be seen today. Mahmud Pahlavan Mausoleum is now a holy site for Muslims which is best noted for its exemplary architecture and shimmering turquoise dome, the largest in all of Khiva. Step into any of the burial halls at Mahmud Pahlavan Mausoleum and you will find yourself immersed in wall-to-wall blue and turquoise mosaic tiles whose beauty simply cannot be captured with words or photos.
8. The Watchtower of Kunya-Ark Citadel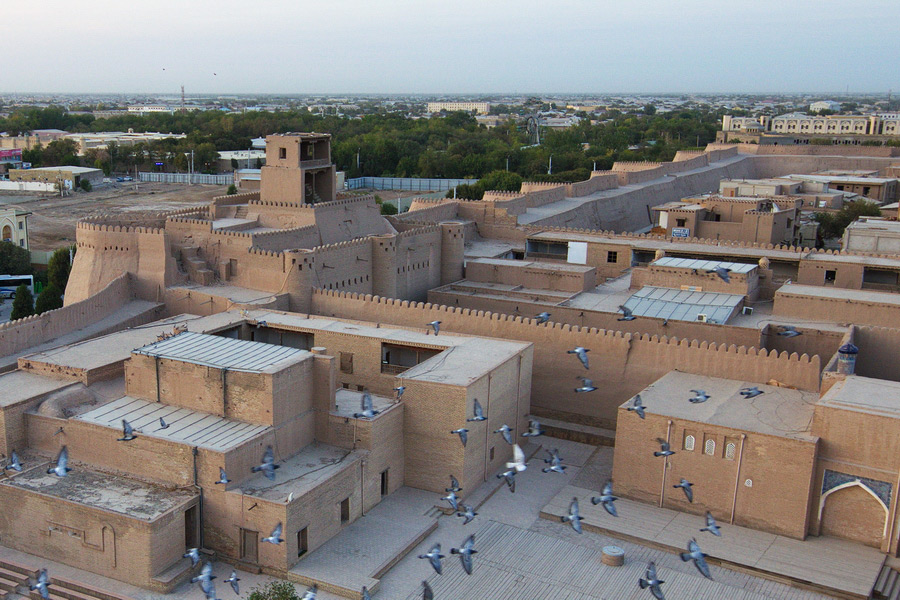 Commonly referred to as a "city within a city", Kunya-Ark Citadel is one of the most expansive sites of Khiva's Itchan Kala. The fortress was first constructed in the 12th century, although the architecture seen today is primarily from the early 19th century. It once served as the living quarters of the ruling khan, and while some of the buildings have since been lost, the existing sites will not disappoint. A dungeon, harem, courtyard and colorful summer mosque paint a vivid picture of the city's complicated past, while a stunning throne room with tiled gardens splashed across its walls is nothing short of stunning. The famous Kunya-Ark watchtower stands adjacent to Khiva's city wall and is well worth a climb. While the views are gorgeous at sunset, you can also climb the turret during the morning and mid-day hours for a less crowded experience.
9. Khiva Silk Carpet Workshop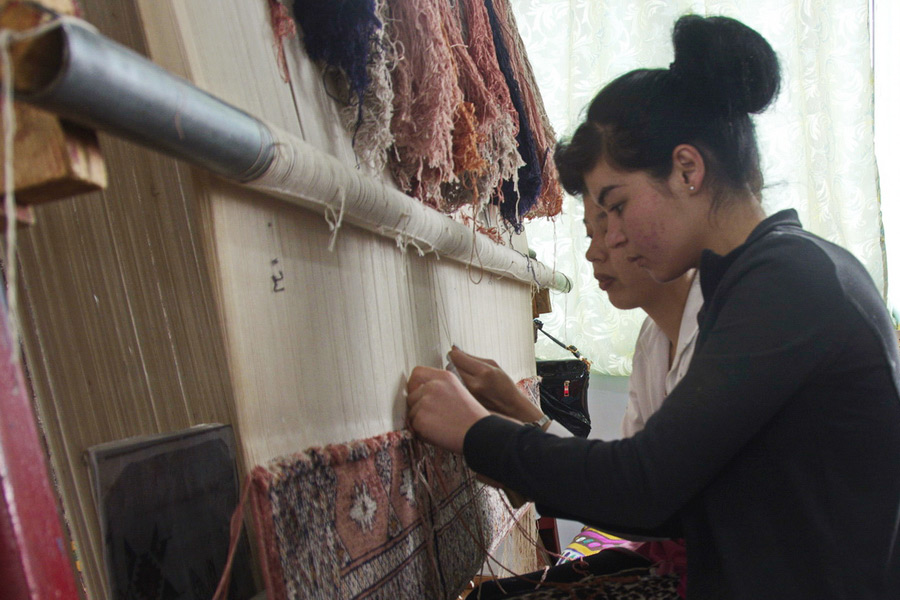 When you start to feel overwhelmed by historical facts and endless architecture, take a breather at Khiva Silk Carpet Workshop, a UNESCO-backed initiative which aims to preserve and promote local culture while providing employment to local women. Watch weavers busy at work as a local guide explains the carpet-weaving process from beginning to end. Through the use of natural products and traditional weaving methods, fine-quality rugs and wall hangings are produced and placed for sale on site. Compare Khiva carpets with those of Samarkand or Bukhara, and you will quickly notice the distinct floral prints that are prevalent only on Khiva rugs, a correlation to the floral tile decorations common in Itchan Kala. Khiva Silk Carpet Workshop adds a living, modern touch to the historic quarter and can be easily visited on a city tour.
10. Allakuli Khan Madrasah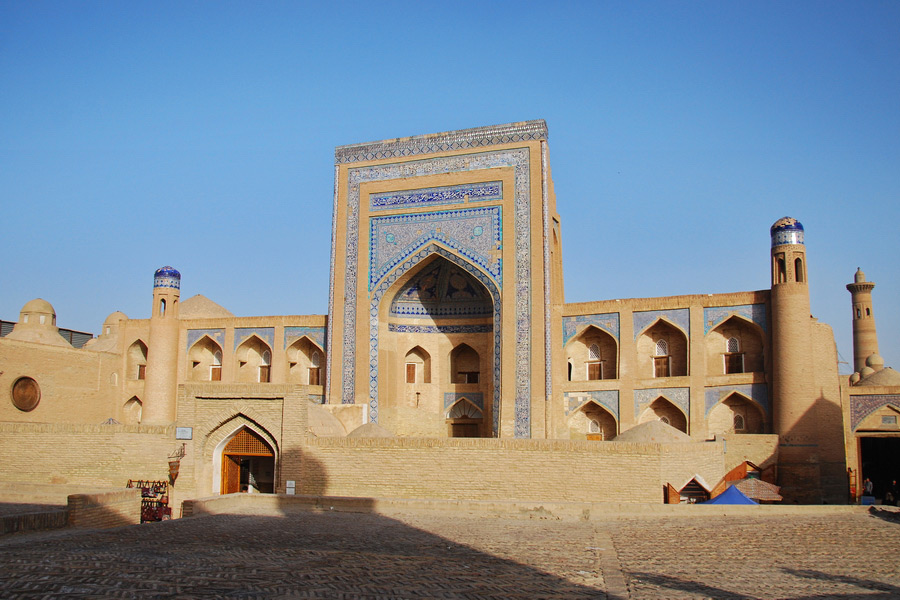 One of the largest religious schools in Khiva, Allakuli Khan Madrasah was built in the mid-19th century and is now regarded as one of the finest examples of late medieval architecture in the city. Its bold blue-and-white majolica blends seamlessly with the madrasah's finely executed form, a perfect mix of beauty and balance which overwhelms with its size and stolid presence. With 2 floors, 99 rooms and plenty of arches and columns, Allakuli Khan Madrasah is the embodiment of traditional Khiva architecture. The favorite madrasah of many tourists to Khiva, it remains a must-see for visitors. If you have time, pop inside to tour the small medical museum which is now housed within its walls.
Our list of Top 10 Landmarks and Attractions in Khiva just did not feel complete without mentioning a few runners-up:
- Ak Mosque: This small prayer house cannot help but attract the eye with its unusual architecture, constructed gradually over several generations. True to its name – Ak Mosque translates as White Mosque – its plastered white walls and dome stand apart for their enduring simplicity.
- Khiva Puppet Theater: With a professional troupe offering refreshingly lighthearted spectacles filled with humor, history and cultural insights, the performances of Khiva Puppet Theater are a great way to relax after a busy day of sightseeing.
- Isfandiyar Palace: An early 20th-century addition to Khiva whose opulent décor showcases the wealth of the city's historic elite and the evolution of local culture through the centuries. Isfandiyar Palace is located outside of Itchan Kala and thus receives significantly fewer visitors, so you may find yourself nearly alone in its kaleidoscopic rooms.