Top 10 Landmarks and Attractions in Tashkent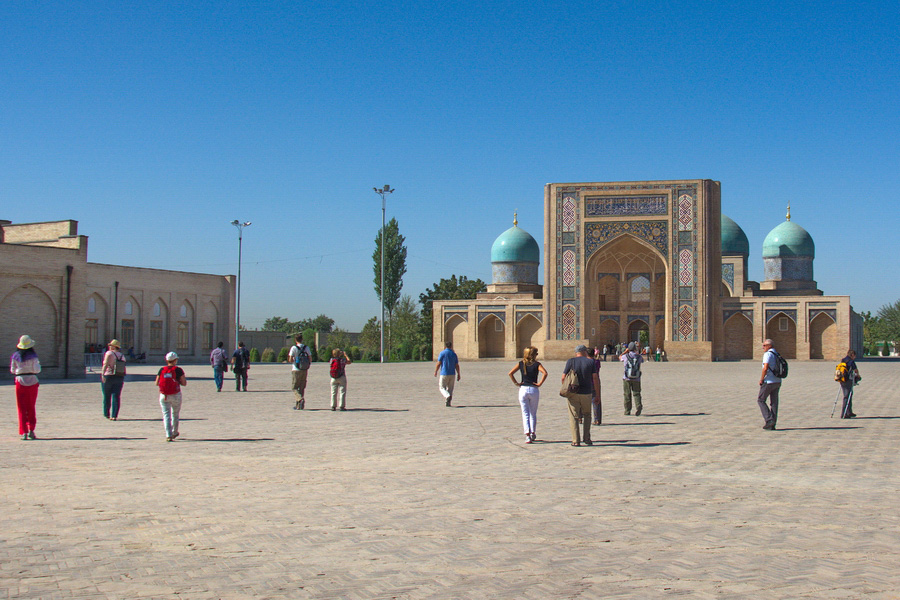 Travelers to Uzbekistan are bound to pass through capital city Tashkent as they fly in and out of the country or backpack their way into Kyrgyzstan and Tajikistan. The most populous city in Central Asia, it promises plenty of comfortable accommodation, international cafes and a pleasant assortment of parks, museums, theaters and Soviet monuments that are not duplicated elsewhere in the country. Before rushing past this city, head to several of the top 10 landmarks and attractions in Tashkent for some unique experiences:
1. Chorsu Bazaar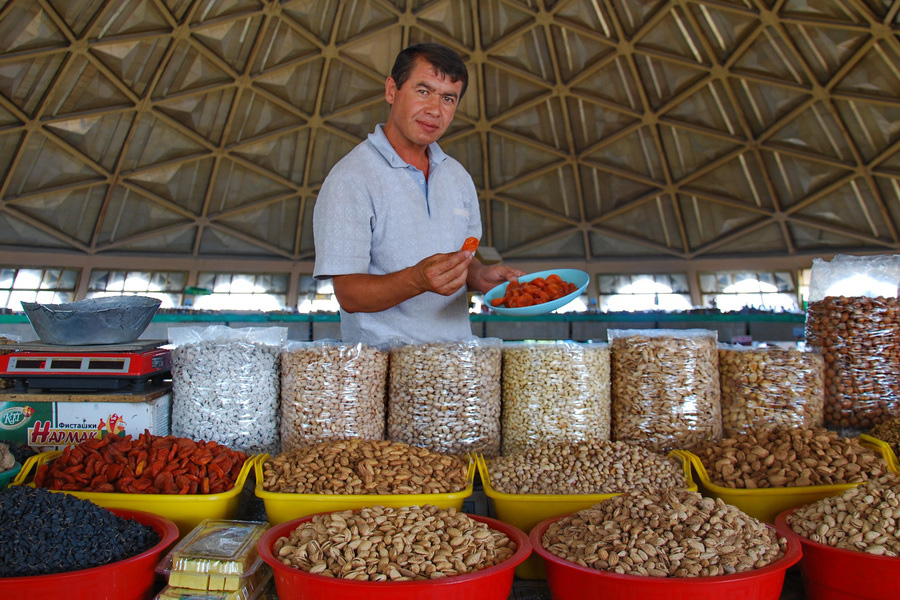 Although known for its unmistakable blue domes, it's the amalgamation of seasonal produce, dried fruits, clothes, dishes, fabrics, foods and household goods which make Chorsu Bazaar truly colorful. The city's most famous market and one of the most memorable attractions in Tashkent, Chorsu is sprawled across several tiers and tents where friendly vendors stand ready to sell you everything that you need and more. Chorsu was founded in the Middle Ages (although its iconic domes are a 20th-century addition) and remains a must for tourists to Uzbekistan, for it promises one-stop souvenir shopping and a great chance to hone your bargaining skills. Far from a fabricated tourist trap, the majority of its customers are from Tashkent, meaning Chorsu Bazaar is as authentic an experience as you can get. You can peruse the stalls in an hour if you're in a hurry, although this lively market is best experienced at a leisurely pace, and there are plenty of food options available should you decide to make a day of it.
2. Amir Timur Square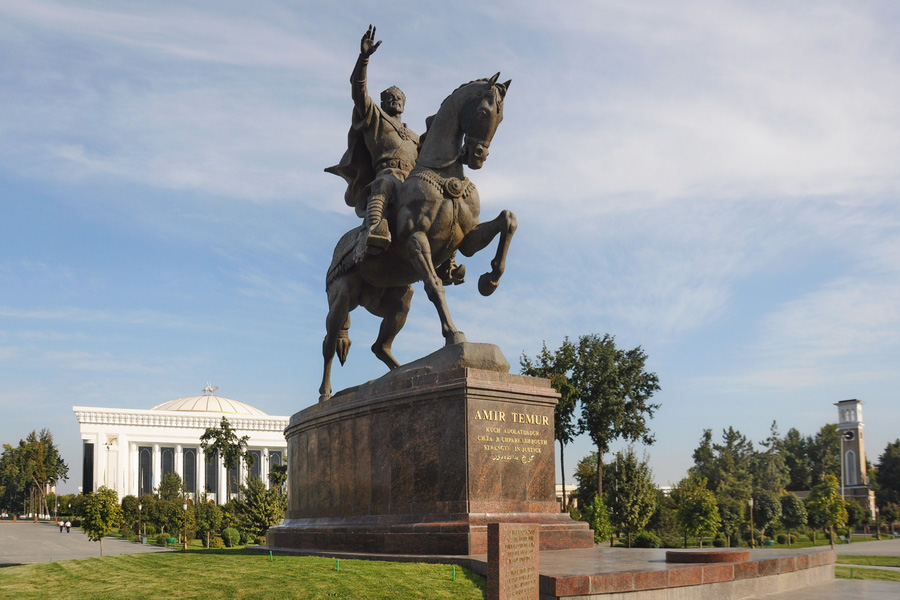 The heart of the city from which major boulevards shoot out in every direction, Amir Timur Square (which is technically a circle) has history scribbled across each of the landmarks which line its perimeter. Snap a photo with the Statue of Amir Timur (Tamerlane) in the square's center before wandering the Amir Timur Museum, an exquisite domed building whose exhibits cover the feats of one of Uzbekistan's greatest historical figures. Admire the 19th-century brick facades of the Tashkent State University of Law, which once housed a women's gymnasium. Hear the chimes of the famous Clock Tower, a landmark in Tashkent which is dedicated to Uzbekistan's World War II casualties, before taking a tour of Hotel Uzbekistan, the country's most recognizable Soviet-era relic. A pedestrian path leads from Amir Timur Square to Broadway Alley, a mini-carnival lined with games, food stalls and sellers offering antique items, souvenirs and landscape paintings of Uzbekistan's most famous sites.
3. Khast-Imam Ensemble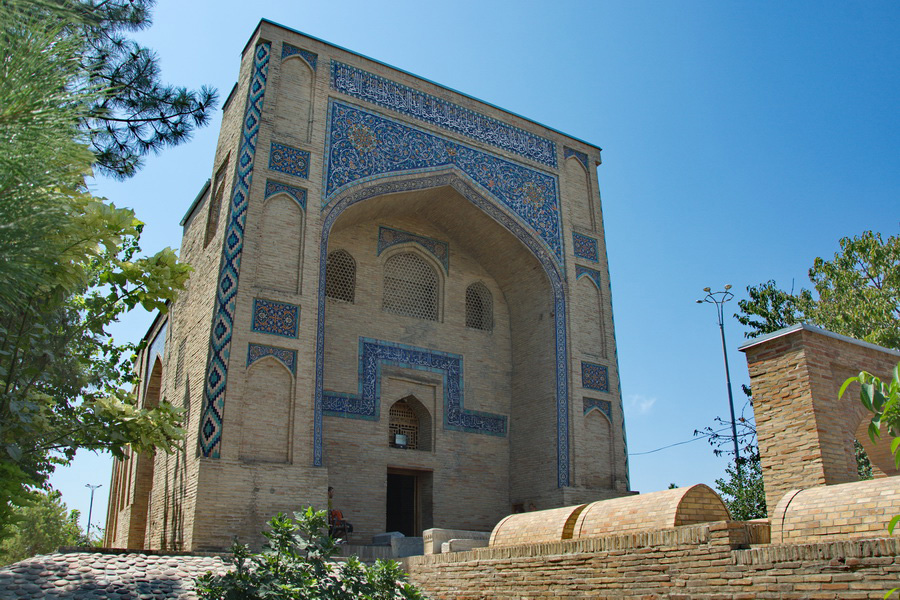 After a devastating earthquake struck Tashkent in 1966, the capital was left with a dearth of historical sites, particularly when compared with Samarkand, Khiva and Bukhara. Yet it still lays claim to a piece of history which is valued not just in Uzbekistan but the world over – the Samarkand Kufic Quran (Koran), written in present-day Iraq and dated to the 8th-9th centuries. The revered book is on display at Khast-Imam Ensemble, named after Tashkent's first imam whose nearby mausoleum was the impetus for the center's construction. Mosques, madrasahs, a manuscript library and a functioning Islamic school round out the renovated complex, whose location in Tashkent Old City only adds to its eclectic atmosphere. Handmade crafts are also available for purchase at Khast-Imam Ensemble.
4. Museum of Applied Arts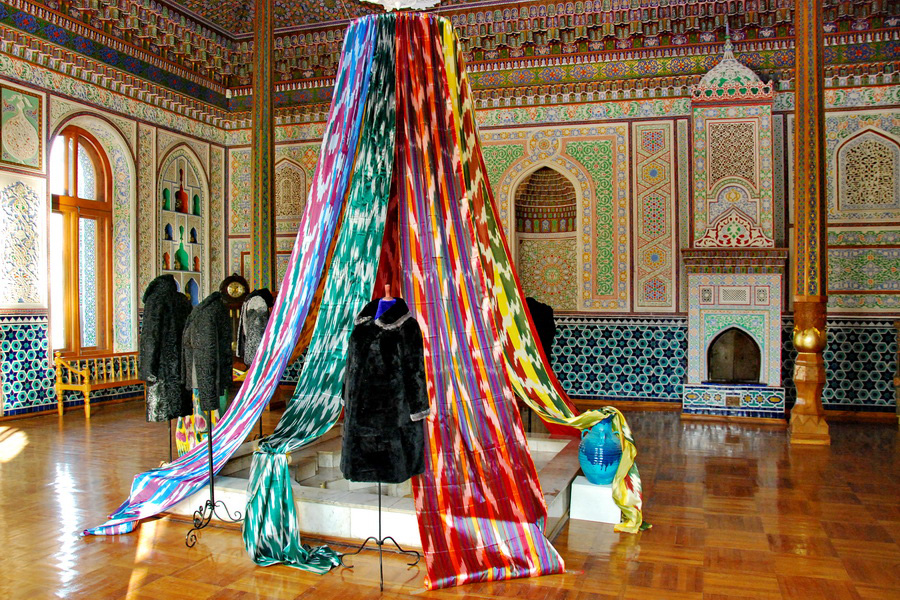 With its diverse collection of handicrafts dating from the Middle Ages to modern times, Museum of Applied Arts provides a great introduction to Uzbekistan's rich artistic heritage. Thousands of rugs, dresses, skullcaps, pottery, paintings and household items are divided into rooms according to type and date of production. Equally impressive is the ornate villa in which the museum has been housed for nearly 100 years. Constructed by a Russian diplomat with a love for local architecture, its intricate carvings, stalwart pillars and delightfully colorful geometric designs rival the displays themselves. Relatively small and easy to browse, Uzbekistan State Museum of Applied Arts is sure to deepen your appreciation for the skill and eye for detail of local artisans. If you're interested in delving deeper into each display, consider going with a guide, as few of the curators speak English.
5. Tashkent Metro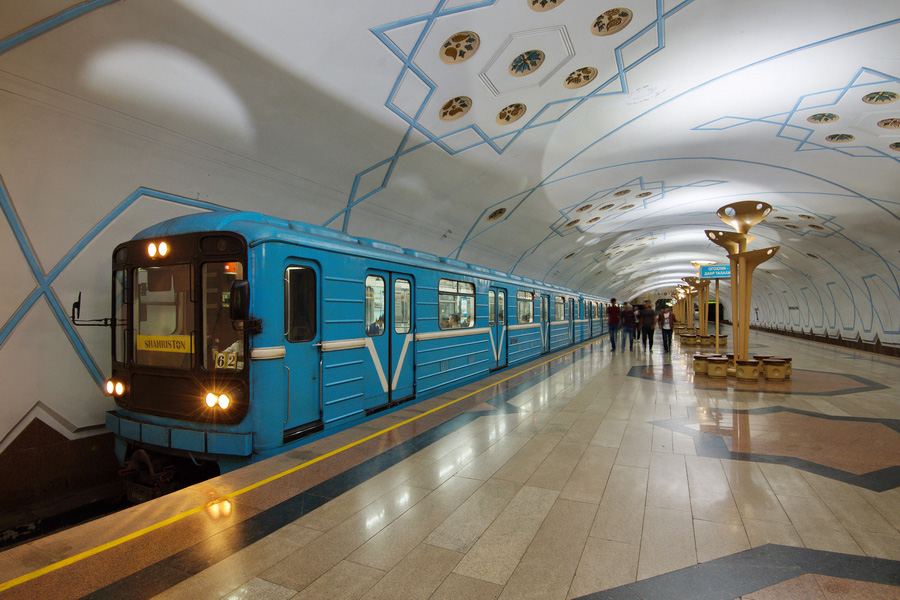 Uzbekistan's most convenient city transport is also a major tourist attraction, for the Tashkent Metro practically doubles as a museum at many of its stops. Now that photographs are permitted in its tunnels, Tashkent Metro has garnered worldwide attention in recent years for its ornate lamp fixtures and intricate murals which reflect both Uzbek and Soviet history. Conquerors and cosmonauts, cotton and columns overlaid in marble are highlighted at different stations, and it quickly becomes evident that this is not your typical subway. Immaculate, ever-expanding and simple to navigate with a Tashkent Metro map, it is almost completely underground and remains cool in summer and warm in winter. We suggest dedicating a couple of hours to hopping on and off at different stops, with Kosmonavtlar, Pahktakor, Oybek, Beruniy and Toshkent stations among our favorites.
6. Tashkent Tower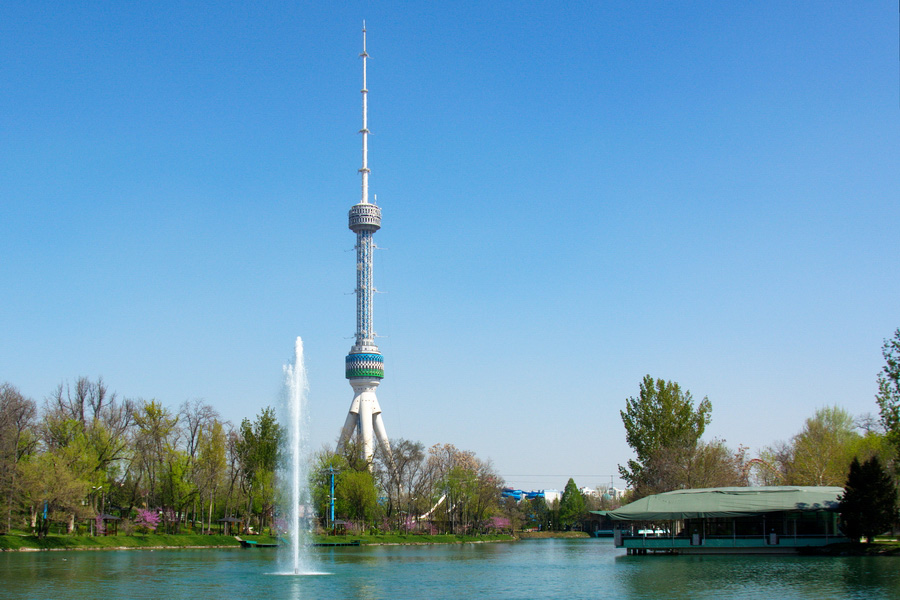 After you have emerged from the metro, ascend to the highest point in the city at Tashkent Tower, which at 375 meters is one of the tallest TV towers in the world. Built in the 1980s, the tower remains the tallest manmade structure in Central Asia and serves as a city compass, visible from many angles by day and beautifully lit up at night. Even better than enjoying the view of Tashkent Tower from the city, however, is enjoying a bird's-eye view of the city from Tashkent Tower. An elevator takes you up to a circular observation deck which allows you to see the city from every angle, with telescopes installed at intervals for better viewing. A rotating restaurant and a hallway exhibit on famous TV towers around the world complete the experience. Tashkent Tower is conveniently situated near Memorial to the Victims of Repression, a manicured park which attracts many bridal parties and is much more cheerful than its name suggests.
7. Kukeldash Madrasah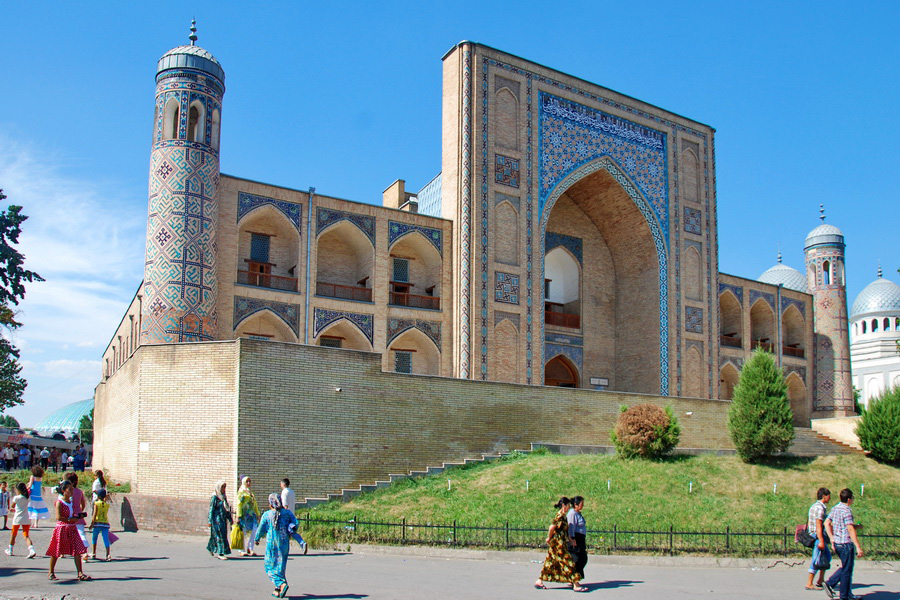 One of the oldest landmarks in Tashkent, this enduring 16th-century edifice is on par with Khast-Imam Ensemble in terms of historic significance. Allow yourself to wander the labyrinth of alleyways and traditional neighborhoods which comprise Tashkent's Old City before ending at Kukeldash, which is situated near Chorsu Bazaar. In past times, Kukeldash was to Tashkent what the Registan was to Samarkand. Although originally intended as a religious school, Kukeldash proved very versatile, for it served in turn as a supplement to a Silk Road caravanserai, a royal citadel and even as an execution center before being converted back into a school. Kukeldash Madrasah has witnessed the overthrow of khanates and empires and has survived several massive earthquakes, yet its serene atmosphere and garden courtyard mask this extraordinary past. Come and discover for yourself the secrets of this faithful guardian of Tashkent!
8. Independence Square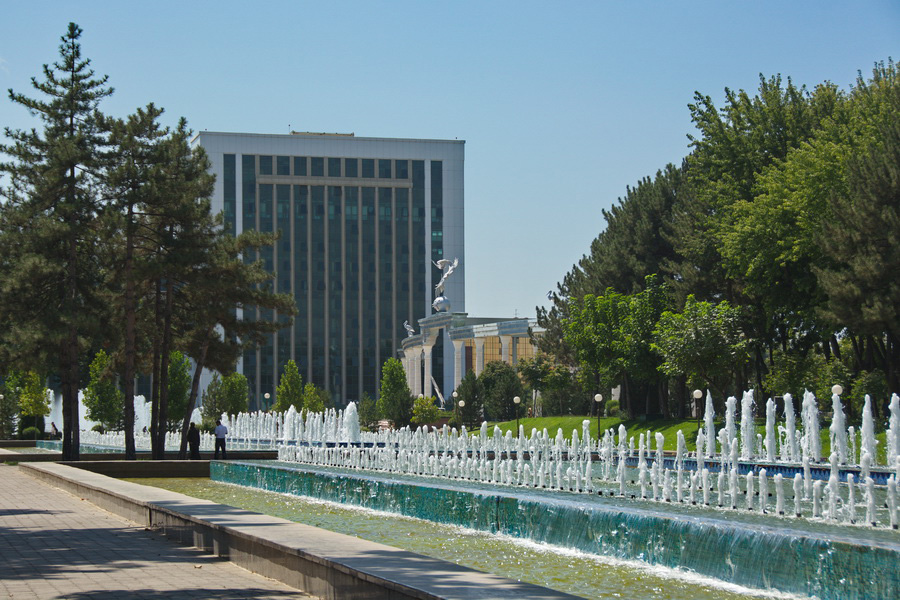 Independence Square (Mustakillik Square) is one of the most recognizable landmarks in Tashkent. Located in the city center not far from Amir Temir Square, this refreshing patch of green has weathered changes in Uzbekistan for over 150 years. The area was owned by local khans before passing into the hands of the Russian Empire in the mid-1800s. It began to take its present shape in the 20th century, at which time it was named Lenin Square and adorned with a statue of the leader. Independence Square inherited its current name in 1992 after Uzbekistan gained its freedom from the USSR, and today its many fountains, symbolic statues and tree-lined lawns provide respite for the eyes. Be sure to visit Memory Alley and Mourning Mother Monument, sobering World War II memorials which reflect the nation's deep respect for its war heroes. The monuments are located on the far side of Independence Park near Navoi Avenue.
9. State Museum of History of Uzbekistan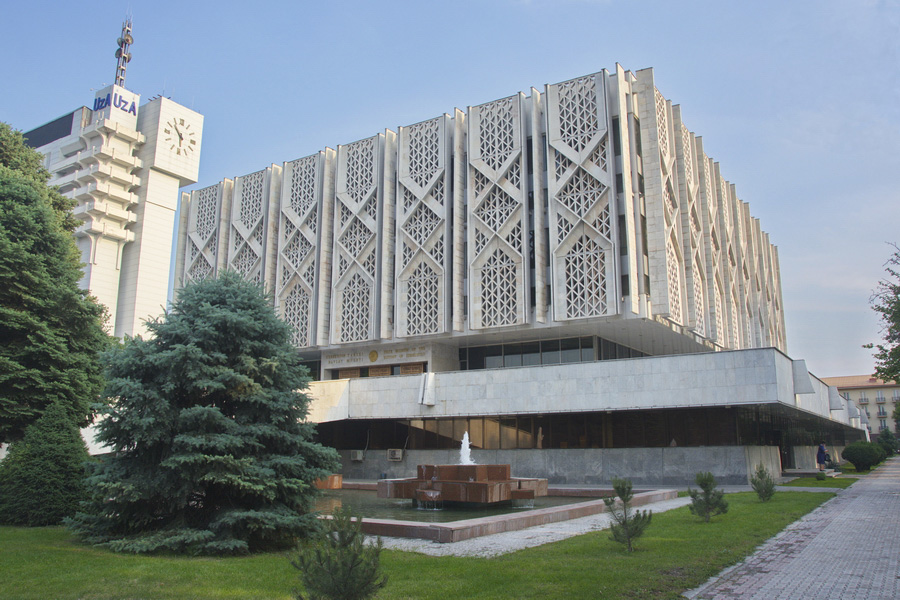 Housed in a staunchly Soviet concrete wonder, Uzbekistan's State Museum of History lets you walk through thousands of years of the country's formation, beginning with ancient relics on the 1st floor and ending with 21st-century history on the 4th floor. Even visitors with little inclination for history will find this museum helpful in providing an overview of the long and complicated past on which Uzbekistan's foundations are built. If possible, we recommend visiting State Museum of History of Uzbekistan at the outset of your tour, as its quarter million exhibits which have been collected from all across the country will doubtless enhance your onward travels. Situated near other landmarks and attractions in Tashkent such as the Kosmonovtlar metro station and Independence Square, a trip to the museum can be seamlessly arranged into your Tashkent city tour.
10. Chimgan Mountains and Charvak Lake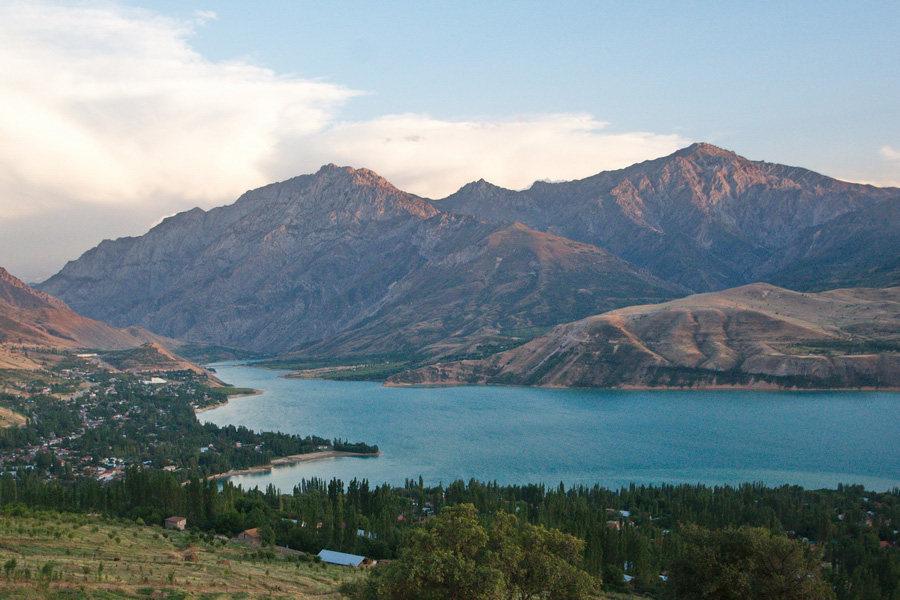 After experiencing the sights and sounds of Tashkent, a day trip to the nearby Chimgan Mountains is a great way to complete your time in Uzbekistan's capital. A two-hour drive will transport you from the busy metropolis to the calming nature of Chimgan, which delights skiers in winter, trekkers in spring and picknickers in summer. The destination of choice within the mountains is Charvak Lake, a gorgeous reservoir whose waters are a source of consolation to this arid, landlocked country. Swim the day away before taking an exhilarating ride on the cable cars to an upper mountain ridge, where the view is so gorgeous you won't know in which direction to look. Hiking tours of varying difficulty levels can be arranged for those wishing for a more active excursion. Chimgan Mountains and Charvak Lake are two of Uzbekistan's natural treasures and some of the most popular attractions in Tashkent Region.
Our list of Top 10 Landmarks and Attractions in Tashkent just did not feel complete without mentioning a few runners-up:
- Alisher Navoi Opera and Ballet Theater: A city symbol just up the street from Broadway Alley, Alisher Navoi Opera and Ballet Theater (Navoi Theater) is a beautiful reflection of the Uzbeks' love for the performing arts. Built by prisoners of war in the 1940s, the building is worth a look even if you don't wish to attend a performance.
- Minor Mosque: This white marbled beauty has attracted admiration ever since its completion in 2014. While not a historical site, Minor Mosque is noteworthy for its lovely architecture and well-maintained grounds. To the right of the mosque is the walkway for Ankhor Canal, which runs for over 20 kilometers through the city.
- Monument of Courage and Navruz Park: Monument of Courage is a somber memorial to the 1966 earthquake which decimated Tashkent. Just around the corner is Navruz Park, one of the newest parks in Tashkent whose maze of mock historic buildings, stocked with souvenirs, reflect each region of Uzbekistan.
- Holy Assumption Cathedral Church and Sacred Heart Catholic Cathedral: With its golden onion domes and pale blue façade, Holy Assumption Cathedral is a calming presence on busy Nukus Street. The stately Sacred Heart Catholic Cathedral, built in the early 20th century, is the only Catholic church in the city.
- Central Asian Plov Center: Uzbekistan is famous for its plov, the national dish of rice, carrots, beef, raisins and garlic. At Central Asian Plov Center, arguably the most famous plov café in the country, you can watch this tantalizing dish be cooked in gigantic cauldrons. Come early, as the plov may be sold out by 1-2 pm.