Fatikha-Tui (Engagement) Traditions in Uzbekistan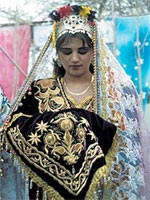 In Uzbek families a wedding is preceded by the ceremony of engagement, Fatikha-Tui. The engagement is performed with the permission of parents of a bride and groom. In former times, when a boy came of age, his relatives, neighbors and friends began looking for a bride for him. Selecting a girl, aunts of the groom, or mother at least, came to the house of a bride under some pretext to get to know about the girl, her parents, asked neighbors about the family of the girl. If this information satisfied the relatives of the groom, soon they sent matchmakers to the bride.
Modern Uzbek people, as a rule, have an option to choose a couple, though the custom to rely on the choice of parents is also preserved, especially in rural areas of Uzbekistan. The ceremony itself is strictly observed today. Sovchi (matchmaker) appoint a day when guests would come in the house of the bride.
Matchmakers state the purpose of their visit and if parents of the bride agree, they make the ceremony of "Non sindirish" (bread breaking) after which the girl is deemed to be engaged. The wedding day is appointed and relatives of the bride give gifts to the matchmakers for the relatives of the groom.