Morning Pilaf (Plov) Traditions in Uzbekistan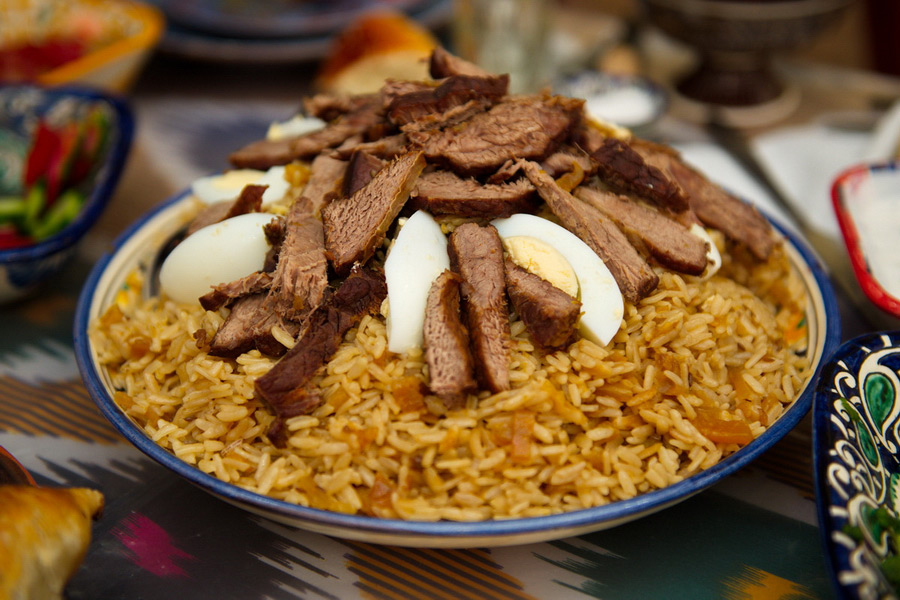 One of the old and binding ceremonies is morning plov. The big plov is cooked for hundred of guests when a child is born, during a circumcision event, in honor of a man returning from the military service, in the early morning of a wedding day, when one turns the age of the Prophet (63 years old), funeral repast and many other major evetns. The day of the morning plov is fixed in advance and organizers disseminate invites to their relatives, friends, colleagues and neighbours.
On the eve of plov ceremony there is a rite 'sabzi tugrar' which means carrot chopping. Carrot is one of the main ingredients of this dish along with rice and meat, it is the one that gives this rich taste to the plov. After carrots are chopped, refreshments are served, and the elderly distribute duties among men as only men may cook, serve and take part in the morning plov ceremony.
Morning plov is served right after the morning prayer 'bomdod namozi' that ends with the sunrise. As soon as the morning prayer is over, the first guests arrive. The table is served with non (bread), dried fruits, snacks and tea, and musicians start to play Uzbek national instruments such as karnay –surnay announcing the start of the morning plov.
Large dishes (lagan) of plov are served. One lagan is usually for two persons. Before the meal, guests read a blessing prayer for the hosts of the event and repeat it after the ceremony.
On the morning of memorial plov ceremony, other surahs from Koran are read, for the peace of the soul, there are no musicians and the table is served modestly. Morning plov is the most transient mass event and usually takes not more than an hour and a half. On the wedding plov organized by the bride's side, the most honored guests are offered chapans (national gowns) by the groom's side at the very end of the meal.
One can get the full picture of the Uzbek plov only at the morning wedding plov ceremony. It may be the blessing and the positive attitude hundreds of people creating this atmosphere that make plov so divinely delicious.