Nikokh-Tui Traditions in Uzbekistan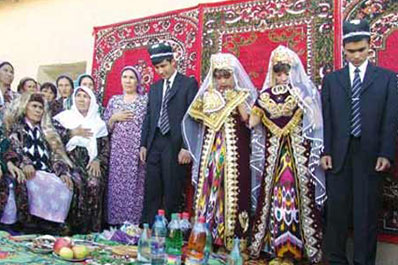 Nikokh-Tui, wedding, is the most solemn and large Uzbek ceremony. Traditionally Uzbek people celebrate weddings very richly and cheerfully with peculiar splendor and abundance of guests. Immediate and remote relatives, neighbors, friends and co-workers are invited to this wedding ceremony.
The festivities begin since the early morning with a festal wedding pilaf prepared in the houses of the groom and bride. Today the morning pilaf is more frequently prepared in cafes or choykhanas: it is more comfortable and less troublesome for the hosts.
After the morning pilaf the groom with friends and relatives, musicians and dancers come to the house of the bride. The bride in the wedding clothes, today usually in the European white dress, is waiting in the special room, where only mullahs (priests) can come in. They ask her marital consent and then read the prayer – "nikokh", which effects a marriage.
The second part of the wedding ceremony is the farewell with parents and the home. Friends of the groom ship the bride's dowry and the bride say goodbye to her parents and leaves the house accompanied with her friends and relatives, who sing farewell songs.
In the husband's house women welcome the bride, singing traditional wedding songs. In front of the door there is the white track, payandoz, by which the bride enters the house. She stops before the door and makes "ostona salom", the bow to the new house. Women strew her with flowers, sweets, money wishing her beautiful and rich life.
After the evening part of the wedding the groom goes with the bride to their new room. The bride is met by yanga, her relative or close friend. She changes bride's clothes. After this the groom comes in the room and "pays a ransom" for the bride to yanga and then the newlyweds are left alone for each other.
Early in the morning after the wedding party the holiday is continued with the ceremony of Kelin salom (speech of welcome of the bride). Young wife should welcome every guest, bowing from the waist to everyone, and guests should give her gifts and greetings.