Places of Interest of Moscow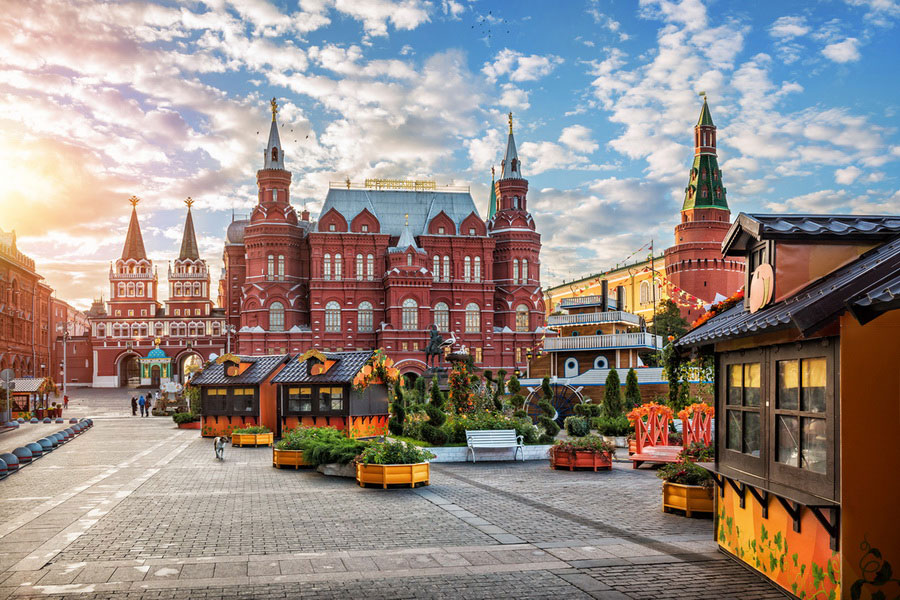 Arbat
Arbat is by right called the main street of Moscow. And it's not because it is the largest metropolitan or central thoroughfare. Not at all. The Muscovites value its unique charm created by the architectural pieces of past eras, its freedom and romance praised by the street artists and musicians, its unique spirit of old Moscow - noble and intelligent. More...
Manege Square
The building of the "Manege" gave the name to the square on which it is located. It became known as the Manege Square. The square is decorated with flowerbeds, fountains with sculptures depicting characters of Russian folk tales. Nearby is the Alexander Garden, the Kremlin, and the Russian State Library. The Manege Square is the favorite spot for young Muscovites. It is separated from the Red Square by the Iberian Gate of Kitai Gorod. Manege Square was first mentioned in the end of the 15th century although it was finally shaped in 1932-1938. Since "Manege" was intended for military parades, and on holidays - for exhibitions and concerts, it was the place for folk festivals, fairs etc. More...
Poklonnaya Hill
The most famous place at the entrance to Moscow from the west, of course, is Poklonnaya (Bow) Hill, a notable place, connected with the various historical events in Russia. Once, this gently sloping hill was located far outside Moscow, and from its summit the spectacular view of the city opened. Travelers stopped there to have look at Moscow and bow to her: hence the name of the hill. It was on Poklonnaya Hill that Napoleon vainly waited for the keys to Moscow; it was there that the soldiers went to the front to defend the Motherland during WWII. More...
Bolshoi Theater
In downtown Moscow on a beautiful square there is the main temple of Russia's culture - the Bolshoi Theater. The pride of all Russia - Bolshoi Theater - is one of the world's biggest opera and ballet theaters, rated as high as La Scala in Italy and Covent Garden in England. It is hard to overestimate the importance of the Bolshoi Theater for Russia. You can only enjoy its immortal creations and to admire its magnificent building, which is also an outstanding example of Russian architecture. More...
Other Interesting Places of Moscow