Poklonnaya Hill, Moscow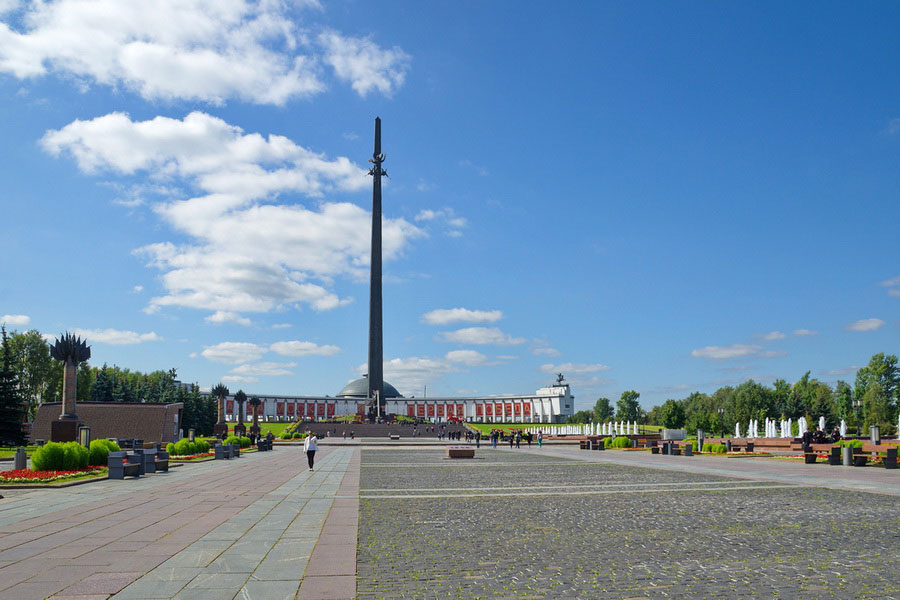 The most famous place at the entrance to Moscow from the west, of course, is Poklonnaya (Bow) Hill, a notable place, connected with the various historical events in Russia. Once, this gently sloping hill was located far outside Moscow, and from its summit the spectacular view of the city opened. Travelers stopped there to have look at Moscow and bow to her: hence the name of the hill. It was on Poklonnaya Hill that Napoleon vainly waited for the keys to Moscow; it was there that the soldiers went to the front to defend the Motherland during WWII.
That is why Poklonnaya Hill became the symbol of Russia's victory over foreign aggressors. In connection with the past events the large memorial dedicated to the Victory in Great Patriotic War of 1941 – 1945 with a park, monuments, museums, and churches was created.
Only on February 23, 1958 Poklonnaya Hill received the memorial sign saying "There will be erected the monument in the honor of the Soviet people's victory in the Great Patriotic War of 1941-1945"; later the Victory Park was planted there.
The design and construction of the memorial complex on Poklonnaya Hill was delayed for many years. Its grand opening timed to the 50th anniversary of victory over fascism, was held on May 9. Not so long ago, the complex was added by the chapel erected in the memory of the Spanish volunteers who died in the Great Patriotic War.
The memorial complex on Poklonnaya Hill:
Victory Monument
Museum of the Great Patriotic War
Church of St. George the Victorious
Memorial Mosque
Memorial Synagogue