Arbat, Moscow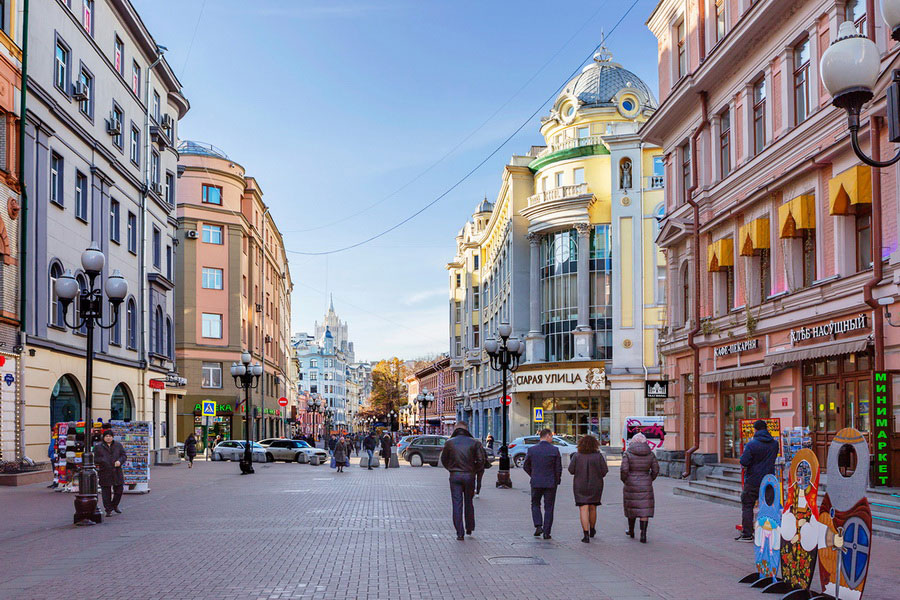 Arbat is by right called the main street of Moscow. And it's not because it is the largest metropolitan or central thoroughfare. Not at all. The Muscovites value its unique charm created by the architectural pieces of past eras, its freedom and romance praised by the street artists and musicians, its unique spirit of old Moscow - noble and intelligent.
The history of many houses on Arbat is connected with the history and life of the great Russian people. Indeed, Arbat is the unique place in Moscow. It is not just a street; it is a special "bit" of the capital, a kind of "Moscow within Moscow", with its own history, identity, traditions, and even landscape. Originally it is the territory of the Kremlin up to the Moskva River.
Many times burnt and rebuilt, Arbat suffered enough throughout its long history and has long been a symbol of old Moscow. It is immortalized in poetry, prose, songs and movies. Today, it is a little street, which in recent years has become a pedestrian zone, but in fact, Arbat is a historical district of Moscow, which in 1993 celebrated its 500th anniversary.
It's great that to this day despite the many changes that have befallen the region in recent years, Arbat is preserving its creative, soothing, peculiar spirit, which served as a magnet for all those wonderful people living and working right there, under the hospitable shade of quiet green gardens and charming Arbat lanes. More on Arbat's history...
Attractions of Arbat