Kitai Gorod, Moscow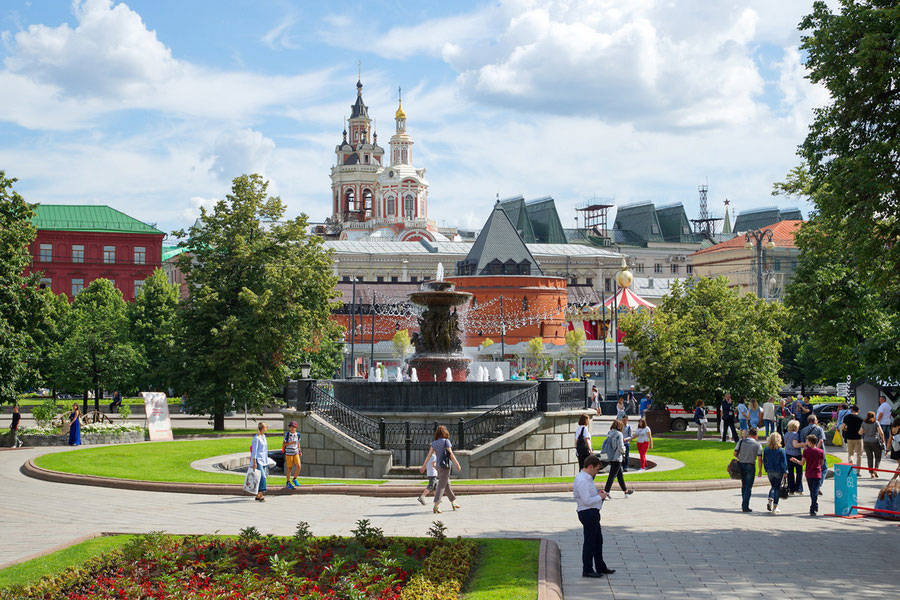 Kitai Gorod is one of the oldest historical parts of Moscow, which lies near the Red Square.
The history of its roots goes back to the 16th century, when the authorities decided to surround the trading area, the Great Posad, of the capital with a wall. It was lying next to the Kremlin, separated from it by the wide Red Square. The new wall was to protect the townsmen from fire and military raids. Skirting the Posad settlement, it merged with the Kremlin and joined the Beklemishev and Sobakina Kremlin towers. The wall began with fencing the territory of Posad with an earthen wall with a huge fence made of upright wooden poles – "kita". After that, townsmen it Kita Gorod, the name, which eventually transformed into Kitai Gorod. In place of that fortification the stone wall was erected in the late 1530s.
Kitai Gorod wall had three tiers; it was inferior to the height of the Kremlin wall, but similarly to it, was equipped with hiding places and adapted to the rifle and canon defense. There were fourteen battle towers (5 of which had gates). Now, only one of them has survived, the round corner tower, and a part of Kitai-Gorod fortification. The building of the stone walls and towers of Kitai Gorod was led by Italian Petrok Maliy. The line of the defensive fortifications of Kitai Gorod reached the length of 2,567 meters. The fortress according to the experts is unique not only in Russia but also in Europe. In the 17th century Kitai Gorod saw active stone construction period. Erected there were churches, homes and various institutions. In 1804 all the wooden buildings were demolished and a single inn was left. They wanted to destroy the wall replacing it with promenades, but the Emperor Alexander I did not agree with that, wanting to preserve all the ancient buildings of Moscow in their original form. In 1812, when Moscow was seized by Napoleon's army, Kitai Gorod was almost completely burned down and later revived with only stone buildings. In the late 19th - early 20th centuries, Kitai Gorod became the business center of Moscow. There were banks, the stock exchange, and trading firms. For many institutions multi-storey buildings in modern style were built. By the mid-20th century the walls of Kitai-Gorod had been almost completely destroyed, and in 1995 their restoration began. The sections of the wall adjacent to the Theater Square, the arch of the Tretyakov way were restored along with Iberian Gate and the round tower. Now Kitai Gorod is one of the nine protected areas created by the decrees of Moscow government. On the territory of Kitai Gorod you will find interesting cultural and historical monuments - the Mint (1697), the Cathedral of Zaikonospassky monastery (1660-1661), the former Printing House which still has Сorrection house and Book depositary (1679-1680).