Ostankino Tower, Moscow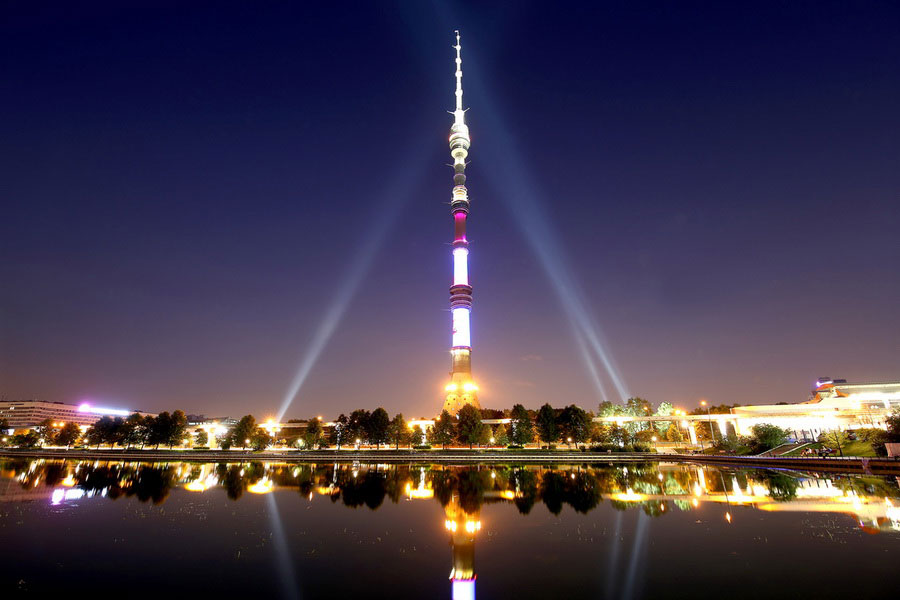 The advent of the 20th century marked the new era of television. In this connection the TV tower was built in Russia (Soviet Union) was erected. The first tower was built in 1922. In the 1950s, when the country saw the rapid development of television, this tower could no longer cope with the transmission of TV signals. So in 1967 the new TV tower was built in Ostankino, which was followed by the future Ostankino television center. The height of the tower is 540 meters. In Europe and Asia Ostankino Tower is the highest. It is part of the International Federation of Great Towers.
Today Ostankino television tower has 20 radio and 20 television transmitters. From the tower the signal is received by 8 "Orbita" satellites, which help to bring news to all the spectators in the country. In addition to its primary purpose, the tower is also one of the most interesting tourist sites in Moscow, and Ostankino tour is one of the most popular.

Ostankino TV tower has seven levels. Different levels of height (147, 269, 350 m) are equipped with observation platforms. From them you can see the entire Moscow, and even the near suburbs. Part of the floor is made of especially shock-resistant glass - during a tour visitors have a feeling of free "floating" in the air. Under the observation deck on the seventh level there is the restaurant complex "The Seventh Sky". Tables in the halls stand on the circular platform with glass railings. The platform rotates slowly, and visitors have an additional opportunity to admire the stunning views of the capital.
The height of the Ostankino Tower is 540m. The overall weight of the tower with the foundation is 51,400 tons. During the years of operation 10 million people visited the observation platform and the high-altitude restaurant "The Seventh Sky". The main viewing platform is located at the altitude of 337 m. The floors of "The Seventh Sky" are located on the heights - 328, 331 and 334 m.