Romanov's House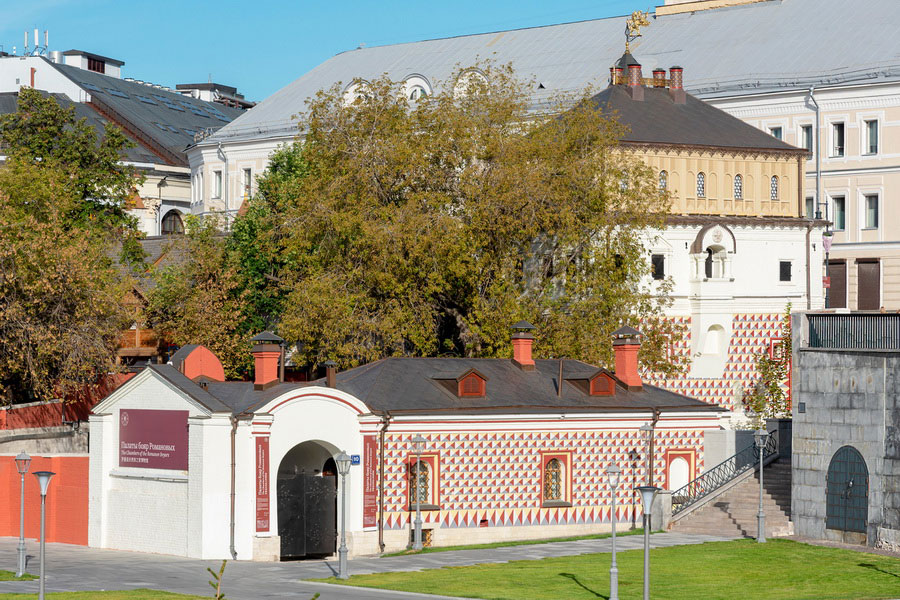 Zaryadye was the name of the old part in the center of Moscow, located behind "the stalls" (ryad) of shops adjacent to the Kremlin. Today it is the center of Moscow. Romanov's House in Zaryadye is the only structure that has survived from among the great estate of boyars Romanovs.
According to legend, there on July 12, 1596 Mikhail Romanov, who became the founder of the new royal dynasty, was born. The house itself had belonged to his grandfather, Nikita Romanovich Zakhar'ev-Yuriev, since the 16th century. During its long life the House went through a lot of events: it used to belong to monastery, was repeatedly subjected to fire and loots. In the mid-nineteenth century by the decree of Emperor Alexander the house became the place for one of the first museums in Moscow – the House of Boyars Romanovs. According to the plan the founders of the museum were to recreate the everyday environment of the ancestors of the Russian tsar. After 1917 the museum was partly rebuilt and became known as the Museum of Boyar Life. Since 1932 it has been affiliated with the State Historical Museum.
The House is an original brick, two-storey building with the third one made of wood. The floors' sizes are different. Unfortunately, the building has not reached us in its original form. However, the deep white stone cellar built in the 16th century has not changed. By tradition, the House is divided into male and female halves. On the ground floor, the male half, you will see the following interiors: Dining Room, Boyar's Room, the Library, and the Room of elder sons. On the second floor, the female half, are the Hall, Boyar's Wife Room, and the Drawing Room. The basement houses the storage rooms. The interiors of ancient House convey the originality of Russian life and culture of the 17th century. The rooms display mainly the original items of the 17th century.
The decoration of ancient houses is truly magnificent. The real masterpieces of applied art - tiled stoves, silver ware painted with enamels, embroidery, jewelry, boxes, trunks, furniture, beautiful murals on the walls - all this testifies to the high skills of their creators - ordinary Russian people.
When in the museum, you'll find yourself in the time of four hundred years ago with its orthodox, patriarchal way of life.