Uzbekistan Handicrafts: Wood Carving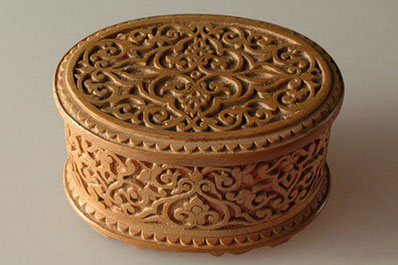 Uzbekistan wood carving art originated as decorative work for wooden beams that were widely used in the ancient architecture of Uzbekistan. Later wood carving was performed on a wide range of objects - from massive beams for ceilings to tiny children's amulets.
From times immemorial such wood articles as jewelry boxes kuticha, bookholders lavhi, carved tables were traditional for the East. All of them show all the beauty and wealth of traditional floral and geometric ornament. Carvers used wood of such trees as elm, walnut, sycamore, juniper, mulberry. Khiva, Bukhara, Samarkand, Tashkent and Fergana were and are the renowned centers of woodcarving. Each school is distinguished with its own approach of carving and patterns of ornament. Uzbekistan wood carving art is still developing and presents on many traditional wood articles.