Uzbekistan Handicrafts: Copper Embossing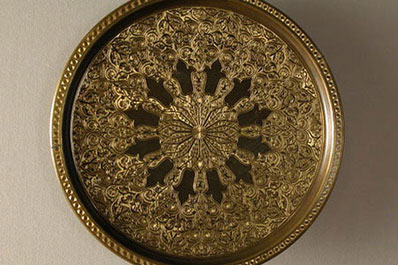 Copper embossing is one of the most ancient applied arts of Uzbekistan. Over centuries the embossed copper art in Uzbekistan has been the traditional art for many regions of Central Asia and today you can find a great number of articles, decorated with various patterns and motifs of embossing. The main workshops of embossed copper articles were located in Bukhara, Khiva, Kokand, Samarkand, Karshi, Shakhrisabz and Tashkent.
Embossed articles of the 18-19th centuries were distinguished for harmonious proportions, plastic and expressive lines and ornamental patterns. Embossed and chased metal articles of that time were valued not only for their decorative qualities. They also played an important role in everyday life as the indicators of social status and wealth.
Local schools of artistic embossing were established in Uzbekistan in the 19th century. Schools differed with own style of ornamentation, form and design as well as with an approach to emboss. In the 19th century Bukhara and Khiva masters of embossed copper art became very popular. They distinguished with the great plasticity of shapes, classic balance of proportions, ornamental motifs and the original technique of engraving and embossing.
Bukhara embossing was remarkable for its simple and restrained shapes. Typical herbal ornament of Bukhara embossing was much bigger but at the same time more graceful than patterns of other schools. From the nineteenth to early twentieth centuries Bukhara chasers used to decorate some parts of their work as body, neck, jug handles or wide trays with calligraphic inscriptions, sometimes using vegetable motifs.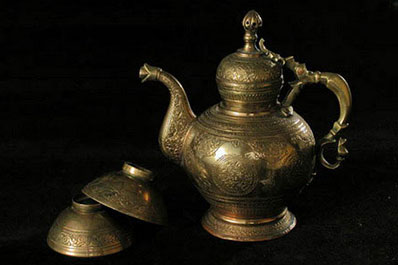 Khiva craftsmen applied the technique of deep embossing, and sometimes shallow embossing which is rather close to engraved carving. The peculiarity of Khiva technique was a smooth background without decoration. Background coloring was not used at that, but sometimes black and red lacquers were applied.
Embossed copper articles of Karshi and Shakhrisabz craftsmen are very close to each other stylistically. At the same time simple form and decoration of Karshi and Shakhrisabz school differed from the embossing of other Uzbekistan schools of embossed copper art. Karshi and Shakhrisabz schools differed also with design features. The elegant bases of vessel handles, spout and the top part of the body were decorated by large applied rosettes and lockets made by the stamping technique and encrusted with turquoise and glass.
In Kokand the copper embossed work was more varied in form but less perfect in proportion than traditional articles of Bukhara and Khiva masters. In the nineteenth century Kokand chasers used all methods of background and surface pattern decorations: punching, hatching, various nets and figured hollows.
Samarkand school of the last century remained conservative and did not come to the influence of new technical means and methods. Big and plain vegetable pattern of Samarkand craftsmen was quite different from the graceful and conventional patterns of Bukhara, Khiva and Kokand. Samarkand craftsmen usually used in their ornamental compositions the clover, the four-petal flower that characterized many other types of ancient Samarkand ornament.