Uzbekistan Handicrafts: Decorative Embroidery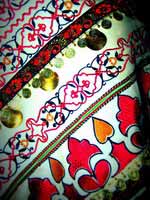 Embroidery was the most widespread fancywork of Uzbek women. By tradition girls and women were engaged in the embroidery. For settled Uzbek people the embroidery was an integral part of the traditional interior. It decorated different accessories from small articles to monumental panels. On the walls there were suzanes, in the household people used bedspreads (choshabi or ruidjo), pray-rugs (joynamoz), table-clothes (dastarkhan), babies' cradle covers and skull-caps.
The embroidery of nomadic and semi-nomadic Uzbeks colorfully reflected in clothes and small articles. Uzbek embroidery decorated men's festive gowns, belt-shawls, women's wedding cloaks, sheaths for knives, teapot covers, mirrors and purses.
In the nineteenth century there were several centers of artistic embroidery such as Nurata, Bukhara, Samarkand, Shakhrisabz, Tashkent and Fergana, each of them had its local fancy peculiarities.
The decorative embroidery of Uzbekistan up to the end of 1880 was made on a special matt white fabric, or on matt natural yellowish fabric. From 1880 and later simple local fabrics of violet and orange colors were used for the background, as well as imported white and colored cotton fabrics.
Nurata Embroidery
The original style of Nurata embroidery appeared in the end of the nineteenth century. Embroidered flowers on white fabric became a signature of Nurata needlewomen. Due to wealth and variety of colored motifs the floral patterns took a leading place in artistic embroidery of Uzbekistan. Frequently the floral design was accompanied by images of birds on the background as well as stylized images of animals and people. The most popular composition was an eight-pointed star in the center and four large twigs in the corners. Another type of ornamental composition is slim rhomboid leaves in form of lattice "toba-doni". Its cells are filled with flowers, rosettes, birds and animals.
Bukhara Embroidery
The Bukhara embroidery is one of the most interesting in Central Asia. Typical Bukhara design consists of flowers on thin branches evenly distributed over the surface of cloth, or round rosettes with long stems. Colors consisted of harmonious combination of blue, grey and light yellow with red, raspberry and green.
Samarkand Embroidery
In Samarkand the embroidery differs from Nurata and Bukhara works with its quite simplified design consisting of rosettes surrounded by foliated circles and with poor palette with a predominance of lilac.
Surkhandarya Embroidery
The modern Surkhandarya embroidery is characterized with a variety of original, surprisingly colorful and bright ornaments, imparted with a magic sense. The Surkhandarya embroidery style is rich with floral ornaments with flower variations of all possible kinds: egizgul, lolagul, pakhtagul, oygul and many others. The Surkhandarya mistresses were able to retain practically all kinds of traditional motifs in decoration of various items such as: Baysun scalp-caps (embroidered in "pil'ta-duzi" style), bel'bogi (waist kerchiefs), oyna-khal'ta (bags for mirrors), suzane (wall cloth partitions), bugdjoma (coverlet for stored domestic items).
Shakhrisabz Embroidery
As well as in Samarkand, the central place in the ornament of Shakhrisabz embroidery takes a large rosette with multicolored details with blue foliated garlands. Sometimes the central ornament is a composition of vegetative patterns with a frame of large ornaments and circles. Also in Shakhrisabz several varieties of skull-caps were created. The color palette of the embroidery is based on some main colors: raspberry, green and red.
Tashkent Embroidery
In Tashkent there are two kinds of large decorative embroideries like suzane Palak (from "falak" meaning «vault of heaven») and Gulkurpa. The entire surface of the Tashkent Palak is covered with solid embroidered symbols and dark red circles. The Gulkurpa is composed in the form of central star or circle with blossomed branches, making visible the larger part of clean fabric
Fergana Embroidery
The embroideries of the Fergana valley are distinguished by their thin graphic design of twigs and concentric rings with large areas of uncovered space on the background. Works of Fergana craftswomen are made on a colored background. Mainly ruijo and skull-caps are produced. Large embroideries like gulkurpa and suzane are made rarer. The decorative Fergana embroidery with its slim, elegant lines, reminds skullcaps. Colors based on the contrast of light and dark tones. Exceptionally gifted kalamkoshi women painters worked over the designs. Their art was respected, and was often inherited from mother to daughter. Depending on the subject chosen, the kalamkoshi chose the shape, size and composition of the embroidery.
Kashkadarya Embroidery
The traditional Kashkadarya embroidery school is an original interlacing of the local, Samarkand and Surkhandarya schools of making ornaments. The Kashkadarya suzane decor uses mainly two types of ornaments: rosettes and freely scattered patterns with floral motifs (doiragul, archagul, kalampir gul, raykhon gul, olvali). A relatively new trend was generated in the Soviet time – images of animals: birds (kaptaroy suzane) or scorpions. Today these motifs are practically not used. Sometimes as a cloth base white glazed cotton or blue silk were used, which subsequently were decorated with beautiful patterns of floral ornaments, with images of pomegranate with a colorific elements of various kinds.