Gold Embroidery in Uzbekistan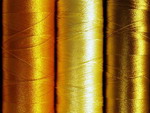 Gold embroidery is embroidery with gold and silver thread - a very ancient kind of needlework. Historical records give the evidence of the existence of gold embroidery as early as in the Middle Ages. This kind of needlework was wide-spread in many parts of the world, and Uzbekistan was not an exception. However, its special embroidery techniques and national patterns make the golden-embroidered products a unique and original souvenir for tourists visiting Uzbekistan.
This golden-embroidered technique differs much from other kinds of embroidery, since a golden thread is difficult to run through a material and therefore masters of gold embroidery have to apply thoroughly the thread smoothly on the surface of the fabric. Meanwhile, the gold should not be erased from the threads. This labor-consuming process takes a lot of time (sometimes years!), so hand-made golden-stitch embroidery is highly-valued products and much more expensive those of machine embroidery.
General terminology used by masters of gold embroidery business calls embroidery thread as "kalebatun." To indicate the type of yarn it is prefixed with "tillo" (for gold thread) and "safid" (for silver one). In the old days to make a thread golden, it was gilded, but now it is extremely difficult to find such thread due to its high prime cost.
The basic cloth for Uzbek gold embroidery is velvet of different colors, which makes the gold threads of the embroidery especially shaded, emphasizing every stitch and intricate pattern. Popular techniques of embroidery are gulduzi (embroidering of colors) and zaminduzi (solid satin stitch).
Over the whole history of its existence, gold embroidery has been developing universally in Nurata, Shakhrisabz, Samarkand, Jizzak, Tashkent, Fergana and Pskent. However, it was particularly developed and widely spread in Bukhara in the mid XIX century, in the workshops at the palace of the Emir of Bukhara, where skilful masters were embroidering garments of the ruler and his courtiers. And up to now, the Bukhara gold embroidery is famous even outside Uzbekistan.
Historically, gold embroidery was purely a male preserve, but now this kind of arts and crafts is predominantly women's. Hand embroidery is carried out on a special rectangular hoop made of wood.
Gold embroidery was used to decorate men's and women's caftans, dresses, turbans, skullcaps, shalwar and shoes. It is worth to mention the famous Bukhara gold embroidered caftans – zarchapans that amaze with their beauty! Such chapans richly decorated with patterns were presented as a ruler's special favor already at the emir's court. Even today, zarchapan is a generous gift and vested on a particularly important occasions, including weddings.
Nowadays, golden-embroidered products are produced in large volumes by the Bukhara gold embroidery factory. It also performs large-scale orders, such as curtains for theatrical stages and multi-meter thematic picture panels for large halls. In addition, in Bukhara as well as in Bukhara region, there are a lot of private masters that perform both general and individual orders. A gold-embroidered chapan or skullcap can be a good gift from Uzbekistan to your family and friends!