Top 10 Landmarks and Attractions in Samarkand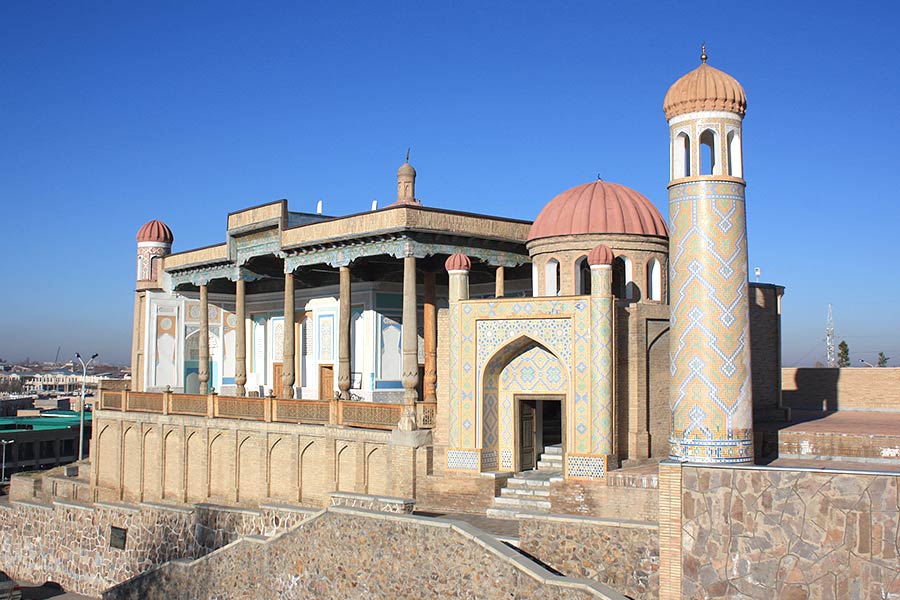 Hazrat Hyzr Mosque, Samarkand
Samarkand is Uzbekistan's undisputed claim to fame. This magnificent city remains cloaked in its past splendor as the capital of the powerful Timurid Empire, which in its heyday stretched across Asia from eastern Turkey to India. The city was a haven for caravan traders, intellectuals and Islamic scholars, a heritage still evident in the handicrafts, religious schools and observatory for which Samarkand is now known.
We invite you to this crossroad of cultures, where history and legend are almost magically intertwined at each site. Each of these Top 10 Landmarks and Attractions in Samarkand has something unique to offer:
1. Registan Square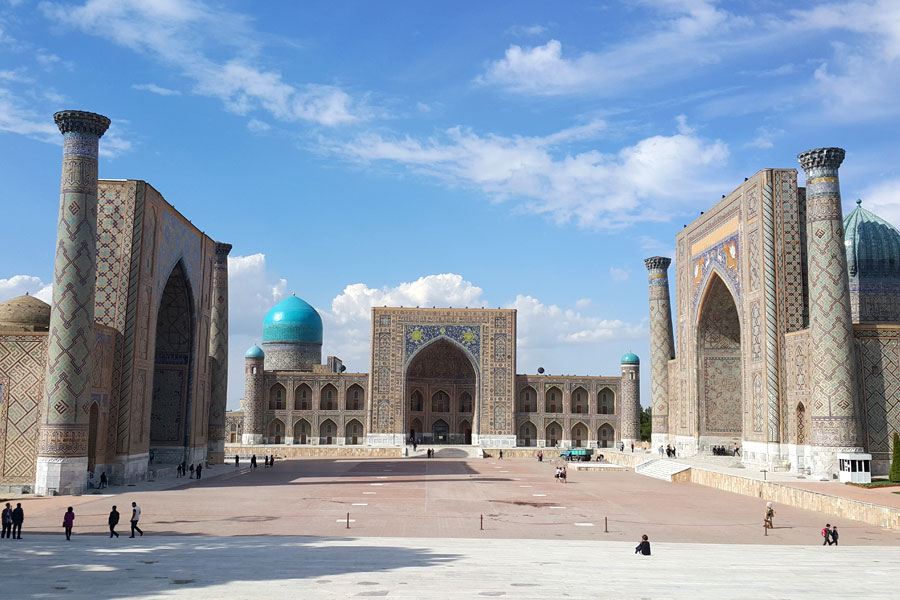 The crowning jewel of Samarkand, Registan Square once served as the central plaza of Tamerlane's renowned capital. This carefully restored 15th-17th century ensemble now constitutes a UNESCO site and Uzbekistan's most popular attraction. Its three imposing monuments – Ulugbek Madrasah, Sher-Dor Madrasah and Tilla-Kori Madrassah – dwarf everything in their vicinity and have a near-hypnotic way of arresting the gaze of many an admiring visitor. Take your time to amble through each monument, which though filled with souvenir stalls still convey an air of past royalty. Visit at night to see the Registan transformed in a sea of lights; come at sunrise and the serene complex is otherworldly. For a special experience, plan your trip around Sharq Taronlari, an international music festival held at Registan Square every other August.
2. Gur-Emir Mausoleum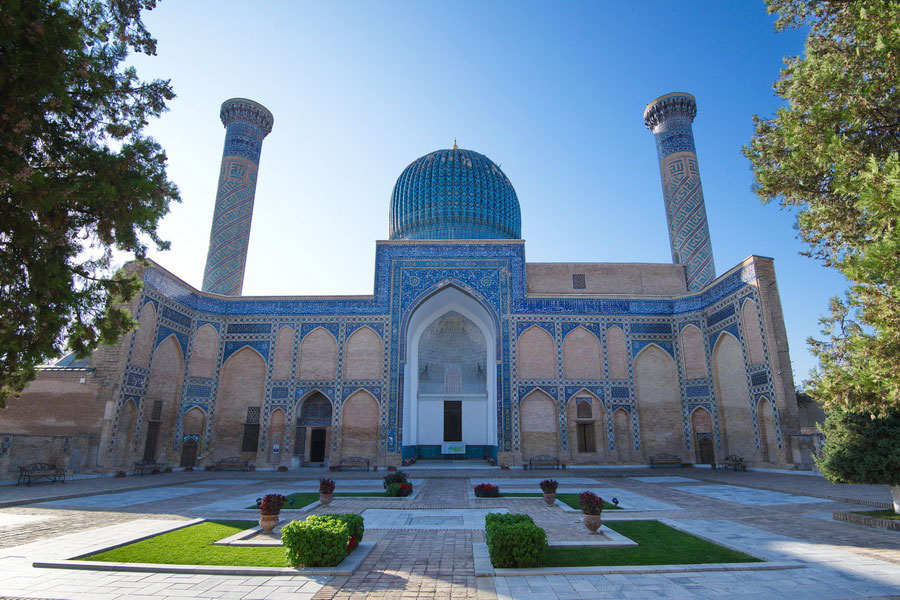 The fearsome conqueror and leader behind Samarkand's shocking beauty, Tamerlane (known locally as Amir Timur) is buried in a mausoleum that rivals some palaces. With its trademark turquoise cupola, glazed bricks and lavish marble designs, Gur-Emir served as the blueprint for the Taj Mahal and is now one of the most recognizable landmarks in Uzbekistan. Interestingly, Tamerlane never intended to be buried at Gur-Emir, or even in Samarkand for that matter, yet after a series of unforeseen events he now lies interred in his capital alongside several close relatives and a mentor. While the courtyard views of Gur-Emir are amazing in themselves, the inner crypt is truly a sight to behold. On-site guides offer short tours in English, and while their stories may mingle fact with fiction, they certainly enhance the experience. Return at night and you will be rewarded with the sight of Gur-Emir Mausoleum in an otherworldly glow.
3. Hudjum Silk Carpet Factory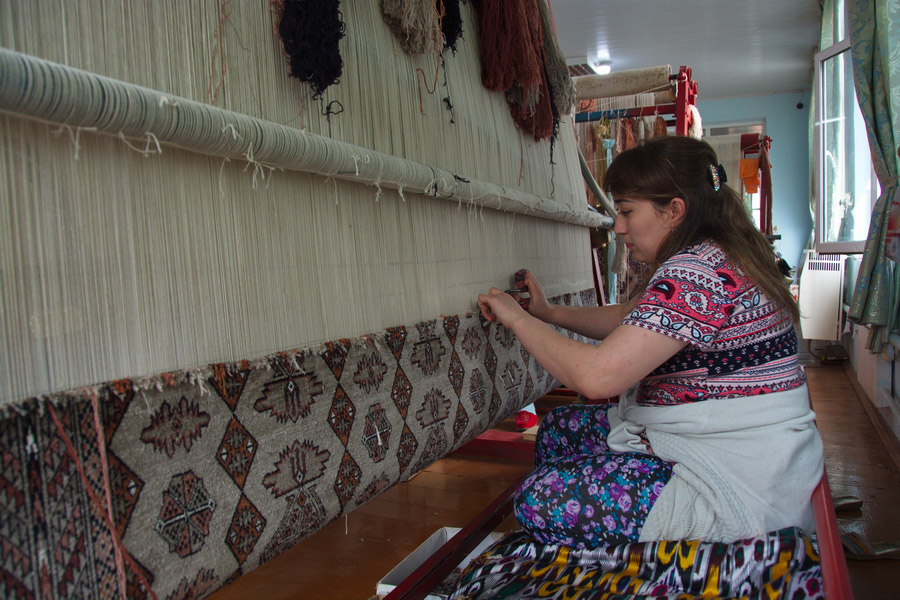 This delightful family-run business is actually a factory, workshop, museum, gift shop and presentation all rolled into one. Learn the history of carpet weaving in Uzbekistan as you discover firsthand how the silk threads are spun and natural dyes are produced on site. Watch as local women artfully weave the high-quality carpets, many of which take months to complete, and even sit alongside them as they teach you some tricks of the trade before giving you the opportunity to weave a few threads yourself. Admire the displays of distinctly Uzbek embroideries before browsing the huge selection of carpets of every size, color and design which are available for purchase in the warehouse. A tour of Hudjum Silk Carpet Factory is an interactive experience of Samarkand's artistic side and a great way to spend a sultry afternoon hiding from the sun.
4. Bibi-Khanym Mosque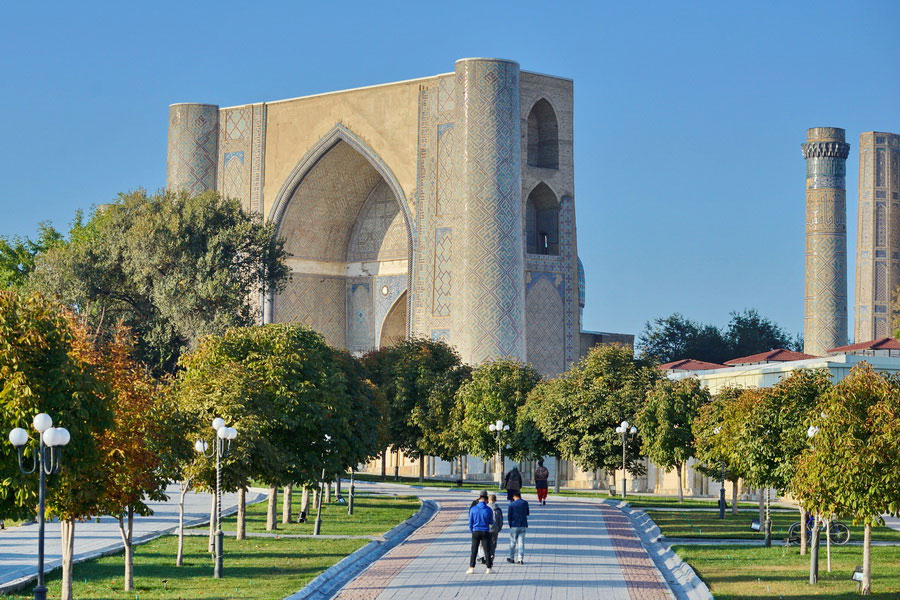 One of the largest mosques in the world at the time of construction in the early 15th century, Bibi-Khanym Mosque was built in the throes of victory following Amir Timur's conquest of India. Depending on which account you believe, the cutting-edge construction was either dedicated to Bibi-Khanym, Timur's favorite wife, or was built by the queen as a surprise for her husband on his return from battle. Either way, the overeager architects compromised structural integrity for size, and the building began to crumble in a few short years. Miraculously, Bibi-Khanym remained partially intact until recent large-scale repairs helped to stabilize this monstrous beauty, now one of the most famous landmarks in Uzbekistan. What Bibi-Khanym lacks in luster is compensated for through its sheer size and the colorful myths surrounding it. A huge stone Quran which adorns the courtyard is rumored to impart fertility, so do not be surprised if you see young women crawling under its stand.
5. Siab Bazaar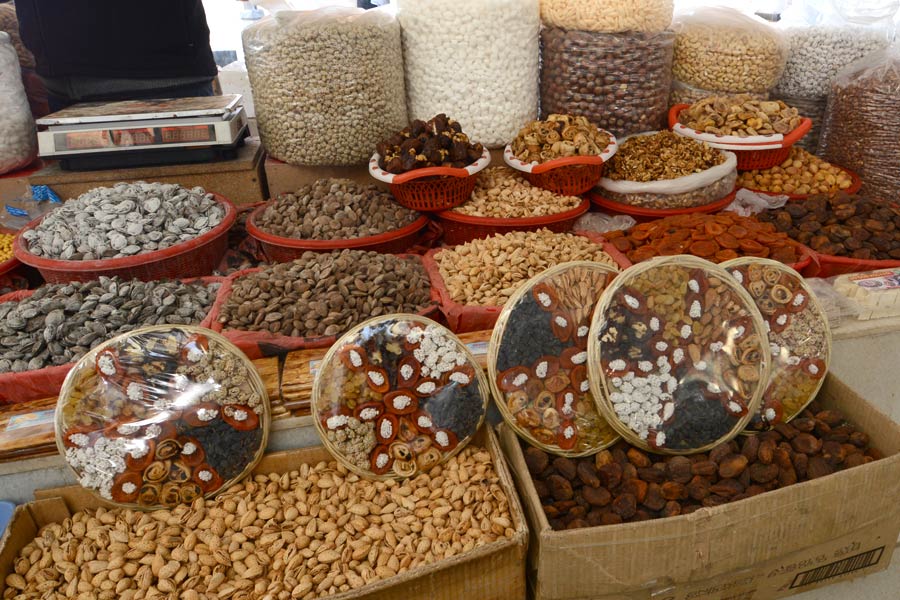 When you're ready to step out of Tamerlane's historic empire into modern Samarkand, look no farther than the lively Siab Bazaar, located right next to Bibi-Khanym Mosque. Rows upon rows of aisles awash with the colors of sparkling fabrics, eye-catching souvenirs and seasonal fruits are a feast for the eyes, while the scent of Samarkand's famous bread and the high-spirited invitations of the sellers to taste their products prove an irresistible temptation for many a traveler. Siab Bazaar is a fabulous place to wander at leisure and people watch as you soak in all of the sights and sounds. It is also a one-stop market for stocking up on gifts, for it offers clothing, scarves, hats, trinkets, embroidered bags, ceramics, hand-carved boxes and edible treats which are unique to Central Asia.
6. Shakhi-Zinda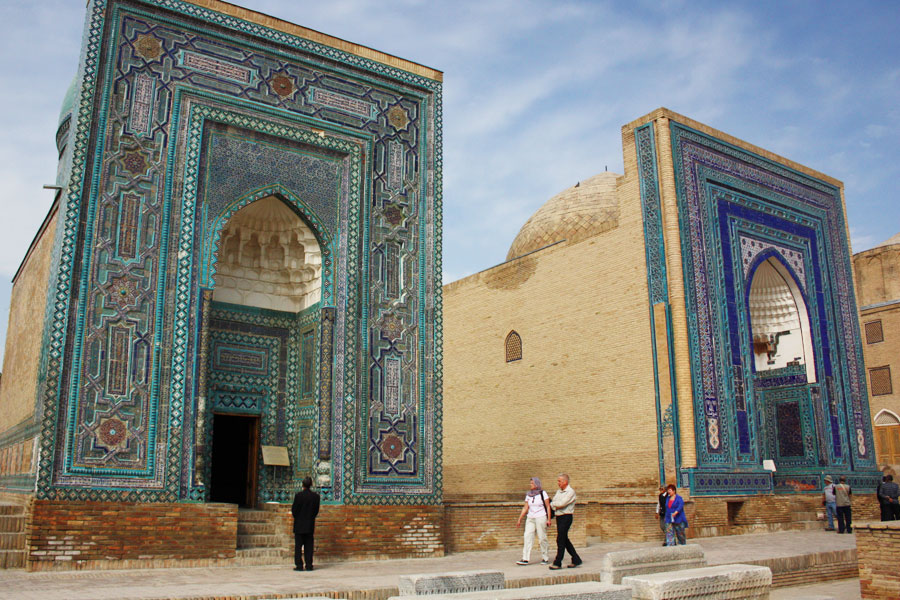 The shimmering azure corridor of Shakhi-Zinda (The Living King) is a favorite of many travelers to Uzbekistan. Flanking either side of its massive central stairway are some 20 buildings and tombs of royal and religious greats which are decorated with thousands of colorful tiles. The tombs were built gradually between the 11th-15th centuries, yet the basic structure of each is nearly identical, giving the site a stately, uniform look. The visual effect as you ascend the stairs in a sea of blue and green majolica is nothing short of spectacular. Many of the tombs have been renovated, while others retain elements of their original facades, and all are beautiful in their own right. A superb spot for photos, particularly in the morning, remember to be mindful of the many local religious tourists who regard the site as holy.
7. Ulugbek Observatory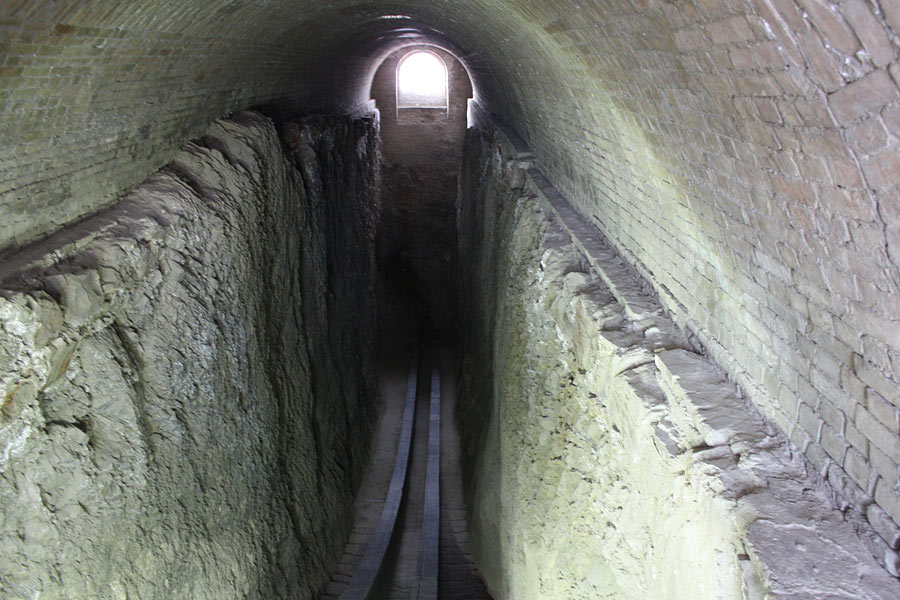 The legacy of Ulugbek is almost as pervasive in Samarkand as that of Tamerlane himself. A grandson of Tamerlane best known for his work in the field of astronomy, Ulugbek built the largest observatory in medieval Central Asia and is recognized as one of the greatest astronomers of his day. Although much of the three-story observatory was destroyed long ago, its sizable underground arc has survived as a testimony to Ulugbek's ingenious contributions to the field of science. One of the most-visited landmarks and attractions in Uzbekistan, Ulugbek Observatory provides a refreshing intermission from madrasahs and mausoleums, and its hilltop location affords a good view from behind the sextant. The complex also includes a small but fascinating museum on the royal astronomer's accomplishments that is worth the additional entrance fee if you wish to appreciate the site in full.
8. Daniel's Tomb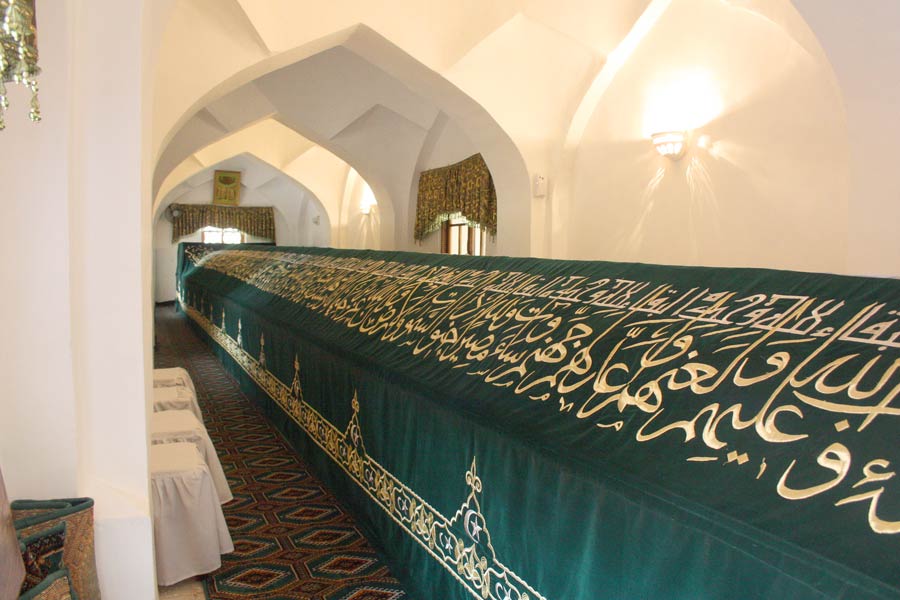 Lest you think a single grave is not worth a small detour, know that Daniel's Tomb is not your ordinary burial site. An 18-meter-long, above-ground coffin is said to hold the remains of the Biblical and Quranic prophet Daniel, whose grave is revered by many local Muslims. The details of how the casket was transported from Iran to Uzbekistan and why such an enormous coffin is needed to hold his remains are dubious, but instead of listing the theories here we encourage you to ask Uzbeks for their interpretation of events. After viewing the massive coffin at Daniel's Tomb, take note of the 500-year-old pistachio tree growing nearby and the natural spring at the base of the hill whose water is considered holy. Located between Ulugbek Observatory and Afrosiab Archaeological Site, Daniel's Tomb is best experienced by hiring a guide who can provide helpful background info on a 20-30 minute tour.
9. Afrasiab Archaeological Site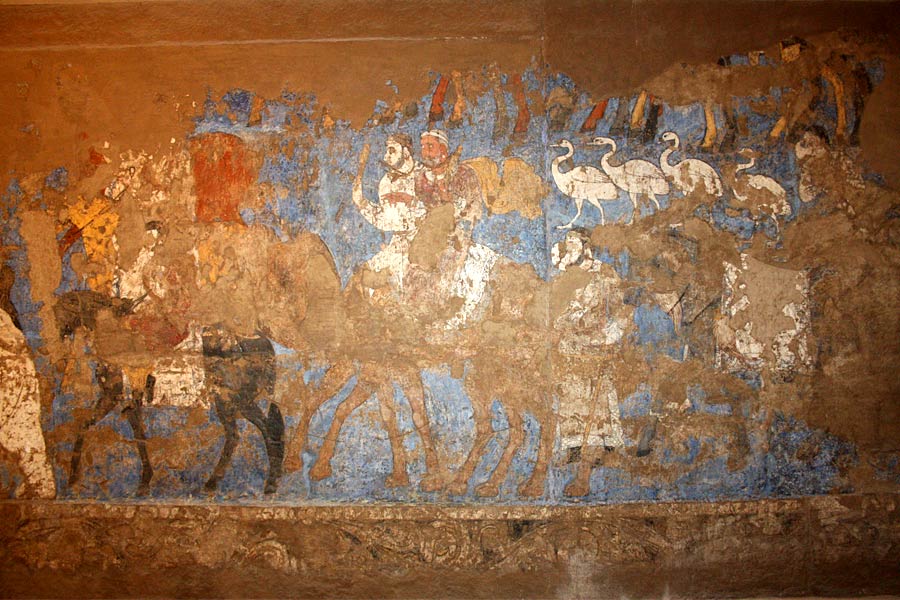 Although Tamerlane would have you believe otherwise, advanced civilizations existed around Samarkand long before the conqueror's arrival. Afrasiab Archaeological Site and Museum provide ample proof of this, offering raw exploration to those who wish to dig deeper into ancient Uzbekistan. Many believe that this sprawling site, one of the oldest attractions in Uzbekistan's Samarkand Region, is actually the legendary Marakanda, the capital of Sogdiana established around the 5th century BC and inhabited until the late Middle Ages. The hillside city included a decorated palace, fortress, living quarters, bathhouses, water pipes and an artisan center. Today its silent ruins lie strewn with pottery shards, although glimpses of its past grandeur can be seen in the accompanying museum, where palace frescoes and other findings are sure to spark your imagination.
10. Meros Paper Mill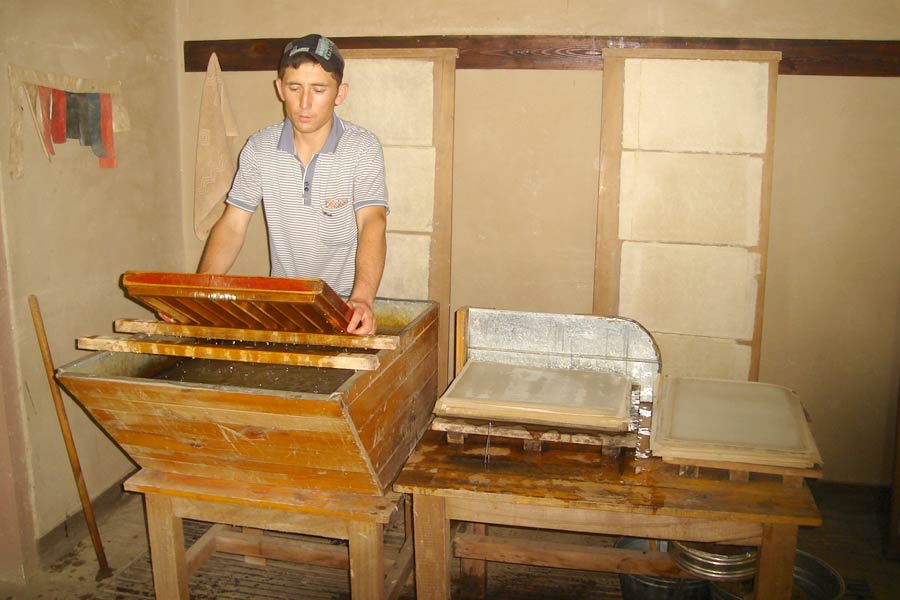 Just beyond the borders of Samarkand in the town of Konigil, a local family has revived the ancient craft of producing paper products from mulberry trees. The art was first introduced to the region by Chinese prisoners in the 8th-9th centuries and was soon absorbed into local culture. Visitors can watch this manual process from start to finish at Meros Paper Mill, a largely outdoor facility whose garden, brook, wooden water mill and tea house promise rest and relaxation after a busy day in downtown Samarkand. The process of making the all-natural paper products from scratch may be tedious, yet the result is a durable material which can last for hundreds of years. At the end of the tour, you can purchase stationery, clothing, accessories and other items which have been made exclusively from the mulberry paper. A drive to the mill takes about 30 minutes from Samarkand and may be arranged with a taxi driver from the city or in advance through a travel agency.
Our list of Top 10 Landmarks and Attractions in Samarkand just did not feel complete without mentioning a few runners-up:
- Hazrat-Hizr Mosque: One of the newer additions to Samarkand's touristic scene, the cheerful 19th-century Hazrat-Hizr Mosque marks the site of an 8th-century predecessor. Its brightly painted verandah and delicate woodwork differ in design and architecture from its medieval counterparts, making it well worth a quick visit.
- Khovrenko Wine Factory: The most famous winery in the region, Khovrenko Wine Factory has been in business since the mid-19th century. A tour of the museum will walk you through local winemaking methods and the events which prompted the winery's founding before ending with a tasting of several local varieties.
- Mausoleum of Imam al-Bukhari: This large burial complex is dedicated to a famous 9th-century Islamic scholar and native of Bukhara. A popular pilgrimage site, Mausoleum of Imam al-Bukhari sits just outside of Samarkand on the road to Bukhara and includes mausoleums, mosques, courtyards and a small bazaar.