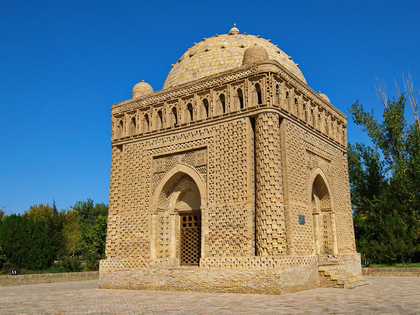 Bukhara tour in the historical center, started from the picturesque Lyabi-Khauz basin will take you to the world of medieval East for a few hours. You will see the most famous mosques and madrasahs of the Holy City; visit the unassailable Ark fortress and the 47-m Kalyan minaret like a beacon pointing the way to trade caravans and pilgrims traveling to Bukhara.
Tour itinerary:
A guide will meet you at hotel in Bukhara, which is a starting point of the city tour. Enjoy a walking sightseeing tour with a guide in Old City. Visit Lyabi-Khauz Ensemble, Magoki-Attori Mosque, Chor-Minor Madrasah, trade domes, Kalyan Minaret, Kalyan Mosque and Miri-Arab Madrasah, Ulugbek and Abdulazizkhan madrasahs, Ark Fortress, Bolo-Khauz Mosque, Ismail Samani and Chashma-Ayub mausoleums.
Duration of sightseeing tour: 6-7 hours
Price includes:
Guided sightseeing tour;
Entrance fees to the museums, mausoleums and other sights.