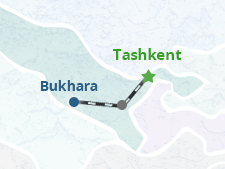 Bukhara is unique among Uzbekistan's cities as a holy place, home to notable sights and notable people from the city's thousands of years of history. Take the train from Tashkent, and spend two days exploring all of the corners of beautiful Bukhara. Start with the Lyabi-Hauz Ensemble, an elegant square with ancient trees and intricately-decorated mosques. There is really no shortage of wonders in Bukhara - the city's most recognizable monument is the Kalyan Minaret, which was spared from destruction by Genghis Khan because of its unique beauty. Dive into history with the trade domes (where merchants used to trade with people coming from all four directions) and the Ark Fortress (home to generations of rulers). Then head out of the city for even more, with visits to the Chor Bakr Necropolis and the Mausoleum of Bahouddin Naqshbandi, founder of a famous Sufi order. For those with only a couple days and a lot to see, this Two-Day Bukhara Tour is the best tour for making the most of your time.
Continue sightseeing tour with a guide. Drive out of the city to
Sitorai Mokhi-Khosa
– the summer residence of Bukhara's last emir, visit
Chor Bakr Necropolis
and the
Mausoleum of Bakhouddin Naqshbandi
. At 14:40 transfer to train station. The high-speed Afrosiyob train leaves for Tashkent at 15:47 and arrives in Tashkent at 19:10. Upon arrival you will be met by Advantour driver and transferred to your place.
Duration of sightseeing tour: 3-4 hours
Accommodation based on double/twin room sharing, breakfasts included;
Economy-class tickets for train Tashkent – Bukhara – Tashkent;
Sightseeing tour program with a local guide;
Entrance fees to sights as per itinerary;
Full board;
Travel insurance.
Accommodation:
Economy Option

Comfort Option

Bukhara - 1 night
Amulet, Minzifa, As-Salom, K.Komil, Fatima, Bibikhanum, Basilic, Kavsar
Omar Khayam, Devon-Begi, Zargaron Plaza, Asia Bukhara, Minorai-Kalon