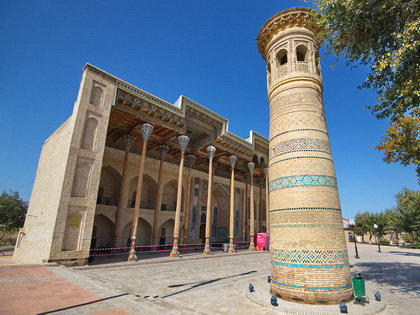 Best of Bukhara 3-Day Tour is the perfect introduction to an ancient city which is now one of the top destinations for tourism in Uzbekistan. A major stop along the Silk Road, Bukhara served as a cultural and religious center for centuries. Its prestigious history is still palpable in Old Bukhara and the emir's home known as Sitorai Mokhi-Khosa. In nearby Gijduvan, the artistic heritage of Uzbekistan lives on among 6th-generation potters at a renowned ceramics school.
This trip begins and ends in Uzbekistan's capital Tashkent, from where you will take a high-speed train to and from Bukhara. Special highlights of your 3-day tour include guided excursions of the most popular places to visit in Bukhara and the chance to create your own pottery and purchase special souvenirs at the ceramics workshop in Gijduvan.
In the morning our driver will meet you at your Tashkent hotel for transfer to the railway station at 07:15. The high-speed
Afrosiyob
train leaves Tashkent at 08:00 and arrives in
Bukhara
at 11:47. Upon arrival you will be met by an Advantour driver and transferred to the hotel for luggage drop-off.
Your Bukhara adventure begins with a guided walking tour of Old Bukhara, listed by UNESCO as a World Heritage Site. Visit
Lyabi-Khauz Ensemble
,
Magoki-Attori Mosque
,
Chor-Minor Madrasah
,
the trade domes
,
Ulugbek
and
Abdulazizkhan Madrasahs
,
Kalyan Minaret
,
Kalyan Mosque
,
Miri-Arab Madrasah
, the legendary
Ark Fortress
,
Bolo-Khauz Mosque
and
Ismail Samani
and
Chashma-Ayub Mausoleums
. Following your guided tour, enjoy free time in the old city. Overnight at the hotel in Bukhara.
Duration of guided tour: 6-7 hours
After breakfast continue your Uzbekistan trip with a drive to Gijduvan (45km, 50 min), a town famous for its ceramics school at which unique products recognizable across Uzbekistan are created. The Gijduvan ceramics school has a long history, for the skills have been passed from father to son for generations. Today Gijduvan is home to the sixth generation of potters from the Narzullayevs family, who have brought the ceramics school to worldwide fame.
While visiting the pottery workshop you will have the opportunity to create your own piece of art under the guidance of an experienced potter. Visit the adjacent
Gijduvan Ceramics Museum
and even purchase souvenirs from the potter's shop.
After lunch, transfer to the train station. The high-speed Afrosiyob train leaves Bukhara at 15:47 and arrives in Tashkent at 19:10. Upon arrival you will be met by an Advantour driver for transfer to your hotel. End of Best of Bukhara 3-Day Tour.
Accommodation based on shared double/twin room, with breakfast (2 nights);
Tickets for Tashkent-Bukhara-Tashkent trains (on rare occasions when the high-speed train is unavailable, we will replace this with the most comfortable class on the regular train);
Sightseeing tour program with a local guide;
Entrance fees to sights as per itinerary;
Pottery class and lunch in Gijduvan;
All transfers.
Full board;
Travel insurance;
Gratuities.
Accommodation:
Economy Option

Comfort Option

Bukhara - 2 nights
Minzifa, K.Komil, Bibikhanum, Amulet, As-Salom, Fatima, Kavsar or similar
Paradise Plaza, Omar Khayam, Minor, Asia Bukhara, Zargaron Plaza or similar