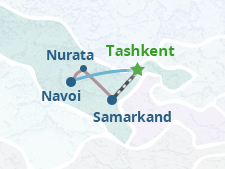 For those who love a little ancient history, a trip to Aydarkul and Sarmishsay is just about the best Uzbekistan tour possible. Sarmishsay has a unique petroglyph gallery, with over 10,000 stone carvings depicting scenes from daily life of the people who lived here long ago. Then head out to Aydarkul for a taste of nomadic life, with camel riding and a night in a yurt in the Kyzylkum Desert. Aydarkul Lake and Sarmishsay are conveniently located between Bukhara and Samarkand, so if you have some extra time, add on a city tour extension.
At 06:30 transfer from your hotel in
Tashkent
to the
train station
. The high-speed train,
Afrosiyob
, departs at 07:30 and arrives in
Navoi
at 10:40. A driver will meet you at the train station, transfer to
Sarmish-Say
to see the petroglyphs. After the Sarmish-Say excursion you are to drive to
Nurata
where you can have lunch and visit a local place of interest –
the Chashma Complex
with a holy spring. After lunch transfer to the yurt camp. On the way a stop at lake of
Aydarkul
located in the amidst of a sultry desert. In the evening dinner near the camp fire with a Kazakh akin singing folk songs. Overnight at the yurt camp.
Though meals are included, based on the experience and tips of our guests, we advise to take some food in advance, as there are no shops around yurts.
In the morning camel riding and free time. Then a drive to
Samarkand
. Arrival in Samarkand, lunch. At 16:00 transfer to a
railway station
. Return to Tashkent by high-speed train Afrosiyob, departure at 17:00. Arrival in Tashkent at 19:10.
Accommodation in the yurt camp hotel with full board (3 meals);
Economy-class tickets for Tashkent-Navoi and Samarkand-Tashkent trains (on rare occasions when the high-speed train is unavailable, we will replace this with the most-comfortable class of regular train);
Transportation throughout the tour, including airport/train station pick ups and drop offs.
Tips are not included, but would be appreciated;
Travel insurance.
Accommodation: