Ala-Kol Lake, Kyrgyzstan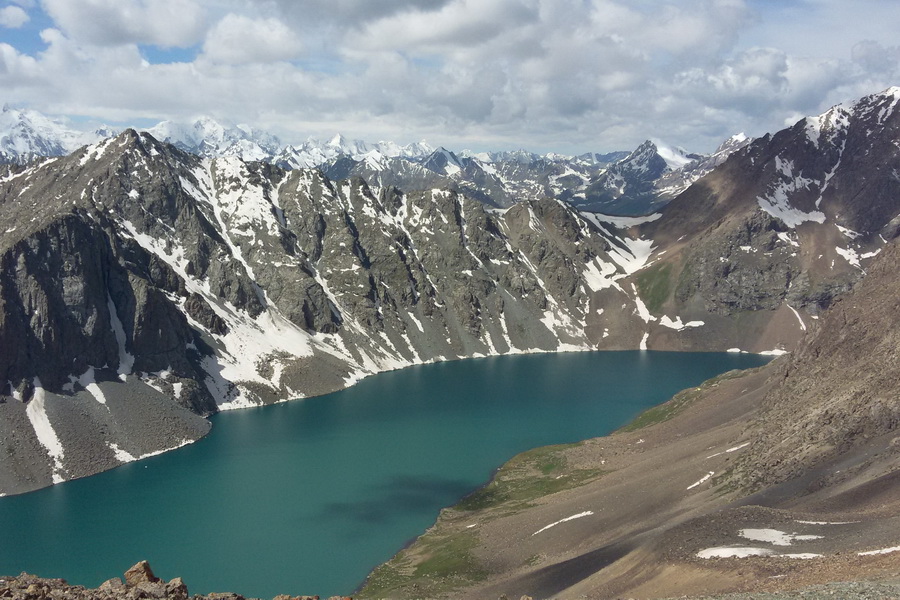 Ala-Kol is on several popular trekking routes between Altyn-Arashan and the Karakol Gorge, and lies at an altitude of 3,532 m (11,588 feet) above sea level. It is often the first overnight stop on the route between Altyn-Arashan to Djety Oguz, but it can be reached in a (long) day from either the Altyn-Arashan or Karakol Valleys, but only in the summer. Although the trek is popular, the route is not regarded as easy.
Ala-Kol is set in a barren, rocky depression, and is surrounded by the peaks of the Terskey Ala Too range. Rocky paths and scree slopes are used to approach the lake.
At 2.3 km (1.5 miles) long and 700 m (2,300 feet) wide, Ala-Kol is one of the largest of the 729 lakes in the Issyk-Kul basin. The crystal clear waters of the lake are fed by glacial streams, and the outflow forms a waterfall. Ala-Kol freezes from October until May. The color of the water can seem to change according to the time of day, the season, and the weather, and can seem violet, dark blue, or even pink.