Salty Lake, Kyrgyzstan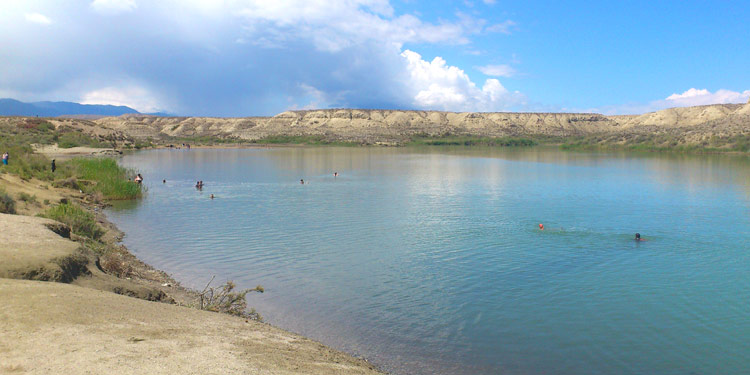 Salty Lake is located along the southern shore of Lake Issyk-Kul, right where the road swings away from the shoreline for a short stretch. Along this stretch there is a turnoff for a dirt road, which, after 13 km (8 miles) brings you to Kara Kol, also known as Salty Lake or Myortvoye Ozero, Russian for "dead sea". Salty Lake lies in a hollow, cut off from Lake Issyk-Kul by small, dusty hills.
Lake Issyk-Kul is also slightly salty, since there is no outflow, so evaporation leaves mineral salts. Salty Lake is the same, just smaller, and even more salty. Like the Dead Sea in Israel, the salt raises the buoyancy of the water, making it possible for a person to easily float on the surface.
There is a small beach, which is quite popular in the summer. People come to swim in Salty Lake and cover themselves in black mud, which is said to be therapeutic. Some even claim that drinking the water is healthy, though it isn't recommended. At the moment, there are no permanent facilities at the lake, but there are some local yurts set up that offer local foods.