Kol-Ukok Lake, Kyrgyzstan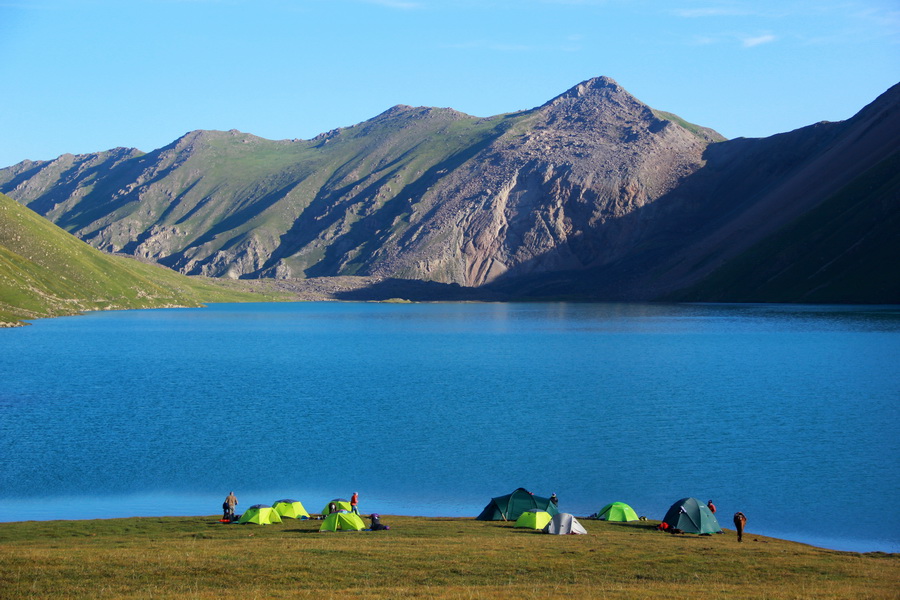 The small lake Kol-Ukok (Kel-Ukok) is located in the Naryn region, in the area of the northeastern part of the Terskey-Ala-Too mountain range. This is a mountain lake, and it is very cold. People come here not to swim, but to enjoy the silence and beauty.
Sevan trout, imported from Armenia, lives in the waters of Kolu Kok. In the meadows located next to the lake, you can find Edelweiss. And in the vicinity of the reservoir there are wild animals: wolves, foxes, hares and mountain goats.
It is said that the caravans of the Great Silk Road passed here, which went through the Torugart pass to Chinese Kashgar.
In summer, shepherds live here, who take cattle to jailoo. Zhailoo for Kyrgyz is not just summer pastures, but a real tradition that is several hundred years old. Men bring with them Kyrgyz semi-finished products, recipes of which have been formed for centuries, set up yurts and live here for several months. Shepherds treat everyone with kymyz - mare's milk, as well as kurut - dried salty balls of sour milk.
In order to view Kol-Ukok, you need to get a special permit. This does not bother those who want to see all the seasons at once. This is what the cold Kol-Ukok is famous for.
You can stay at the lake for the night. Local residents offer to rent cozy Kyrgyz national yurts.
In the vicinity of the lake, you can make a small mountain hike both on foot and on horseback. Picturesque nature and clean air will become faithful companions. If you don't know how to stay in the saddle, the Kyrgyz will teach you.
Not far from Kol-Ukok is the village of Kochkorka, where you can get acquainted with local customs and traditions.
Please note that it is better to go to the Kol-Ukok in good weather, because precipitation will wash away unpaved roads, and then you will not like the trip.
Not far from the mountain lake is the Orto-Tokoy reservoir. It is located at an altitude of 170 meters above sea level. This is a beautiful place where not only locals, but also tourists go. The reservoir has a length of 18 kilometers, a width of 5 kilometers and a maximum depth of 47 meters.