Kara-Suu Lake, Kyrgyzstan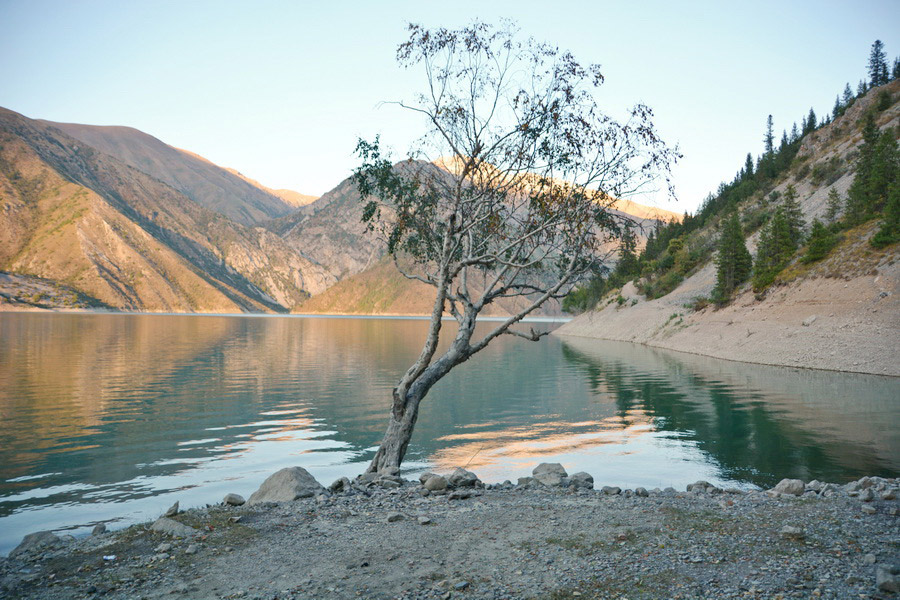 Lake Kara-Suu (Karasu) is located on the border of Talas, Naryn and Jalal-Abad regions in the gorge between the Taktalyk and Ken-kel spurs (Kenkol) at 2022 meters above sea level.
Kara-Suu appeared as a result of an earthquake. Despite the fact that the lake is translated from the Kyrgyz language as "black water", it impresses with waters of a sky-blue hue.
Kara-Suu occupies about 16 square kilometers, and the maximum depth reaches 90 meters. The Shibe River flows into the Kara-Suu, and the 85-kilometer-long Kara-Suu River flows out, which is a tributary of the Naryn River. The water in Kara-Suu is cool even in summer.
It is easy to get to the shore from the south side, but the north side is covered with sharp boulders. Although the northern side is more beautiful, we recommend the southern shore.
From the lake you can see a picturesque panorama to the top of the Alampasa. Amateur climbers climb here.
Tien Shan spruce, mountain ash, barberry, birch, honeysuckle, fruit trees, rose hips and much more grow in the vicinity. Marinka, peled and other types of fish are grown in the lake. But fishing is prohibited here, regardless of size and weight.
On the southern shore of the lake, shepherds set up camp, set up yurts and graze cattle in the warm season.
Also not far from Kara-Suu – at an altitude of 2303 meters above sea level – is the lake Kapka-Tash. Translated from Kyrgyz, the name of the lake means "stone gate". The lake was also created as a result of an earthquake.
Please note that there are no paved roads on the way to Kara-Suu. And the nearest settlement is 50 kilometers away.