Skazka (Fairytale) Canyon, Kyrgyzstan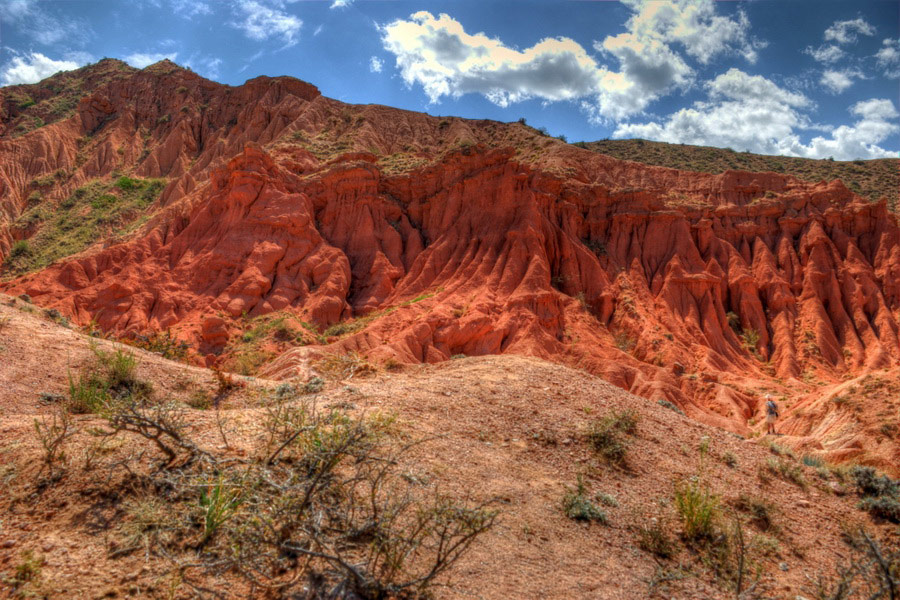 Skazka (Fairy Tale) Canyon, located on the southern shore of Issyk-Kul Lake, is one of the most interesting and frequently visited natural places in Kyrgyzstan. It is located 120 kilometers from Balykchi and not far from the village of Tosor.
The canyon is located in the gorge of the same name and is famous for its red clay rocks. The wind has been polishing natural and fabulous sculptures here for years. One of the most famous rocks is the "Chinese Wall". So it was nicknamed by the people due to its similarity to the famous architectural monument of China. Walking through the labyrinths of the canyon, you will feel like in a real fairy tale. No wonder the gorge is named that way. The rocks resemble castles, towers, monsters, giants, people and animals. And all this is created by nature, not by the hands of people.
Some travelers may think that they are on Mars. Someone will see colorful rocks, and someone will see only red ones. The fact is that the Fairy Tale Canyon opens for everyone in its own way. For example, in sunny weather, the canyon looks completely different than in cloudy weather.
In windy or rainy weather, the relief of the rocks can change, and tourists can see other images that nature creates. If you climb one of the rocks, you will get a stunning panorama of Lake Issyk-Kul.
Snow almost never falls in this area, so the canyon can be visited at any time of the year. Please note that in summer you may be charged for entering the canyon.
It is difficult to get lost in the canyon, but we recommend visiting it with a guide to learn about all the secrets and legends of the gorge.
Not far from the canyon there is a beach, which is considered one of the most beautiful on the entire Issyk-Kul coast.