Chunkurchak Gorge, Kyrgyzstan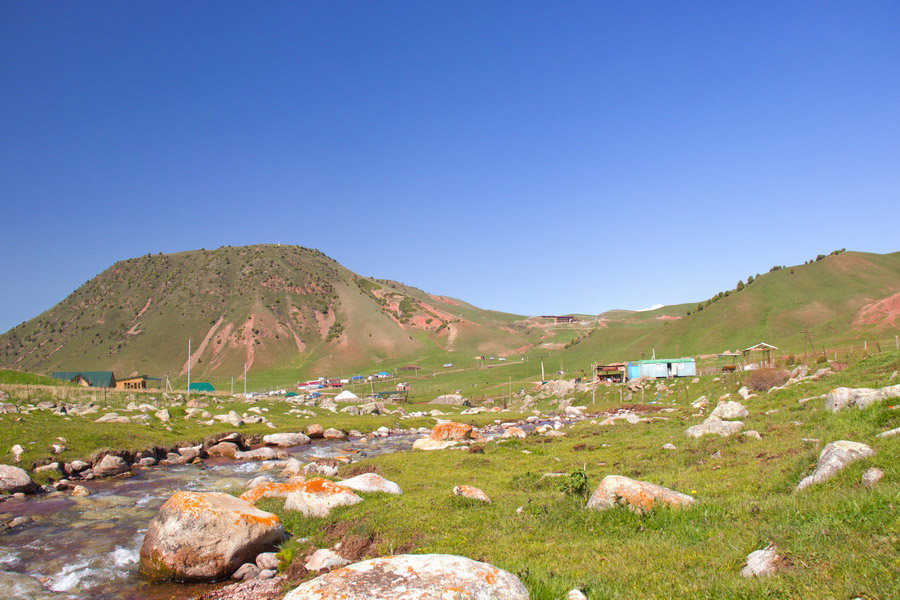 Chunkurchak is the highest mountain gorge closest to Bishkek, which is popular among Bishkek residents and guests of the capital. It is located near Bishkek and stretches for almost 30 kilometers.
Chunkurchak Gorge is located at an altitude of 2400 meters above sea level. From Kyrgyz, "chunkurchak" translates as "depression".
Chunkurchak is considered one of the most beautiful gorges of Kyrgyzstan. Here you can observe a colorful symbiosis of snowy mountain peaks, green alpine meadows, coniferous forests and reddish soil.
At the entrance to Chunkurchak, stunning panoramas open up, which are the hallmark of the Chui Valley.
If you want to enjoy the coolness of the water, go to the Pigeon Waterfall with a height of about 35 meters. The myriad splashes hitting the rocks are mesmerizing.
There are four ski resorts in the gorge, which in summer function as koumiss health resorts and rest homes. In winter, people ski, snowboard and sledge here.
The sharp cliffs of the gorge attract climbers and rock climbers. Some rocks of the gorge are covered with snow and ice even in winter. Every year, there are competitions in dry-tooling – climbing to the top with the help of ice climbing equipment.
Chunkurchak is also often visited by cyclists and lovers of Scandinavian walking.
The territory of Chunkurchak is part of the National Bio Reserve. It was created to preserve rare species of tulips. For example, it is in this gorge that the royal tulip grows, the flower of which can reach 18 centimeters in length. The famous variety of tulips "Zinaida" also grows here. In spring, thousands of tulips can be seen in Chunkurchak, which turn green fields into a red sea.
Keep in mind that it is recommended to visit the Chunkurchak Gorge accompanied by a trained guide.
There is also an ethno-complex "Supara Chunkurchak" in the gorge. Here you can taste national dishes and stay for a few days in a hotel or a yurt. Above Chunkurchak passes into the Tatyr Gorge. Also not far from Chunkurchak is the Bir-kulak gorge, which is known for thousands of raspberry bushes.