Konorchak Canyons, Kyrgyzstan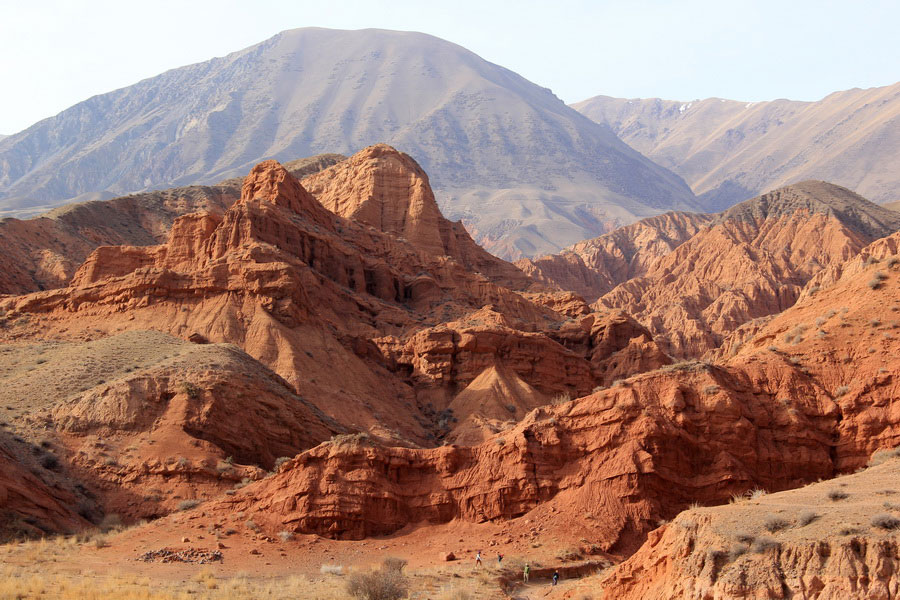 The Konorchak Canyons are on the road from Bishkek to Issyk-Kul, about 125 km (77 miles) from Bishkek. They are approached by crossing onto the right side of the Chu River after the Red bridge and making your way through a stony labyrinth.
The canyons stretch for nearly 200 km (125 miles), meaning that seeing them in their entirety is almost impossible, but it is possible to go for a few days to explore the spectacular scenery. Many of the canyons have romantic names, like Grand Canyon, Bobsleigh, and Skyscraper. A plateau formed here about 1.5 to 2 million years ago, which has since been eroded by wind and water and turned into a maze of canyons and pillars (some pillars reach 400-500 meters, or 1,312 to 1,640 feet high). The whitish clay in the area shows that Lake Issyk-Kul once extended this far, though it has long since retreated.
One of the main sights is a dry waterfall, which is all that remains of a waterfall that once flowed here long ago. According to local legends, the waterfall still emits a black slush once a year. Another main attraction is an extinct volcano, Segizkan Shokhy, dating back 2.5 to 3 million years. The slopes of the volcano are covered with remnants of lava and large fossilized seashells.
During the summer, the air in the canyons is quite hot, dry and dusty. The winters are not terribly cold, averaging warmer temperatures than in other parts of the country, though they are becoming colder. There is very little precipitation at any time of the year, with no snow falling between 1980 and 1990, and only two recorded instances between 1990 and 2000. Despite the lack of precipitation, the vegetation growing in the Konorchak Canyons seems to be larger than usual.
There are many legends about the canyons, and local folklore has it that any horse that strays into the canyons will not emerge alive. Despite this, many locals in Kyrgyzstan claim that Konorchak Canyons are their favorite valleys.