Kegeti, Kyrgyzstan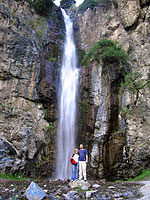 Photo by Slava Koshelev

Kegeti is considered by some to be the most beautiful gorge in Kyrgyzstan. It's about 90 km (55 miles) from Bishkek, on the northern side of the Kyrgyz Range. The bottom of the gorge holds a valley and a river of the same name, and the slopes are famous for their meadows and alpine woods. There are not only berries, such as strawberries, stone brambles, and blackberries, but also rare and unique medicinal herbs.

Kegeti is also famous for its waterfall, dropping 20 m (65 feet) into the gorge. The waterfall is easy to reach, which means that both places are frequently visited by tourists. It is also an excellent place for horseback riding, another reason why tourists frequent Kegeti.

Nearby are other famous sites, including Kel-Tor Gorge, with a small "dead sea" and Burana Tower, one of Kyrgyzstan's most famous archeological sites. Visitors can also travel to Bel-Saz, which is a summer pasture, or jailoo.

Dozens of various mammals live in Kegeti, as well as birds, like falcons, golden eagles, and gyrfalcons.