Suusamyr Valley, Kyrgyzstan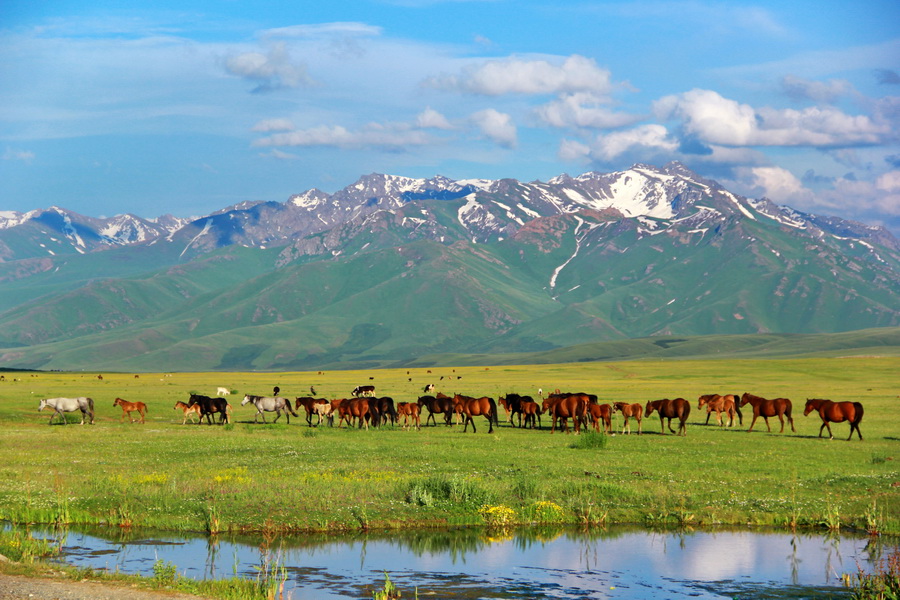 Suusamyr (Suusamyrskaya, Susamyrskaya) valley is an intermountain depression located at an altitude of 2200 meters above sea level. It is surrounded by mountain peaks, some of which reach a height of 4,500 meters. In ancient times, caravans of the Great Silk Road passed here. The distance from Bishkek to the Suusamyr Valley is 160 kilometers.
In fact, it is a green plain that stretches for 155 kilometers, and the width in places reaches 40 kilometers. There are more than 300 species of plants growing in the valley, including medicinal ones. At the same time, there are practically no trees. Some plant species are listed in the Red Book. The red book snow leopard lives in Suusamyr. Two mountain rivers flow here – Suusamyr and Western Karakol, and there is also a mountain spring.
In summer, shepherds come to Suusamyr and set up camp here. Zhailoo – pastures of Suusamyr are considered one of the best in the whole of Kyrgyzstan. In summer, the valley looks like a green sea. Shepherds graze cattle from May to July and live in yurts that they install themselves. They also make koumiss – mare's milk – and treat everyone to it. They say that it is here that the most delicious Kyrgyz koumiss is. Shepherds also sell fermented milk drink ayran and mountain honey.
In the vicinity of the valley there are koumiss health resorts and holiday homes, where not only Kyrgyzstanis come, but also residents of CIS countries.
In winter, Suusamyr is very beautiful. The valley is famous for the ski complex "Too-Ashuu", which attracts lovers of snowboarding and downhill skiing.
In addition, paragliders love this place. Due to the fact that fields prevail here, planting is considered safe. You can also meet climbers in Suusamyr.
At the bottom of the valley there are unique stone sculptures and mounds. The earliest ones are dated to the VI century BC, the later ones to the V century AD.
The village of Suusamyr is located next to the valley. Here you can spend the night and get acquainted with the life of Kyrgyz families.
Also in the village of Kozhomkul, which is located near the valley, there is a mazar (grave-mausoleum) of the hero Kozhomkul. There are prints of his big hands on the walls of the mazar. There is also a museum where you will be told about the history of the Suusamyr Valley.
Please note that even in summer it can be cool in the valley, so it's better to bring warm clothes with you.