Semyonovka and Grigorevka Gorges, Kyrgyzstan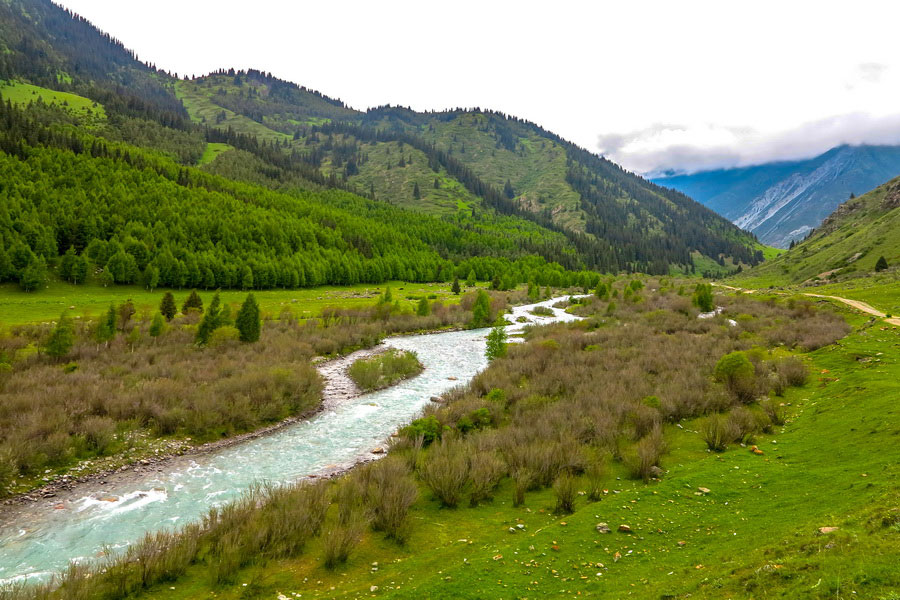 Semyonovka and Grigorevka are the largest and best known of the beautiful gorges on the north shore of Issyk-Kul, in the Kungey Ala-Too (Sunny Ala-Too) Mountains. These two villages are 30 km (18 miles) along the road from Cholpon-Ata as you travel from Bishkek. The surrounding region is crisscrossed by trekking routes, some of which pass over the mountains towards Almaty, Kazakhstan.
From the village of Semyonovka, named after the Russian explorer Pyotr Semyonov, an asphalt road extends 15 kilometers into the mountains, following the Chon Ak-Suu (Big White Water) River, past the Kyrchyn tour base. The road leads to a jailoo, or summer pasture, located 2,010 m (6,595 feet) above sea level, where the Chon Ak-Suu meets with the Kichi Ak-Suu (Little White Water) River. The river flows 34 km (21 miles) from the glaciers down to Lake Issyk-Kul, through three small lakes. This jailoo was historically used as a meeting place for congresses of Kyrgyz elders.
From the end of June to the end of September, there is a yurt village here. This yurt village is marketed as an ethnological experience, where half the yurts are reserved for visitors, and half are occupied by local families, who provide services and entertainment. Guests here can experience authentic and traditional elements of the Kyrgyz nomadic lifestyle, like sleeping on traditional blankets in yurts, rather than on beds. This also means that things like toilets and washing facilities are also more traditional, but the experience more than makes up for it. Guests can explore the history, culture, crafts, food and games of the Kyrgyz people, or go on treks on foot or on horseback through the surrounding countryside and see half-wild yaks. For the less active, there are demonstrations of crafts and horsemanship, recitations of the Epic of Manas, concerts on traditional instruments, and even kumis tastings - an all-around authentic Kyrgyz experience.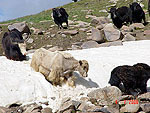 Wild Yaks
by Jocelyn Favaz
It is possible to make a day trip from the shores of Issyk-Kul, or to set off on several days of trekking. Semyonovka is also the right distance from Bishkek to make for a long weekend, or it could fit well into a longer tour that incorporates other aspects and regions.
On the northeastern edge of the village are some graves, dating from the 5th to 3rd century BCE. There are more graves further up the valley of the Ak-Suu River.
Another piece of history is a dacha on the shores of Issyk-Kul, not far from Semyonovka, that was built in the 1960s for a visit by Leonid Brezhnev - and was then used only once. It's a rather modest building, set at the edge of a marshland, a short walk away from the beach. Unfortunately, now it is in a sad state of disuse and disrepair, though there are apparently plans to renovate and restore it.