Chinuri Grapes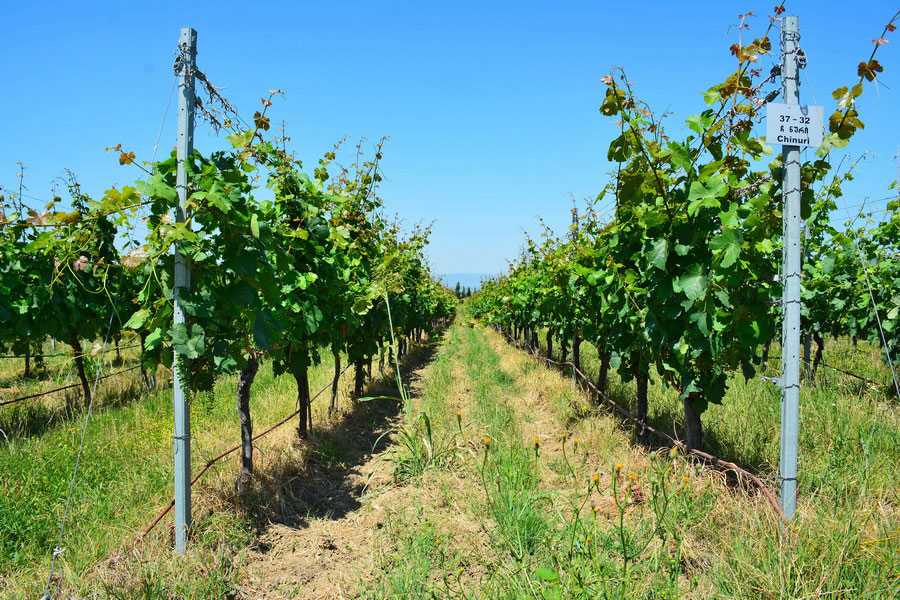 Among the historical white grape varieties of Georgia, the wine homeland of the Caucasus, Chinuri grapes attract special attention due to their prominence in the country, their abundant harvests and the fine-quality white table wines which they produce.
History
Chinuri grapes are otherwise known as Kaspuri and Kaspuri Tetri (named after Kaspi Region), and it is these terms by which they are typically referred to in viticulture literature. No information is available on when the grape originated in the territory of Kartli or how it evolved over the centuries, yet based on its morphological-biological features it is safe to surmise that Chinuri, like many other aboriginal varieties of Georgia, originated from a natural wild grape form. It was likely cultivated and localized in the Kartli zone at a later time, when the local populace became more involved in the development of Georgian viticulture.
According to Georgian historian Ivane Javakhishvili, the name of the grape comes from its greenish- golden color: the Chinuri grape resembles the color of an olive tree leaf, which was known as chin in old Kartli.
Apart from Kartli, the Chinuri grape is also widespread in Vani of Imereti Region and in Gurjaani and Telavi of Kakheti Region, the center of Georgian winemaking.
Characteristics
Chinuri occupies a prominent place among the Kartli grape varieties, and with proper care and conducive environmental conditions it is characterized by abundant yields. The first harvest is occasionally given in the second year (but more often in the third year) after planting, while the full harvest begins in the fourth or fifth year.
Wines
Chinuri grapes are used in the production of both delicate white table wines and Georgian sparkling wines. These may be made either according to the classic method or the traditional Georgian variation, which involves the use of clay vats called qvevri.
Caucasus wine produced from Chinuri has a light brown color. It is soft in taste, gentle, full-bodied and substantial, with a delicate balance of alcohol and acidity.
The famous white sparkling wine Atenuri, made in the Ateni viticulture area of Shida Kartli in Gori Municipality, is likewise made from a combination of Chinuri and Goruli Mtsvane grapes.