Kisi Grapes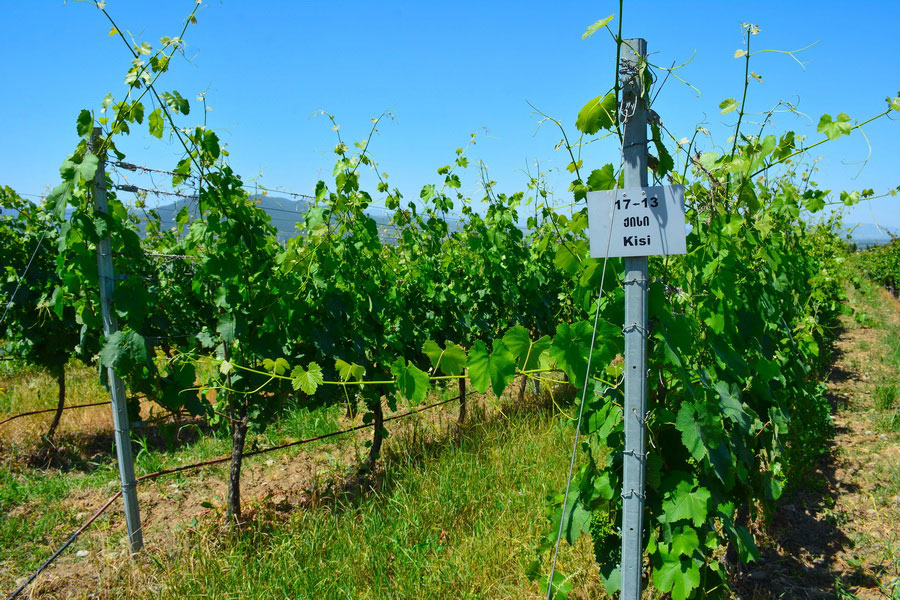 Kisi grapes are a relatively new grape variety in Georgia, a country well known among many wine connoisseurs as the birthplace of this heavenly beverage.
The properties of each wine are dependent on many factors, the most important being grape variety and geography. There are more than 500 varieties of cultivated vines in Georgia, a diversity which supports the fact that local viticulture goes back thousands of years. Among the many varieties of Georgian grapes, Kisi holds a special place for its use in the production of high-quality white table wines.
The Kisi grape variety is widespread in Kakheti, Georgia's wine region, particularly in the Telavi and Gurjaani districts. It can be found growing in Ikalto, Ruispiri, Kistauri, Khodasheni, Akhmeta, Napareuli, Bakurtsikhe and several other villages.
Since its morphological and agricultural features are very similar to Mtsvane and Rkatsiteli, some of the main industrial grape varieties of Kakheti, Kisi is often considered a natural hybrid of these two sorts. It resembles Rkatsiteli in the shape of its leaf, while the color of its grains and strong varietal aroma are similar to Mtsvane.
Kisi has medium-sized bushes and belongs to the eco-geographic grape varieties of the Black Sea basin. Its maturation period, from earliest budding to full maturity, is 140 days. Its sugar content can reach up to 30%, which is why Kisi is also used in the production of naturally semi-sweet wines.
Kisi grapes produce light straw-colored classical wines with pleasant aromas. The gentle, harmonious taste reveals rich tones of ripe fruit which delight wine lovers, while the delicate aftertaste is completed by an apple trail.
Georgia's Kisi wine may be served as an aperitif or as an accompaniment to meat, mushroom and vegetable dishes and baked or stuffed fish.