Rkatsiteli Grapes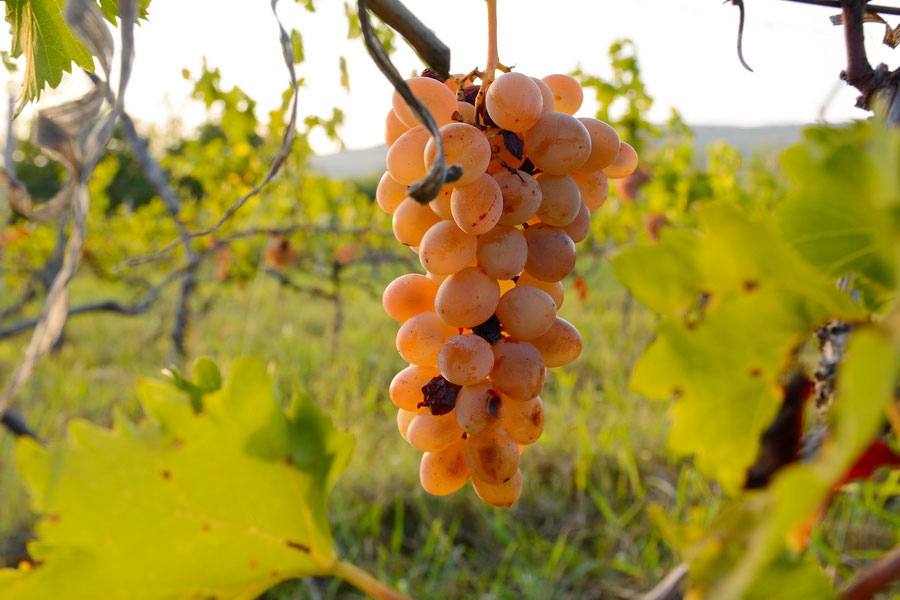 Georgia is one of the oldest wine-producing countries in the world, and among more than 500 indigenous Georgian grape varieties, Rkatsiteli grapes are one of the most popular.
The name Rkatsiteli (რქაწითელი in Georgian) means "red stem" or "red horned". The grape, which originated in the Alazani Valley in eastern Kakheti Region, is best known for its use in some of the most high-quality Georgian wine types, the classic international and Kakhetian-style white table wines.
History
Research conducted by the Institute of Viticulture and Enology confirmed that the Rkatsiteli grape likely originated in Kakhi village in the historic Saingilo Region, where old uncultivated vineyards filled with these Georgian grapes are still quite abundant. Their date of origin remains unknown, since little information on Georgia's pre-13th century agricultural history has survived to our day.
Rkatsiteli are known by several additional names in the literary sources of viticulture, and these names are primarily connected with the various regions where it is cultivated. The Rkatsiteli vine is mainly found in Kakheti Region but also grows in Bolnisi-Marneuli, Kartli and less commonly in Imereti and Racha-Lechkhumi Regions. Outside of Georgia, Rkatsiteli grapes are now widespread in Azerbaijan, Armenia, Russia, Uzbekistan and Kazakhstan and in some Eastern European countries including Ukraine, Romania and Moldova.
Characteristics
The juice of the Rkatsiteli grape has an excellent chemical composition, for it contains a large concentration of sugar (up to 30%) while maintaining an ideal acidity, which rarely falls below 5. Due to its ability to maintain a desirable sugar-to-acidity ration from the earliest stages of formation until near maturity, it is the main industrial grape variety in Kakheti.
Rkatsiteli grapes are also distinguished by their ability to adapt to environmental conditions and their strong frost resistance. Due to their robust nature and extreme flexibility, they are commonly used in the production of dry, high-quality international table and dessert wines.
Wines
While Saperavi is Georgia's most popular red wine, Rkatsiteli is the country's most beloved white wine. The highest quality Rkatsiteli Georgian wine is produced in its homeland, Kakheti. Yet even here, the type and quality of wine varies considerably due to diverse growing zones and individual varieties. Two major zones are distinguished in Inner Kakheti: the eastern side of the Alazani Valley along the northeastern slopes of Tsiv Gombori Ridge and the western side of Alazani, where vineyards are located on the southern slopes of the main Caucasus ridge.
Wine produced from Rkatsitseli grapes are known to be golden-green, gentle, harmonious and light and are distinguished by their fullness, fruity aroma and slight yet pleasant bitterness. Rkatsiteli qvevri wine, which is aged in traditional clay vessels, is a must try while in Georgia. Among the most popular Rkatsiteli wines are those originating from Kondoli, Tsinandali, Kisiskhevi, Kvemo Khodasheni, Vazisubani and Mukuzani.