Khikhvi Grapes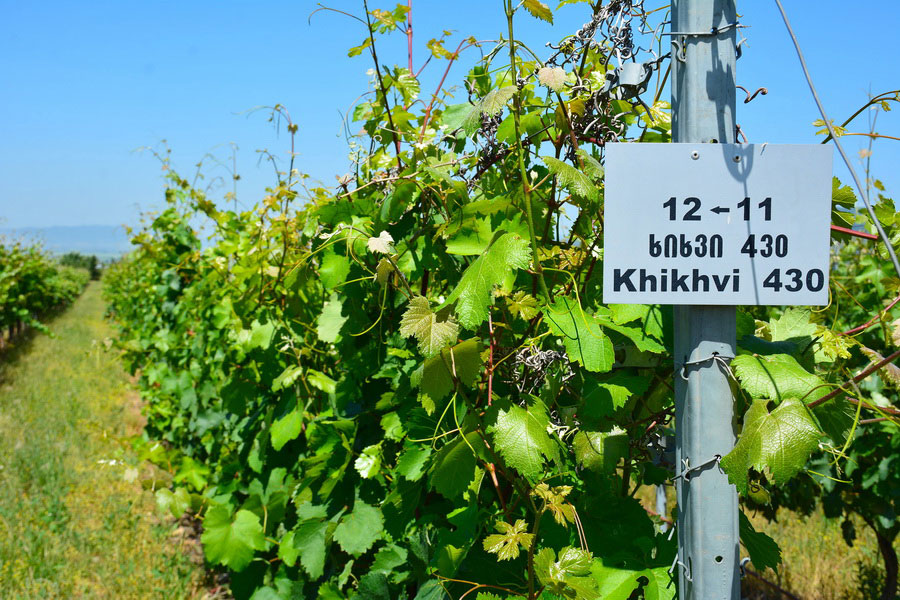 Khikhvi grapes are a Georgian grape variety which produce high-quality table, classical, Kakhetian and dessert wines.
History
Khikhvi is one of the oldest Georgian grape varieties, which according to Georgian historian Ivane Javakhishvili is even older than the Rkatsiteli grape. In Telavi Region and Akhmeta District they are known as Jananura, a name derived from the village of Janaani in Akhmeta. There are many varieties of Khikhvi whose names differ slightly based on the region of Georgia in which they are grown: in Racha they are called Khikhva; in Lechkhumi, Khikhvi; in Samegrelo, Khemkhu; and in Guria, Khemkho.
Characteristics
The growth cycle of the Khikhvi grapevine depends on the weather conditions of any given year. The less the precipitation during the reproductive and vegetative periods, the shorter the growth cycle will be. Khikhvi, like other Kakhetian varieties, starts giving its first crop prematurely, with the first signs appearing in the second year after planting. In the third year it gives one third of the full crop, and in the fourth year a normal harvest.
Khikhvi is characterized by its excellent ability to accumulate sugar. For example, in Kardanakhi of Georgia's Gurjaani District the sugar content averages 26-27%, and some years it even reaches 30%.
Wines
Khikhvi grapes are mainly used to make high-quality table and dessert wines using both the qvevri and classical methods. When produced according to the classical method, the wine has a light, transparent straw color, a pleasant varietal aroma and a gentle taste. Kakhetian-style wine has a dark beige color and a full, harmonious taste with hints of honey and wildflowers.
A high-quality dessert wine is made from Khikhvi grapes in Kardanakhi. Known as Khikhvi, this vintage Georgian wine was created by national winemaker Valerian Kandelaki. It has a dark amber color and a pleasant, harmonious taste.
Since ancient times Khikhvi grapes have also been used to improve the quality of Georgia's famous Rkatsiteli wine.