Saperavi Grapes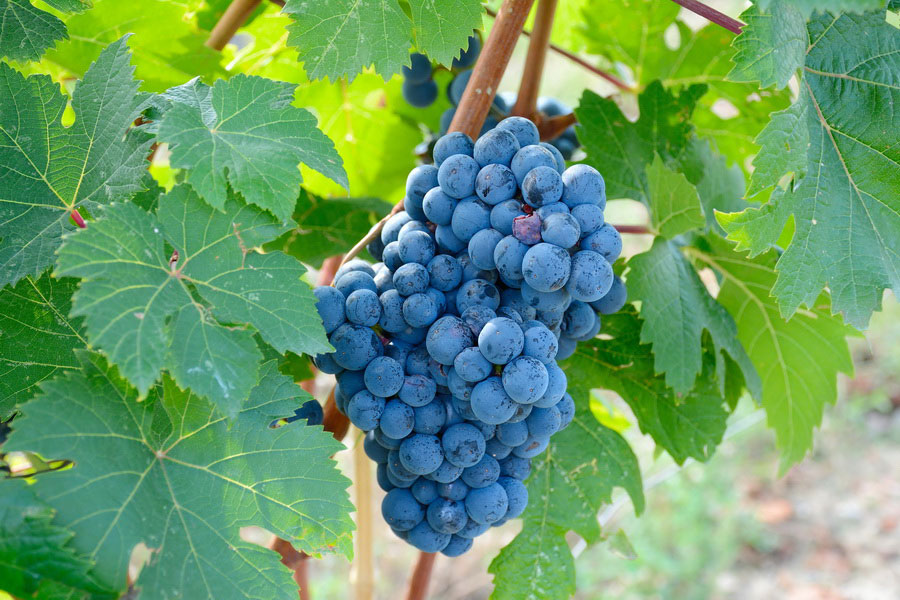 In keeping with its reputation as the birthplace of wine, Georgia is also a leading source of vine varieties, and to date more than 500 types of indigenous grapes, each with unique properties, have been discovered in the land.
Georgia's Saperavi grapes are the most popular and widespread variety in the country. The name Saperavi (in Georgian საფერავი) means "to paint", "to dye" or "to give color" and comes from the grape's naturally dark skin. Apart from their color, the grapes are characterized by their rich fragrance, strong taste and great aging potential. This grape variety is best known as the source of Saperavi wine, a fine red wine often referred to as the King of Georgian Reds.
History
Saperavi is an old Georgian vine variety, and although the exact date and place of its origin are unknown, it is possible to draw some conclusions based on various sources and the grape's biological peculiarities.
According to famous Georgian historian Ivane Javakhishvili, Saperavi grapes initially spread through the old Georgian province of Shavshet-Klarjeti. Over time they shifted east, and by the end of the 17th century were firmly established in Kartli in Georgia's Kakheti Region. Saperavi gradually spread from Georgia to neighboring countries, and today it grows in many places including Central Asia (Uzbekistan and Kazakhstan), South Caucasus (Armenia and Azerbaijan) and Europe (Bulgaria, Moldova, Ukraine, Russia and other nations).
Since Saparevi is such an old variety, it has many variations and is known by different names among local viticulturists, including Saperavi Budeshuri, Otskhanuri Sapere, Meskhetian Saperavi, Ateni Saperavi, Saperavi Pachkha and Saperavi Didmartsvala.
Characteristics
Saperavi grapes are a late maturing variety which take approximately 160 days from the beginning of bud drying to full maturity. In some areas, most notably in Central Asia and Krasnodar, Russia, the Saperavi grape grows more vigorously due to climatic and soil conditions. Saperavi vines can withstand frosts up to 20 ° C and give their first harvest at 4 years. They generally ripen between late September and mid-October.
Saperavi is a technical variety, making it an excellent raw material for wine. When well ripened, the grapes are distinguished by their taste and are often good for natural consumption. While the chemical composition of its juice varies considerably according to the specific ecological conditions of the region and the year, Saperavi is characterized by good performance in almost all regions. Along with a high sugar content, it maintains a moderate acidity ideal for producing high-quality table wine.
Wines
Saperavi is an excellent grape variety for almost all types of wine, and Georgia's most famous red dry, semi-dry and semi-sweet wines are produced from Saperavi grapes. With its high organoleptic properties, intense dark pomegranate color, fullness, harmonious mix of components and strong aroma, Saperavi is similar to Cabernet Sauvignon and ranks among the top red wines in the world. While typically produced either in stainless steel tanks or in Georgian clay vessels called qvevri, Saperavi wine has also been aged in oak barrels as an experimental project.
Anyone partial to red wine can find a wide selection made from Saperavi grapes. The wines are produced in different areas, but all are infused with unique aromas and tastes. The most popular Georgian varieties include:
Kindzmarauli, a red semi-sweet wine made from Saperavi grapes harvested in Kakheti and Kvareli Regions;
Mukuzani, a Saperavi Georgian red dry wine made in the village of Mukuzani and the surrounding area. It is considered one of the finest-quality Georgian wines;
Akhasheni, a semi-sweet variety made in the villages of Chumlaki and Akhasheni and their micro zones.
While the origin of Georgia's Saperavi grapes remains a mystery, one thing is certain: the wines produced by this popular vine variety continue to satisfy and delight customers around the world.